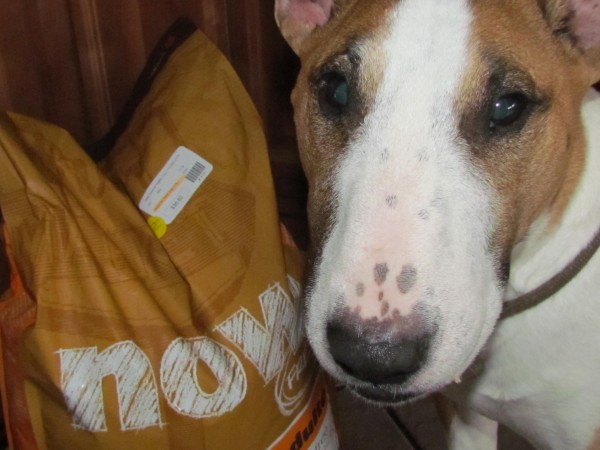 It used to be as simple as dry vs. canned. It was back in the day when we didn't really think about what was IN our best friend's food (then again, we didn't think much about what was in OUR food either). In the past year I've gone from one food to another, my bestie is a pet nutritionist (yes, they DO exist), and until very recently Clem was on a raw diet. Mind you, Clem is on the smaller side, and his food would run me approximately $125 – $150 per month.  HONESTLY, I didn't mind spending so much, knowing that Clem would be getting the VERY best and healthiest dog food.
AFTER BEING ON RAW FOR A FEW MONTHS
Clem started having issues. His hair was falling out in patches, he continually got ear infections, and he was diagnosed with a barrage of minor medical problems, and even ended up on medication. The raw food aficionado's kept telling me that raw would keep him from having NUMEROUS health concerns, but in fact he was having MORE. Back to the drawing board.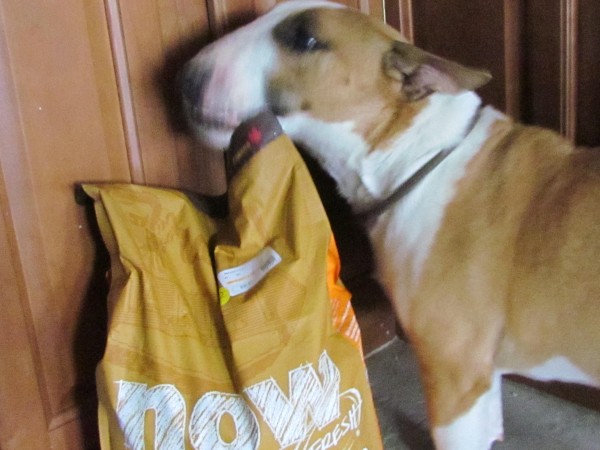 PETCUREAN ASKS CLEM TO BE A BRAND AMBASSADOR
With all of the food issues we'd had, did I really want to COMMIT to promoting a DOG FOOD BRAND? It was time to do my research. As semi-empty-nesters, the dog has become the baby, so if I am going to feed him something it better be as GOOD, or BETTER than what I eat (ok, so my priorities are a little skewed, but I can make bad decisions for myself as I do it knowingly). Yes, he makes some poor decisions as he scarfs up debris from the grass as we're walking (ugh), but at home he has to eat right.
First call is to Ava, my bestie who's the most knowledgeable person I know when it comes to dogs. The mild mannered Ava begins RAVING about Petcurean. "It's the ONLY food that's any good. It's what I feed Bella. Clem will do WONDERFUL on it." That's all I needed to hear. Well, that and a call to Petcurean's nutritionist to go over his issues and see WHICH formula would be the best for him. Yes, I talked to not one but TWO pet nutritionists before agreeing to do this. I'd be starting Clem on NOW FRESH Grain Free Adult dry food.
"Fresh." It sounds good when you say it,
and tastes good when you eat it.

It's no surprise that dogs love the freshness of NOW FRESH dry dog food. It's so fresh, it's like eating off the kitchen counter (down, girl). We pack NOW FRESH full of nutritious ingredients like 100% market-fresh turkey, salmon and duck. 100% fresh Omega 3 and 6 oils from coconuts and canola. Wholesome berries, fruits and veggies such as peas, spinach, cranberries, pumpkin, blackberries, alfalfa sprouts, kelp, lentils and carrots. Yum! Zero grains, zero rendered meats, zero by-product meals, or artificial preservatives
CLEM IS NOT A PICKY EATER
He pretty much LOVES everything that he can fit in that  mouth of his, so if I told you "he likes it" I'd be telling the truth, whether it was good for him, or that dead worm he picked up on the sidewalk. BUT…there is something he does when a food or flavor is EXTRA special. He licks his legs. He does it after eating cheese, peanut butter, my empty yogurt container and YES, Petcurean NOW FRESH. It was the FIRST TIME I'd ever seen him do this after eating a DRY dog food. I'm guessing it's the fact that some of his favorite foods are packed into those kibble (he loves DUCK and berries).
The VETERINARIAN
Clem's Vet also breeds and shows bull-terriers, so he knows the breed inside and out. He thought I was NUTS putting him on raw. I brought the bag in for him to check out and he gave Petcurean two thumbs up.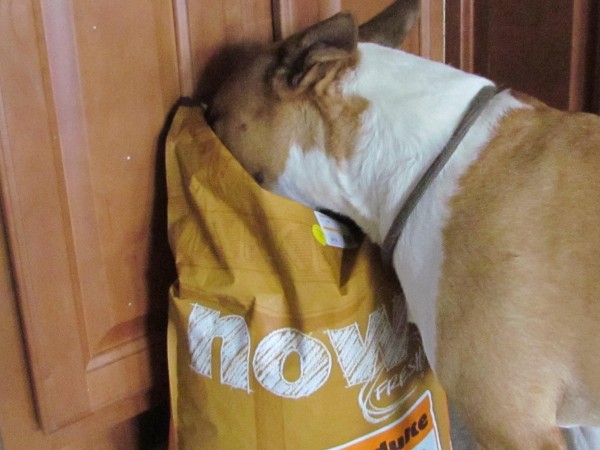 SO FAR SO GOOD
It's been a few weeks and he's doing GREAT on Petcurean NOW FRESH. I've been treating his skin/hair problem and it's completely cleared up (I've been using a medicated shampoo and putting tea tree oil on his bare spots), and his hair has grown back. He starts begging for his dinner about 20 minutes before we feed him, so he's EXCITED to get it. BEST OF ALL, I know that I'm feeding him the healthiest diet that I can. PLUS, they've got a MONEY BACK GUARANTEE (even if Spot just doesn't like it).
CHECK IT OUT
Right now you can get a coupon on the Petcurean.com site for $3 off the Petcurean Food of your choice for your puppy, kitten, dog or cat. Now sure which one is best for YOUR furry family member? You can do what I did and call their PET NUTRITIONIST.
ENTER TO WIN
Visit Petcurean on Facebook at: Facebook.com/Petcurean and enter YOUR pet into their Savor the Moment contest. You could win FREE Petcurean Pet Food!
I'll keep you updated with Clem's progress on Petcurean, along with some of his VERY silly videos, cause EVERY MOM thinks their baby is cute and takes home videos and imposes them on others….so, why shouldn't I?
FOR DETAILS VISIT
Clem received a year's supply of Petcurean dog food and our FAVORITE pet charity the New England Old English Sheepdog Rescue (whom I used to work with) received a generous donation to facilitate our posts. We appreciate both immensely. All opinions are my own and this silly miniature bull-terrier who's curled under my feet.