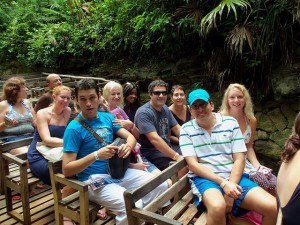 As a traveler, I always like to look for the BEST scenario, otherwise I'd probably sit on the sofa day in and day out and never go to some of the places that I've been. As a writer Mark Yoshimoto Nemcoff seems to like the DATELINE approach to travel – telling us what COULD go wrong and how to stay AWARE so that you're armed with important information.
While his newest book Fatal Sunset: Deadly Vacations
 is an interesting read, I think I'll check it out AT HOME rather than for light reading when I'm in flight! Mr.Nemcoff  offers his top 10 SAFE travel tips, so that you and I can avoid a Fatal Sunset.
Tip 1: Never assume you have the same rights, protections and access to emergency services in other countries as you do in your own
Tip 2: Don't assume that video cameras are there to protect you – They are only there to protect the interests of the property owners who may have a different agenda when it comes to revealing what those cameras have seen
Tip 3: Be suspicious of anyone who takes too much interest in you or your family – If someone you really don't know invites you to join them in an excursion somewhere, don't be afraid to turn them down. There are worse things than offending someone who you will probably never see again
Tip 4: Being on vacation doesn't turn you into Superman – Don't try doing anything that may be more physically involved than something you would do at home
Tip 5: Always listen and be kind to your flight attendant – He or she has much more experience than you in dealing with onboard emergencies and situations. Their help could save your life! Check out the flight attendants at www.AirlineAmbassadors.com. They have busted human traffickers on at least three commercial flights coming into the USA.
Tip 6: Take the time to check out any attractions your children may use before you leave them unsupervised
Tip 7: Always let someone know where you're going and how long you'll be gone. If you're on a trip, make sure someone in your party knows when you'll be back and check in with them if those plans change
Tip 8: Just because there isn't a warning sign, doesn't mean there isn't danger – Use your common sense and/or double check your plans with someone who knows the lay of the land
Tip 9: Do your research – Any reputable company offering trips, excursions, tours will have a digital footprint on the Internet. Use Google to search for reviews before you use them
Tip 10: If going out of the country, check for government issued travel advisories for your destination. If the state department says someplace is unsafe, take heed
Author, Mark Yoshimoto Nemcoff, is an award-winning, best-selling independent new media publisher of over 10 non-fiction and fiction works.  You can pick up his newest book: Fatal Sunset: Deadly Vacations beginning TODAY on Amazon.com