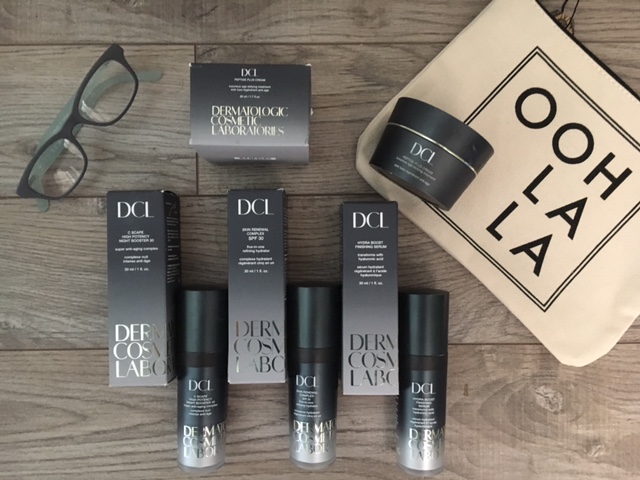 I warned them
When a skin care and anti-aging company comes to me for a challenge or review I always warn them. I have a LOT of sun damage, I have bags and circles and wrinkles and saggy/baggy/floppy skin. I have a double chin that just appeared one day last year. I am NOT the person to be testing products where you will be able to see a MIRACLE. Especially after 10 days.
Yes, I warned them
But, I also have been wanting to try Dermatologic Cosmetic Laboratories products for a very long time. I'd heard wonderful things about them, so when DermWarehouse asked…I obliged…with a warning.
MY BEFORE MUGSHOT
My new routine
First let me say that I have NOT been perfect. I went to Canada for 6 days and didn't take my DCL products with me, so the trial was broken up a bit. But I DID use the products for slightly over 10-days to make up for it. Honestly, I'm a bit of a dope when it comes to layering skincare products. I'm never sure which comes first (all of the instructions said "use this product on clean skin"), so I used them in the order that made sense to me.
A.M.
After washing my face in the shower I put on
DCL Skin Renewal Complex with glycolic acid and SPF – this is a fairly light feeling lotion. I have to say that I was surprised that I wasn't gooping on thick creams to get the results that they suggest I would. It has an SPF 30 in it, and I tend to not wear foundation or sunscreen, so this was a great way to assure that my Florida skin doesn't get any more damaged than it already is. It has glycolic acid (10%) in the solution which helps with the dullness. As you can see..IT WORKED.
DCL Hydra Boost Finishing Serum with hyaluronic acid – OOOHHH, I was excited to use this product. It says to use it twice a day, but I admit that while I used it every morning, I sometimes forgot got lazy at night (mostly because I had other nighttime products to use). I love the lightness of this serum. I've used others that are thick and almost sticky, but this DCL formula glides on easily. I didn't know before using this that the hyaluronic acid in this product helps to BOOST other products in addition to diminishing fine lines and wrinkles. Now that I know, I'm using it twice a day. MY BAD. My lines are DEEP and I knew in advance that 10-days were not enough to banish them, but they do look a bit softened.
PM
I take my makeup off with one of those pre-wetted cloths that you buy packages of. After wiping my skin clean at night I used…
DCL Peptide Plus Cream with active peptides – This is a day and night product that I decided I should only use at night for my trial. I'm sure that it affected and it's got PEPTIDES. I've hear the gal at the spa where I got my last facial say I needed these. This formula is
moisturizing
protecting
brightening
rejuvenating
Plus it BOOSTS COLLAGEN! When I read about the formula I realized just how important this step of my anti-aging program really is. It helps with dark spots (got those), firmness (need that), decreasing lines & wrinkles (lots of them), plumps skin (saggy baggy here), reduces redness (look at my before cheeks), and LOTS more. As soon as I realized that I started using it twice a day.
DCL C-Scape High Potency Night Booster 30 with 30% L-ascorbic acid – I do NOT have sensitive skin, but when I put this product on before bed I can feel a strong tingle. It is also slightly gritty feeling as you smooth it on, but unless you have very sensitive skin, don't worry – it's just the L-ascorbic Acid doing what it does best. Evening out your skin tone.
TEN DAYS LATER
If my skin looks this brighter in a little over 10 days, imagine what it will look like in 30, 60, or 90 days. I'm so excited about these DCL products that I'm not traveling with them (no more lazy for me).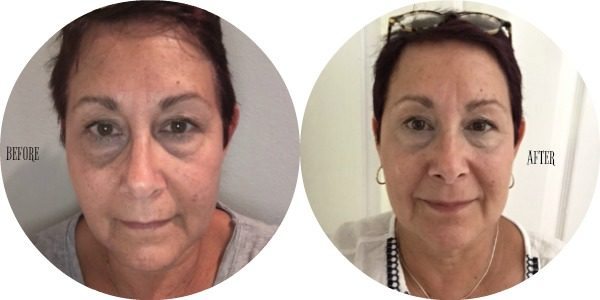 My opinion: these are products that do what they claim, and while I only gave it a 10-day trial, I have been excited about the results.
You can take the #DCLswith too!