Are you thinking about renovating an area of your home? If so, then you might want to get started with the bedroom. The bedroom is a great place to change up because it is such an important part of the house for you. You can go to your bedroom to relax, unwind, and relieve tension after a long day of work. Perhaps you share it with your loved one and maybe it's where you go for some much needed 'me time.' Of course, the bedroom will also be important for anyone who could be looking to purchase your property. Make the right choices here and you are guaranteed to impress some buyers when the time comes to sell your home. To do this and get the most benefits from your bedroom, you need to make sure that you make your bedroom as luxurious as possible. So, what steps can you take here? We have a few ideas.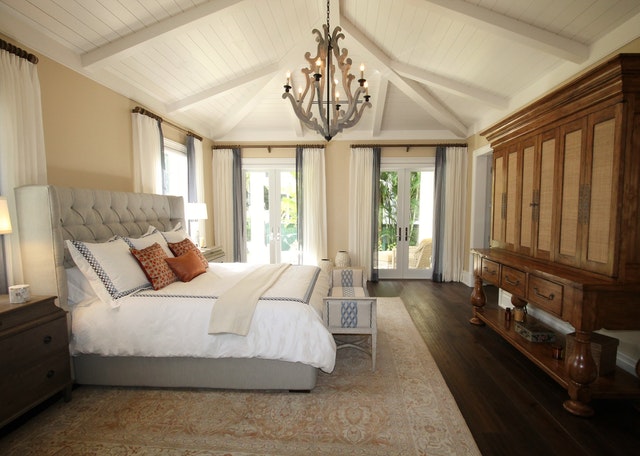 Electronic Blinds Or Curtains
If you are keen to ensure that you get the best night's sleep in your bedroom, then you should be exploring the issue of light pollution. This is always going to be a problem if you live in a city, town, or if your house is particularly overlooked. That's often the case these days because new builds are positioned close together to make the most of the available space. You might find that your neighbor's light shines in through the bedroom window, even late in the evening.
Blackout blinds can be the answer here. They can cover the bedroom window completely and ensure that the inside of the room is pitch black. You can take this one step further with electronic blinds too. The main benefit of this is that you will be able to control this system at the touch of a button. It could be the perfect way to wake up in the morning because you can set the curtains or blinds to open up at a particular time. Forget the alarm clock, imagine being kissed awake by the gentle rays of the sun.
Building The Perfect Bed
A lot of people think that a bed is a 'one size fits all' issue. That's just not true and finding the right bed for you is often a very personal decision. This is why it's often not advised that you buy a bed online. You need to check how it feels and whether it provides the right support. You'll find numerous different options when it comes to styles and types of beds. Think about what you want to achieve with your bed. If you need more back support then a memory foam mattress isn't going to be right for you. Are you suffering from chronic pain? If that's the case, then you might want to think about a hydraulic bed that can be easily adjusted into the right position to match your sleeping position. Ranging in the thousands, these beds are often recommended for elderly individuals and those with severe debilitating conditions. However, anyone could benefit from this option.
Of course, it's not just the mattress that you need to consider. It's every part of the bed and this includes the sheets. If you choose something like lyocell sheets, then you will benefit from a bed that stays cool through the night. That's important because many people do find that it's the heat that wakes them up and causes them to have a restless night of sleep.
Mirror Magic
It's possible that your bedroom is cramped, cluttered, or relatively small. If you are thinking about selling in the near future, then you should consider adding a large mirror to one of the walls. Wardrobes with mirrors are also ideal for making a bedroom look significantly larger than it actually is. You can choose a mirror to match the style and decor that you are interested in for your bedroom. The mirror will catch the light and make the room look bright and beautiful.
Be aware that to get the greatest impact here, you need to frame the room correctly. For home sales, some sellers speak with an individual who can complete this process for them the right way.
As well as choosing the right mirror, you need to select other accessories as well including furniture. For instance, if you are setting your bedroom up as a place to relax, then you might include a small seating space.
Fake Ceiling
If you're curious about the DIY projects that can help you transform your room and make it look more luxurious, then you can think about creating a fake ceiling. With a fake ceiling, you can make it look as though there is a sky full of stars above your bedroom. The effect can be quite incredible when completed the right way. But it will always depend on the quality of the job. If you are not confident in your DIY skills, then it's worth calling in a professional to complete this project for you.
Skylight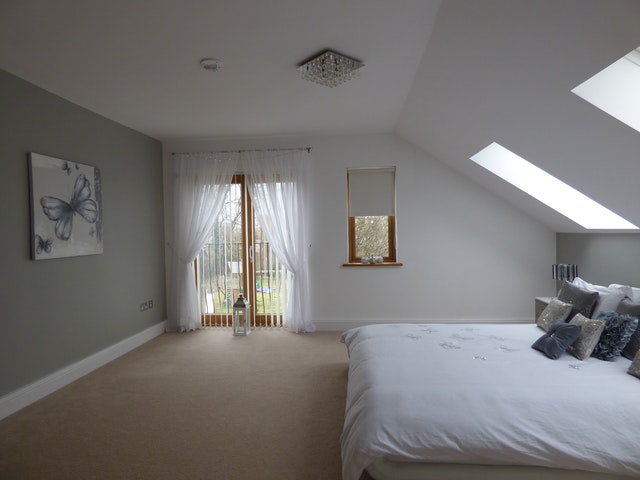 Similarly, you might want to think about adding a skylight to your bedroom – if this is feasible. For this, you will need to make sure that you contact a roofing contractor. You should always discuss what you want to do with a project like this and ensure that it is possible as well as that it will fit your budget. Don't forget, you need to think about the right blinds as well. This is where electronic blinds would definitely come in handy. Particularly, if you have quite a high ceiling in your bedroom. Be aware that adding a skylight will cost at least three thousand depending on how much work is required.
We hope this helps you understand some of the best ways to ensure that your bedroom provides the right level of luxury and guarantees that you do get the best night of sleep imaginable. With the right changes here, you can even make sure that your home is more valuable and attractive to potential buyers.