Our West Coast travel writer, Kathy Chin Leong visited Paso Robles during the pandemic and discovered a new place to stay!
Horseshoes, faux cowhides, and leather chairs are fitting decor for a lodge dubbed the Stables Inn, a newly-opened roadside motel that is opening now, smack dab in the middle of the pandemic. So if you come, you'll find cheerful hotel attendants wearing face masks while you wear a face mask upon entry. You discover pump jars of hand sanitizer tastefully mounted on the walls, and disposable masks and complimentary plastic gloves in the lobby. You see signs reminding you to stay at least six feet away from other patrons for social distancing courtesies.
In the rooms, the TV remote controls are covered in clear plastic bags to let you know these devices have been sanitized. On the premises, housekeepers are spraying and wiping down the Adirondack chairs, tabletops, and every surface they can get their gloved hands on.
Other than these special Covid-19 sightings, it is vacationing as usual here in the wine town of Paso Robles, in Central California. The Stables is aptly named as the history of Paso Robles harkens to ranching days, and it still is a region of farmers and ranchers which go back for generations. In a previous life, Stables Inn was once another motel, so this is a major refurbishment of epic proportions. The proprietors, real estate magnates Robert Gilson and self-taught designer wife Sherry Gilson, started and own the successful four-star Hotel Cheval in 2007, also with an equestrian theme, located in downtown Paso Robles. The main difference between the two is that Hotel Cheval is on the luxury end with rooms that start at $400 a night; while bunkhouse-styled Stables runs about half the amount.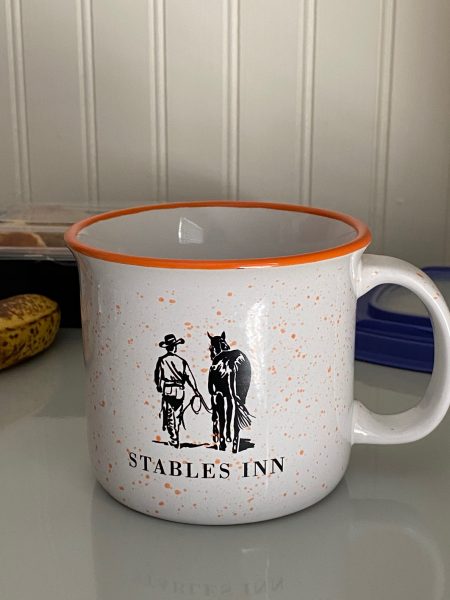 You cannot miss the motel, for the letters S-T-A-B-L-E-S shines in a circus marquee on the exterior of the main house. Here, each guest is offered coffee, tea, and bottled water. Small pastries, individually wrapped, of course, come complimentary in the mornings.
The 18 rooms are arranged in a semi-circle, all in one-story configurations, very much a 1950s feel. I remember going to similar roadside inns as a child where every toilet had a little strip of paper across the bowls that read: "Sanitized for your convenience." Oh my, things have changed.
Rooms at the Stables are dressed in milk paint white and feature hardwood floors with just enough space for a white wrought-iron bed with a gray and white striped comforter, a pair of red side tables, and a leather director's chair. Opposite the bed are a tiny gray retro refrigerator and doorless closet, flat-screen TV, and A/C for comfort. No phones are in the rooms, so you use your cell phone to reach the front desk.
Petite bathrooms consist of a modern, white trough sink with polished chrome legs, white tile walls with nostalgic beehive black and white patterned tile floors. Think Pottery Barn for imagery! A rain shower head is a nice touch along with cheerful Not Soap Radio bath products that boast aromatic lemon sugar ingredients.
Here's some additional info: two rooms types feature those with a king and others with a pair of double beds. The motel is dog-friendly and charges only $25 more per night. On the premises is an electric vehicle charger for folks with hybrid or electric cars.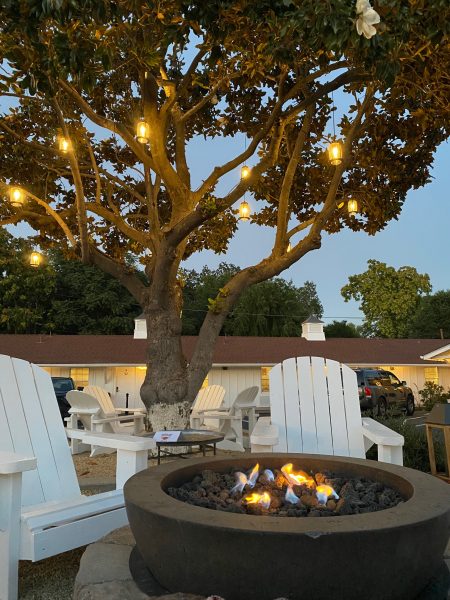 If you are feeling like you need to get outside your space, the innkeepers have created a large oval patio centerpiece in the middle of the parking lot with a mature magnolia tree festooned with hanging lanterns for nighttime ambiance. A fire pit surrounded by Adirondack chairs atop pebbles gives you a modern campfire feeling. Another attractive shared space is the "Tack Room", just steps away. This attached space to the lobby area that features a living room area with board games and a tea/coffee sideboard.
The hotel is located on busy Spring Street in Palo Robles, where a gas station and auto repair shop are among the neighbors across the street. I was concerned that it would be extremely noisy, but the traffic creates a white blurry sound, so we slept soundly the two nights we were here. The air conditioner was a tad loud though. It is three blocks from downtown Paso where you'll find shops, bars, restaurants, and a large square city park where all the local festivities take place.
With rates starting at under $200 per weekend night and $155 on weekdays, the Stables is a good, economical bargain for the traveler who appreciates quality interior design. The Western chic, with these original ranching photos on the walls and colorful print paintings of calves and cows, is tastefully done without being over-the-top. The signature logo features an ink illustration of a cowboy and his horse. Brand new, comfortable beds in cozy, clean rooms is the perfect resting place after a day of wine tasting and shopping. The Stables Inn is the perfect way to pass the time in Paso. Like the horses back in the cow ranching era, you head back to the stable at the end of the day.
****
Stables Inn
730 Spring Street
Paso Robles, CA
805.296.3636