This post has been sponsored by Calibrate. All opinions are strictly my own.
This is the first time that you'll be seeing photos of Mr. S. Until this time he has asked me not to share much about him or his photo. If you read HIS blog, you'll notice that the most that you'll see of him are small glimpses of his feet. There is a reason….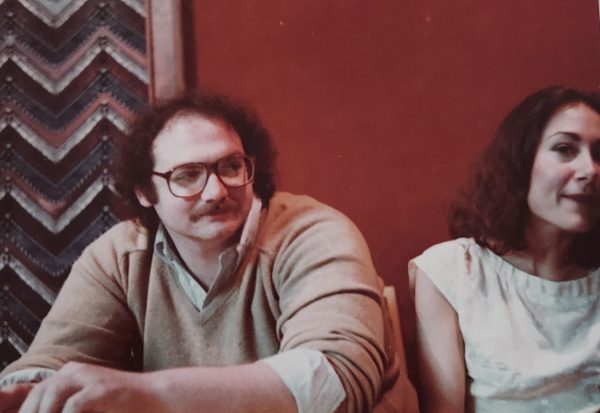 Caption: That's us over 40 years ago
My husband has struggled with weight for most of his life
Being a big guy (he was a football player through high school and college), he used to hide it well. At 6'1" tall with a large build, the weight snuck on over the years. I didn't struggle with weight loss until later in life. In retrospect, I don't think that I was any help. I had gained weight as well, I stopped exercising, and started eating right alongside him. Even with a background in movement (I had gone to school for dance therapy). I had always been slim. Not only was I was being a poor example for him (I used to call it "competitive eating" as I filled my plate alongside him), but I realized that menopause hadn't been kind to me. I was up 60 at 60. I had gained 60 lbs. between the time I had met my husband and the time I turned 60, and while I always had a small frame, I found myself needing to lose at least 40 of those pounds to feel comfortable again (as I aged, I knew that I didn't want to weigh what I did at 25).
But his weight was taking a toll on his health
My husband sees a cardiologist regularly.  His father died of a heart attack and he sees a  doctor for heart issues now.. The conversation usually goes like this: In addition to medication, dropping 100 lbs would reduce the workload on his heart. This could reduce his risk of repeating what happened to his father.  But what could he do?
Even on diets he struggled. Over the years I remember him trying
Atkins

Weight Watchers

Counting Calories

Keto

Phentermine 

And even weight loss surgery
Each took off a little weight, but each time he tried something, he put the weight back on, and MORE. Three years ago, he was approved to have a gastric sleeve. We thought for CERTAIN that this would help. He lost weight. But, we found it odd that while he lost weight, he never really had any coaching, any help with how to manage his old eating habits, exercise, etc. As a result, after losing about 80 lbs. (he had 150 to lose), he gained it all back.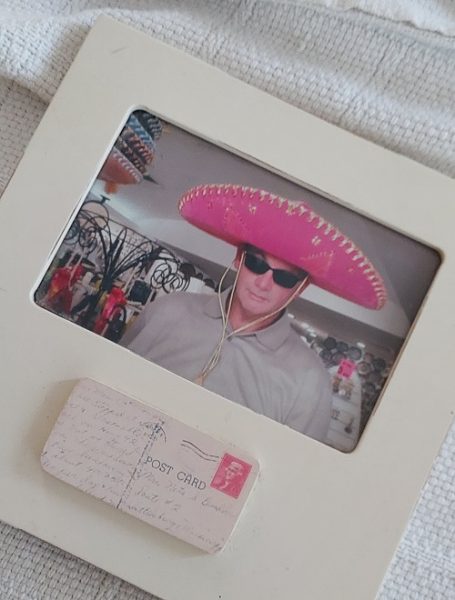 Caption: After one of his many diets where he lost weight for a period of time. 
What made it that he can't keep the weight off?
Is it willpower? Is it not eating a low-fat, high-fat, low-calorie, high-fiber or whatever kind of diet? I started to research the reasons why and learned that for so many people, traditional diets of calorie counting, keto, or even surgery don't work, yet, we've been told our entire lives that it's either how many calories or how much fat we eat. We've been made to believe that people who have difficulty taking weight off simply don't have the willpower.
It's not true
It turns out that it is our biology that is getting in the way of our losing weight and even more importantly, keeping it off. 
Resetting your Metabolic System
Along this journey of how to help my husband and family (my son and daughter-in-law also struggle with weight loss), I learned about a new approach that actually resets your metabolic system, making weight loss sustainable. Calibrate offers a program that pairs medication and lifestyle changes with the support of an accountability coach to help you FINALLY lose the weight, and it's GUARANTEED to work. Because it's not willpower that's making it difficult for you to lose weight, it's your biology. 
A medically-based approach
Calibrate has designed a year-long program based on using a doctor-prescribed GLP-1 medication along with 1:1 video accountability coaching and tracking to drive sustainable (I like that word) weight loss and improve overall metabolic health. SUSTAINABLE! There is someone to help keep you accountable every step of the way as you begin to improve your metabolic health which leads to sustainable weight loss. Calibrate developed its One-Year Metabolic Reset based on decades of research and in partnership with an advisory board comprised of the country's leading obesity and metabolic health experts. 
How does Calibrate work?
Meet with your Calibrate Doctor – You'll meet your Calibrate doctor during a comprehensive, 45-minute virtual visit  During that visit, your doctor will review your health history, lab work, look at your overall metabolic health, and answer any medical questions you have about the program.
Doctor-Presrcibed GLP-1 Medication – Your Calibrate Doctor will prescribe an appropriate FDA-approved GLP-1 medication that is clinically-tested, non-habit forming, and that is the most effective and safe long-term option for weight loss. Haven't heard about GLP-1s? GLP-1s are powerful, naturally-occurring hormones in the body made by your gut that send signals to your brain to regulate your blood sugar, improve your metabolic function, and regulate your digestion so you can feel full longer and maximize nutrient absorption. Your natural GLP-1 hormones play an important role in your appetite, weight management, and regulating the body's set point, which is the weight your body will fight to stay at. They also influence blood sugar response and insulin. While there are several GLP-1 medications,  your doctor will prescribe one that is the best fit for your biology and that is also covered by your insurance.
Meet with your Coach – Your Day One of your Calibrate year begins with your first session with your accountability coach you'll be meeting 1:1 with your accountability coach to set goals and help you make small tweaks using the Four Pillars of Metabolic Health: food, sleep, exercise, and emotional health. You will meet with your coach throughout the year-long program for 15-minute video sessions, bi-weekly. In addition you'll find classes, recipes, and an app-based curriculum that has been developed by an expert Clinical Advisory Board and Expert Council to help you meet your goals as you lose the weight.
Why 10% Matters – Did you know that losing 10% of your weight is clinically significant and sustainable (there's that word I like again) when it comes to long-term health? Losing 10% of your body weight has shown to improve metabolic health conditions such as high blood pressure, high cholesterol, and diabetes, and 10% weight loss can be maintained through a lifestyle that can be enjoyed––no deprivation required. Many Calibrate members lose more but getting to 10% will make a difference in your overall health (that's your goal).
Keep it Off – By the end of Calibrate's One-Year Metabolic Reset, not only would you have improved your metabolic health and lost weight, but you also have the tools to maintain the food, sleep, exercise, and emotional health habits needed to sustain (there's that word again!) those changes over time––isn't that your GOAL? 
Learn more about Calibrate and check your eligibility at: JoinCalibrate. 
PLUS – my followers get $100 off with coupon code:

Zipporah100
Side-note – my son and daughter-in-law have already talked to their doctor about the program. I can't wait to see how they do