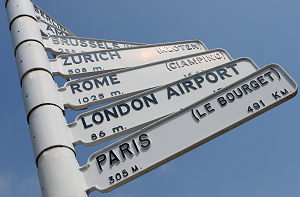 The Champagne Living dream (OK, MY dream) has always been to be able to travel slowly…spending months (if not years) in one spot, calling each place home for that moment. I did it years ago (Paris) and I'm GREAT at moving (just ask Mr. "S" who complained that I couldn't stand being in a home for more than a year). I guess I've got that bit of gypsy in me like my mom did. The goal is to do it again.
Last time I had a job overseas (teaching dance). This time I'd want to bring my work with me. Since Champagne Living and the projects and consulting that I do are pretty much all online, it's a possibility. Mr. "S" isn't of the same mindset, so for the moment I'm stateside. He's put up with my moving state to state and city to city for these past 6 years, I think he's had it (thinking getting older is making him very grouchy when it comes to new adventures). So, for the time being I feed my wanderlust by traveling on my own or with the bloggers & friends.
If you've ever dreamed of just picking up and heading to live someplace new, here are 4 tips from Barry Frangipane, author of The Venice Experiment
mto make choosing where you go and what you do a bit easier.
Telecommuting – The changes over the past 10 years for telecommuters have been subtle, but together they have produced a tipping point making the idea of extreme telecommuting a reality. Advances in the quality of videoconferencing make meetings as effective as they would be in person. Google and Facebook have both launched free high quality videoconferencing in the past year. I was gone for 13 months, and most of my clients never even knew I had left.
Housing – Accept the fact the living quarters are a little smaller, and a little older. American housing, like just about everything else in America, is big compared to the rest of the civilized world. Having said that, you'll wind up spending your non-work time seeing sights and exploring your new hometown.
Cars – Choose a place in which travel by car is not necessary. In Venice, everything is connected by the small tributaries and waterways that thread through the city. Most everything you need – shopping, groceries, business services – was a brisk walk or gondola ride away.
Cook – You could spend a small fortune eating in the tourist trap restaurants, or you could buy fresh groceries every day and live as the locals do, creating your own meals and stopping by the smaller, lesser known eateries and cafes frequented by the locals.
Barry Frangipane is an author and blogger from my current stop on my journey – Florida.  His first book, The Venice Experiment: A Year of Trial and Error Living Abroad
, was published in August, 2011. The son of middle-class Italian immigrants, Barry has lived in Venice, Italy, Paris, France, and Boulder, Colorado.  Barry has been a software engineer for more than 30 years. He has two children, Stephanie and Amber, and currently lives in Tampa, Florida, pending his next adventure.