I travel.
I travel, explore and I eat.
I'm also on a diet, a diet that makes my life EASY because most of my food is pre-packed. Nutrisystem is GREAT when you're home and life is in a regular routine. But…that's just NOT MY LIFE. Which brings me to…
What does one do, when they're caught between a fabulous weight loss program that's working and traipsing around the globe eating even more FABULOUS food?
Last week I spent my time in New England with family. You know….family who shows their love by taking you to great Italian restaurants with pasta, family who bake sinful desserts, family who know your favorite foods and decide NOW would be a great time to invite you over for dinner and serve them.
You come prepared! That's the ONLY antidote to the food=love family connection.
To make things go a bit smoother, I packed enough breakfasts to make it MOST of the way through my visit. Nutrisystem blueberry muffins, chocolate chip scones and cinammon buns were stuffed into my oversized handbag as part of my packing process. The sweet treats to start the day kept me from wanting to go out for home fries, toast and eggs. Of course, I did swing through Dunkin Donuts for a veggie egg white flatbread (hold the cheese please) – a perfect alternative.  Lunch is easy – since it's easy to find restaurants that serve salad with a bit of chicken on it. Of course, I had a PINKBERRY craving...so I allowed myself a small frozen yogurt (they're non-fat and only 140 calories – a perfect treat).
Dinner provided the biggest challenge. THANKFULLY, Nutrisystem had sent the women's on-the-go meal planner. With an assortment of restaurant types, I knew at a glance which foods are a
Yes
No
as well as TIPS for substitutions
For example, I knew right away that I could easily order Chinese food made in a hot & spicy tomato-based sauce, but to stay away from the egg foo young and ask them to PLEASE leave off the crispy, fried wonton. This made choosing uncomplicated (just like when you choose your packaged food at home), and I was still able to enjoy favorite restaurants with my friends and family.
Was I PERFECT? Absolutely not. Did I stay on track MOST of the time? I give myself a solid "B" on this trip. Did I gain weight? YES – 1/2 a lb. Would I do it again? I would…..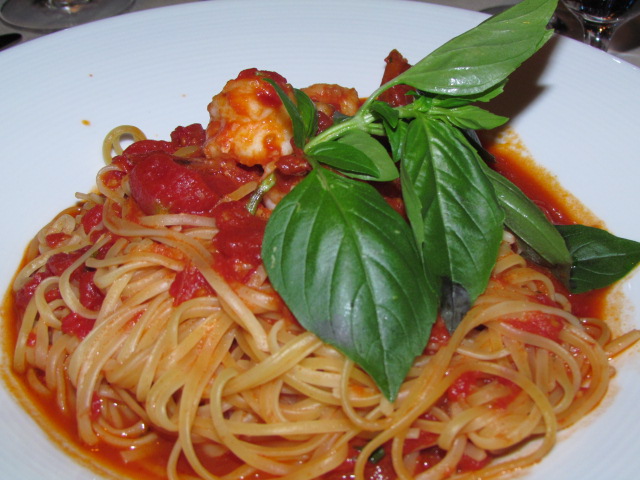 Yes – it's Shrimp fra Diavolo. Yes, it came from my FAVORITE restaurant in Providence, RI (Camille's Roman Garden). Was it worth the 1/2 lb. gain. It was…..because I knew that the next day, I'd be far, far, away from the temptation to do it again.
Right now Nutrisystem is running an INCREDIBLE Super Summer Sale. You get $100 OFF EACH 28 day order! This is a GREAT time to join me in getting healthier, thinner and just looking your overall BEST by losing those pounds that have seemed to creep on.
For  more details about the Nutrisystem program go to nutrisystem.com or call 888-853-4689
I am receiving 4 months of Nutrisystem foods to facilitate these reviews of the Nutrisystem  program.  All opinions, successes and bumps in the road are my own.