Your home's exterior is the first thing people see, and as such, it speaks volumes about you. It's therefore important to make sure it's looking its best. There are countless ways to enhance the appearance of your home's exterior, and doing so can not only improve your property's curb appeal but also significantly increase its value. Whether you're preparing to sell your home or simply want to make it look more attractive, here are some essential tips to help you beautify your home's exterior. Keep reading to learn more about the importance of landscape selection, the role of siding, optimal outdoor lighting, and the power of a fresh coat of paint.
The Power of a Fresh Coat of Paint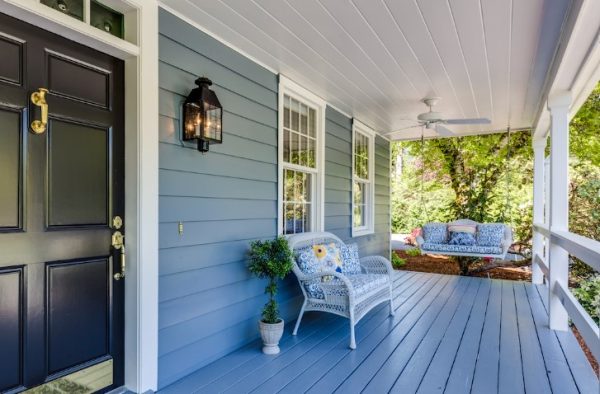 One of the most inexpensive yet effective ways to dramatically change the appearance of a home's exterior is a fresh coat of paint. You'd be surprised how updating the color or refreshing the existing color can revive your home's look.
Choose colors that complement the other houses in your neighborhood, but that also set your home apart. You can also consider the surrounding landscape, your roof color, and elements like the driveway and sidewalk while choosing the paint color.
Painting your home's exterior may require a significant investment of time and resources. However, the transformative effect it has on your property makes the effort worthwhile.
Optimal Outdoor Lighting
Lighting is a key component of exterior home designs. With the right type of outdoor lighting, your home can truly stand out. Landscape lighting can accentuate features, create ambiance and add security to your property. Consider solar lights for walkways or paths, floodlights for large areas, and spotlights for specific features like a statue or tree.
Remember, the outdoor lighting should not only be beautiful but also functional. It should illuminate the entrances and increase the visibility of the paths and stairs in the evening. Your lighting should also discourage intruders while welcoming visitors.
Invest time in how your home appears in the nighttime as well as during the day. Lighting plays a crucial role in bringing out the beauty of the outdoor space, creating a spectacular view from the street.
Landscape Selection
When it comes to enhancing your home's exterior, the landscape is of significant importance. A well-tended and attractive landscape can instantly make a home more appealing. You can create a stunning outdoor area by including a variety of plants, flowers, and trees. One can opt for seasonal plants or evergreens that remain beautiful all year round. Professionally designed landscapes uplift the look of any house and give it character.
While designing your landscape, always consider the local climate and your property's layout. This will ensure that the plants you choose are adaptable and will thrive in your specific environment. To save you the hassle, a professional landscape material supplier can guide you in selecting the right plants and materials for your landscape design.
The landscape also offers functional benefits such as providing shade, reducing noise, and creating a more private environment. With the right selection of foliage and features, you can create a space where you'll love to spend time.
The Role of Siding
Siding plays a crucial role in adding character and color to your home. It's not only about protecting the structure of your house; good quality siding can dramatically improve your home's curb appeal. Worn-out or outdated siding can make your home appear old and neglected. Replacing it can give your property a significant facelift.
There are various siding materials to choose from, each with its unique qualities. It would be best to choose a siding material that complements your home's architecture and fits your budget. Vinyl siding has become increasingly popular due to its durability, affordability, and ease of maintenance. Good quality vinyl siding can mimic the look of other siding materials such as wood or stone, offering a stylish and cost-effective siding solution.
If you decide to go for this option, you can seek the help of the experts at vinyl siding installation. They can provide professional advice and services to ensure your exterior siding is correctly installed.
Altogether, there are countless ways to improve your home's exterior, from careful landscape selection and strategic siding choices to optimal outdoor lighting and a fresh coat of paint. By focusing on these areas, you can significantly increase your home's curb appeal and value, making your home a place where you love to spend time and are proud to show off.