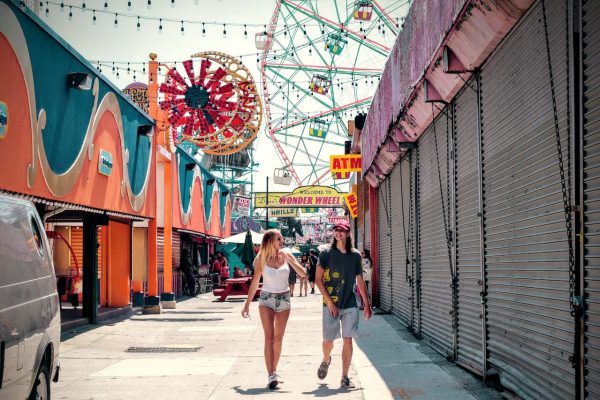 Situated near the splendid and beautiful Great Smoky Mountains, the beautiful mountain town of Pigeon Forge beckons travelers from around the world with its scenic vistas, ample shopping options, and an array of fascinating attractions. An absolute haven for adventure enthusiasts, nature lovers, and those seeking a break from the daily grind, Pigeon Forge offers an unforgettable weekend getaway for individuals and families alike.
Pigeon Forge has something to offer everyone with its picturesque surroundings and many activities. Whether you're seeking outdoor adventures, immersing yourself in the wonders of nature, indulging in retail therapy, or simply seeking solace amidst breathtaking landscapes, this charming Tennessee town delivers on all fronts.
Things To Do on A Weekend Getaway in Pigeon Forge
If you have decided on a weekend trip to Pigeon Forge, keep reading to learn more about the amazing activities you can add to your itinerary and make the most of your time.
1.      Play Golf at the Crave Golf Club 
If you're seeking a delightful and unique experience that promises fun for the whole family, look no further than Crave Golf Club – a premier destination for putt-putt enthusiasts and those craving a whimsical adventure. The course is themed around sugary, boasting vibrant colors, oversized candies, and whimsical decor that will ignite your imagination. With two uniquely designed mini-golf courses to choose from – "Crave Land" and "Sweet Tooth Mountain" – you're in for an unforgettable journey through a candy-coated wonderland, perfect for a round of exhilarating putt-putt with friends and family.
This putt putt in Pigeon Forge stands out as a haven for experienced golfers and novices alike, offering a fantastic putt-putt experience and its other attractions. What sets it apart from traditional mini-golf courses is its enchanting and imaginative design, captivating visitors with its one-of-a-kind atmosphere.
Beyond the putt-putt courses, Crave Golf Club offers additional attractions to enhance your visit. Challenge yourself and your friends to a mini-bowling game or explore the candy-themed escape rooms, where teamwork and quick thinking are essential to unravel the mysteries.
And let's not forget the unique treat that awaits you at Crave Golf Club – the opportunity to satisfy your sweet tooth. Head to the rooftop course, and you'll discover a delectable twist. This adults-only "Crave Golf Club Candy Shoppe" features mouthwatering sweets and an extensive selection of craft beers, wines, and cocktails to enjoy while you play.
2.      Spend a day at Dollywood Theme Park
Make sure to fuel up before heading to the #1 theme park in the United States, the Dollywood Theme Park. You haven't made your trip to Pigeon Forge right if you miss out on Dollywood's amazing adventures. The park has so much to offer that you'll need to dedicate an entire day.
You can try the amazing food, take the exhilarating roller coaster ride or take other fun-filled rides at the park. Dollywood also features several other attractions and hosts live music performances and events according to the season.
3.      Unwind at the Island, Pigeon Forge 
When its about making one of your evenings unforgettable in Pigeon Forge, TN, The Island can be a perfect destination worth exploring. This vibrant entertainment spot offers an immersive encounter that engages visitors with the town's sights, sounds, and tastes. The Island is a trove of exhilaration and discovery, boasting thrilling attractions, unique shops, and delightful dining options.
An exceptional thing in The Island is the renowned Great Smoky Mountain Wheel. This impressive Ferris wheel, around 200 feet high, presents an unparalleled view to behold the breathtaking beauty of the majestic Smoky Mountains and the enchanting town. A ride on this wheel guarantees an unforgettable experience, particularly during sunset when the landscape is drenched in a radiant, amber hue.
Beyond the captivating vistas, The Island provides an enjoyable retail experience with its diverse selection of boutiques. Whether you seek fashionable attire, accessories, or distinctive keepsakes to commemorate your visit, you'll discover an array of shops catering to various tastes.
No visit to The Island is complete without indulging in its eclectic culinary offerings. From quick bites at casual eateries to refined dining experiences at upscale establishments, there is a delectable option to satiate every palate. Explore an assortment of cuisines, ranging from beloved regional classics to enticing international flavors. And sweet tooths, don't forget to relish irresistible treats at the ice cream parlors you can spot at The Island.
However, The Island's allure extends beyond shopping and dining, encompassing a plethora of recreational activities suitable for all ages. Adventure enthusiasts can test their abilities on the ropes courses at Adventure Park or engage in a friendly competition with friends through a game of mini-golf. The Island's arcade offers a nostalgic gaming experience, while the cinema theater presents the latest film releases for avid moviegoers. And for those yearning for a tranquil moment amidst the excitement, the observation deck provides a serene setting to appreciate the picturesque surroundings.
Spend a day admiring nature 
The biggest attraction Pigeon Forge has to offer is the Great Smoky Mountains. So, a weekend getaway to Pigeon Forge is incomplete without visiting the Great Smoky Mountain National Park. You can hike in the park and enjoy the greenery and fresh air. However, you can opt for short trails if you don't have time for a complete hike. On the other hand, you can pack a picnic basket and drive through the park to find a perfect picnic spot. If you are going with your kids, exploring or picnicking in the Great Smoky Mountains National Park could be a great idea.
Conclusion
Pigeon Forge is the perfect place for a weekend getaway, whether you are going with friends or family. The beautiful town offers so many activities that you can't experience them all in two days, even with a jam-packed schedule. So, we hope this list can help you create an itinerary that will help you have the best time during your trip.