The items in this post were sent to us by the brand. We do not charge them for consideration or placement as we prefer to retain the right to not place an item that we don't truly love.
If you're from my generation, you probably grew up either wearing them or begging your mom for a pair. PF Flyers were the one sneaker brand that everyone wanted to wear…to school, out with friends, etc. I was one of the lucky ones, as not only did I grow up wearing them, but my first job was working in a factory that actually MADE them. I'd go straight from school to the factory (I was 16 years old and I'm 69 now..so, it was a very LONG time ago). My job? Paint those stripes onto the rubber sole. I had an early-style airbrush with a tin of paint on the back of my hand and I can still feel how I turned my wrist as evenly as I could while my paint hand stayed secure on the painting table so that the stripes were straight (the wriggly ones went into a box for the employees to purchase at a deep discount). I remember it like it was yesterday.
Fifty years ago, slipping into a pair of PF Flyers Low Top Sneakers was an experience that said "You're cool". As soon as I laced them up, I felt an invincible sense of style and confidence. Whether I was strolling through the hallways or hanging out getting ice cream with my friends, my PF Flyers were a statement of my youthful rebellion and individuality. They held up through countless adventures and memories, each scuff and crease telling a story of my early teenage years. Even now, whenever I see those classic shoes, I can't help but smile, reminiscing about the days when I was young, carefree, and the coolest kid in town.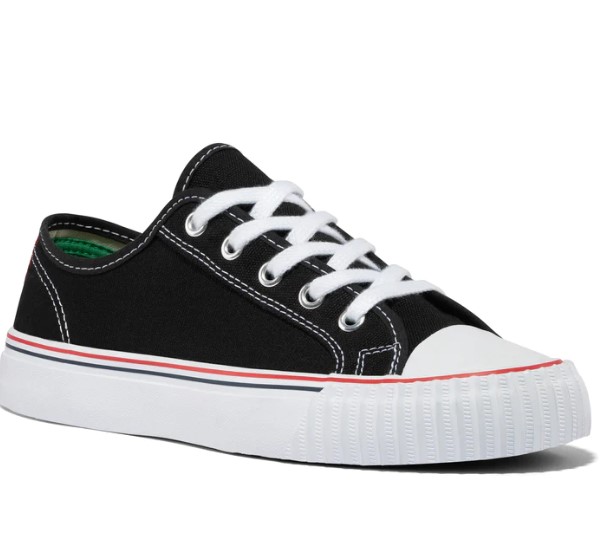 Reliving the Dream in PF Flyers Low Tops
Fast forward to today, and I find myself once again reunited with a pair of PF Flyers Sneakers, only today I am more of a fan of the Low Top Basketball style that has become forever a sports classic, yet looks elegantly funky when paired with a dress or a simple pair of jeans and a white tee. The familiar sight of the timeless design brings an immediate rush of nostalgia. As I slip my feet into these sneakers, it's as if time has stood still, and I'm transported back to having crushes on the football star and sneaking out of class to meet my friends.
50 Years
Today the duck canvas material feels firm and supporting, the signature vertically-ribbed toe guard and distinctive treaded outsole, bring a smile to my face, but it's the Posture Foundation insert that revolutionized sneaker comfort and made PF Flyers a household name that makes me know that at 69, I can still wear them. On or off the court, the Center Lo is an American classic. with the food bed molding to the shape of my feet as I break them in. But, it's the cushioned insole, that provides a level of support that I remember had set them apart from ALL of the other sneakers (PF were short for posture foundation). As I walk, I feel the familiar bounce in my step, reminding me of my days in Rhode Island.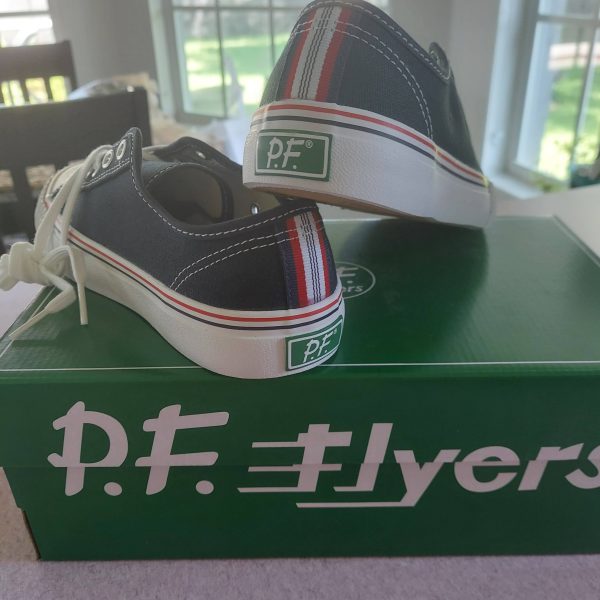 Do they stand the test of time?
While these sneakers undoubtedly pay homage to their storied past, they also seamlessly integrate into the present. The timeless appeal of the PF Flyers Low Top Sneakers continues to resonate with a new generation, who appreciate the fusion of vintage aesthetics with contemporary comfort as well as old-timers like myself. These sneakers are not just a fashionable choice; they represent a connection to an era when individuality and self-expression were celebrated and continue to be today.
For me, wearing PF Flyers Low Top Sneakers again after five decades is an extraordinary journey through time. It reminds me of the transformative power of nostalgia. They have become more than just shoes; they are memories, a force of individual style, and I am so happy that they're back on my feet again.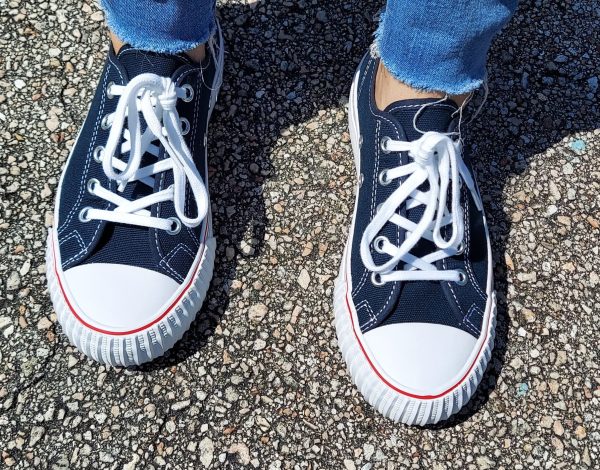 Do you remember wearing PF Flyers?