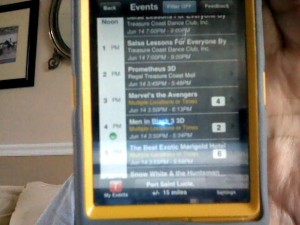 I have to deal with the usual day to day stuff, it would be foolish to think that I don't, but it's important to maximize my time to do the things that I really enjoy. Travel, dining out, spending time with friends, concerts/theater, are all a BIG part of my champagne life. Wasting time on actions just isn't an option for me.
It's a pain to flip through the events sections of newspapers or magazines, scroll through websites or even use other mobile Apps. They frequently leave you with off-target events, or events with too little or incorrect information. If you happen to find something of interest, then you check your calendar to see if you are available. Then you use a website or a phone to make arrangments (buy tickets, get directions, etc.). Then you reach out to your friends and family to see if anyone is interested in joining you. It is a pain. Time to Enjoy solves this problem.
I recently found a FREE app called Time to Enjoy for my iphone that allows me to search for events that I want to attend and share them with my friends. That way we can easily know if we're both available. If I know that Rachel is coming down and wants to see a concert, I can input the dates she'll be here and search for who's performing in the area. I even use it to find out what movies are playing when I'm available to go.
Time To Enjoy helps you discover events in a matter of seconds using your mobile device. Tap to search for concerts, theater, kid's activities, movies, conferences, art openings, special events and more any time, any day, anywhere.
To let more people know about Time to Enjoy, they've decided to run a FUN contest. It's easy to participate.
Download the Time to Enjoy App, Share it on Facebook and Twitter
Follow @timetoenjoy_app on Instagram then take a photo of an event you found on Time to Enjoy onto Instagram using hashtag #timetoenjoy_app.
Go to the Champagne Living facebook page and comment that you've downloaded it.
One reader of all the blogs that participate will be randomly chosen to win a $500 gift card –OR- a $500 total voucher for hotel and airfare on Southwest airlines. 
The contest will run from June 6th to June 30th.
The Time to Enjoy app is available FREE for your iPhone (just search the app store). For more information you can also follow them on