Salmon Dave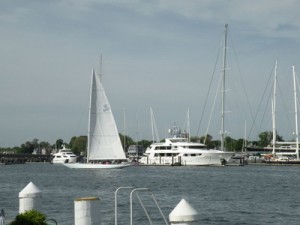 When we bought our first boat, hubby wore me down with that name.  Both long time music lovers, he thought that it was hysterical, and since it was really "HIS" boat (so I wouldn't have to go clean the decks and maintain it – I deemed it "HIS"), I was fine with that – although when he SURPRISED me on our anniversary with our second boat, I was ready to name it "Stupid Boat" (just so I could say – I'm going out on the stupid boat). Besides, having a boat named Mr S' Revenge or The Zipporah just isn't our thing.
We've had both sail and power boats and even I was surprised when I realized that I enjoyed tooling around Narragansett Bay in our little 26′ Four Winns bowrider. I always pictured myself as the sailing type, but the reality is that I rarely went out on my own because of all of the work and for ME our sweet O'Day became a mere spot to have coffee or drinks with friends at the yacht club, or my floating beach house if Mr. S was out of town. It was too much to handle alone.
The nice thing was that Ben grew up on the water and learned boating safety VERY early on. As I think back, some of our BEST memories as a family or even with friends were times spent out on the boat (equipped with boat rod holders, listening to the Newport Folk & Jazz Festival anchored off of Fort Adams, or just diving off the swim platform off of Patience or Prudence Islands).

Boating Fast Facts:
Boating is a vacation close to home – 90 percent of Americans live within an hour's drive of a navigable body of water.
Eighty-three million Americans went boating in 2011, an increase of ten percent from 2010 and the largest proportion of adults boating since 1997!

Boaters bond over memories on the water –69 percent of boaters say boating brings their families closer together, according to a Discover Boating survey.
American boaters are largely 'middle-class' as 73 percent of U.S. boat owners have an annual household income less than $100,000 and 95 percent of boats in the U.S. are less than 26 feet—small boats taken by trailer to local bodies of water.
More than eight out of ten boaters (77 percent) boated as a child.
Now that we've moved from New England to Florida we've talked about getting another one. The possibility of boating year round makes it even MORE attractive and I know from experience that boating is the ONE hobby that our entire family enjoys. It allows us to spend more time together and has provided us with years of great memories. The difference now is that there are only two of us, however we have MORE time to boat – so, figuring out what we'd enjoy most is a bit daunting.
Before we schlep from marina to marina looking at boats, I told Mr. S that we should consult Discover Boating , so that we can whittle down the choices to those that would fit our needs. Mr. S spent some years in the wholesale automobile business, after selling our restaurants – so he's a MASTER at negotiating cars, boats, etc. The problem is that he loves the process SO MUCH that he starts haggling on just about every boat or car which could end up in us owning something that's not a good fit (just because he's able to get it at the price he wants). By using the Discover Boating site, I can be the practical one, and keep him FAR AWAY from the boats that we don't want!
Discover Boating is a nonprofit program supported by the U.S. recreational boating industry to help people get on the water to experience the fun of boating. For those looking to get their feet wet, DiscoverBoating.com is the unbiased online resource to explore the enjoyment and accessibility of the boating lifestyle. Packed with easy, interactive features to familiarize people with all aspects of life on the water, DiscoverBoating.com has a boat selector guide, cost comparison tool, renting options, destination section, boating courses –even nautical lingo and how-to videos. Plus, the website offers tools and information for experienced boaters looking to learn more.
Be an informed boat buyer and owner by using their online tools:
Boat Selector Tool:  Learn what type of boat fits your family, budget and lifestyle.  A great way to understand the different types and sizes of boats available.

 

Try Before You Buy: Research ways to get out on the water without owning– from renting, chartering, fractional ownership, local boat clubs and more.

 

Cost Comparison Tool: Compare costs of other recreational activities' with boating.

 

Just for Kids:  Fun games and activities for kids to learn more about boating, as well as information on youth boating organizations for parents.
 Marina and Ramp Locator: Find a local marina or boat ramp close to your home.

 

Facebook Movie Maker App: Bring boating to life through personal photos made into your very own short movie. Add a few of your favorite boating photos, choose different backgrounds and music, add your own captions and share with Facebook friends.
My personal choice at this stage of our lives would be to join one of the boat membership clubs that have sprung up all over South Florida, allowing members to use all sizes and types of boats. For us the advantage would be that we wouldn't get into that upgrading every couple of years cycle, they handle the maintenance, and we'd get to use various types & sizes of boats. The flip side of that is that I would miss being able to use it as a second home.
We're still deciding and Discover Boating is helping.
I wrote this review while participating in a campaign by Mom Central Consulting on behalf of Discover Boating and received a promotional item to thank me for taking the time to participate.