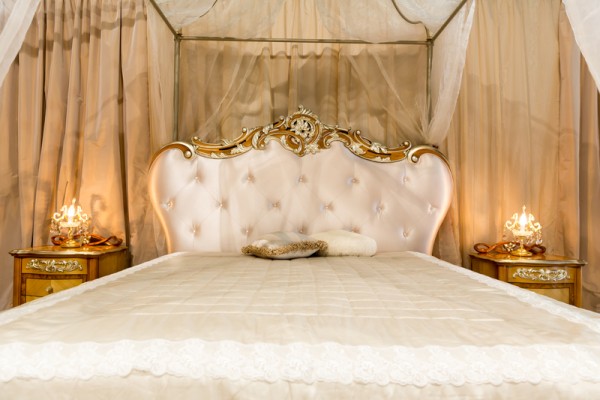 Trends are cyclical just as water moves in tides.  Waterbeds quite popular once upon a time and then the preference ebbed.  Yet, like a lost ship eventually finding the North Star, waterbeds have found their way back in fashion.  Here's why people are rediscovering a restful sleep and doing it on waterbeds.
Back Relief
We spend a third of our lives sleeping so it's important that what we sleep on is gentle on our bodies.  Upper and lower back issues can be due to an awkward and improper sleeping position.  Even those who don't have a history of back issues can buy a bed that is not very kind on the spine and create back issues.  A waterbed is orthopedic; it curves around the spine rather than demanding the body to shape to it.  Floating while sleeping removes pressure and allows the spinal and back muscles to relax.  Moreover, heating the waterbed facilitates circulation, which promotes greater comfort to problem areas.
Less Asthma and Allergy Issues
Dust mites and droppings collect in mattresses and become nearly impossible to exterminate.  However, waterbed bedding is easy to wipe off.  The mattress cover can be entirely removed and washed at a temperature that sanitizes while killing mites.  Doing such, along with using allergy-free bedding material, ensures you suffer less from allergies and asthma and get a better night's sleep.  Also, you'll be practicing better hygiene, which impresses guests and lovers.
Keep a Hold on Arthritis
Waterbeds are heated, which helps muscles relax.  Improving blood circulation alleviates stiffness in joints.  This leads to a great night's rest.  Being more relaxed means you won't twist and turn as often.  Feeling more restful supports self healing.  The body gets better at rejuvenating damaged areas, including sore joints and muscles.  You'll get a hold on arthritis while improving overall posture.
Experience No More Bedsores
For those who spend a lot more time in bed due to illness or a permanent condition, the chance for getting bedsores is increased.  When you're on a hard mattress, blood tissue gets squeezed, which stops proper circulation.  However, a waterbed properly distributes body weight so no one area experiences too much pressure.  As mentioned, a waterbed molds to the shape of your body.  You won't put parts of the body in a position to attract bedsores.
Do Away with Insomnia
Insomnia is broadly defined as the inability to sleep, but not getting a good night's rest can be the result of a lot of things: anxiety, depression, stress, discomfort, pain, light, noise, etc.  The simplest solution is feeling more relaxed.  A waterbed is not a cure-all for underlying problems such as depression, but it can facilitate relaxation, which helps get you on your to a restful sleep.  Rather than resting on top, the body actually floats on the surface of a waterbed, and when regulated by the water's temperature, the body has a better chance of overcoming sleep-related issues.
Save Money
After years of use, a mattress goes flat, lumpy, or loses the bounce it once had.  This is not so with water beds.  As mentioned, one has to break-in a regular mattress, putting 'dents' in it so it begins to fit your body.  This deteriorates the mattress and makes its appearance less attractive to onlookers.  However, a waterbed instantly fits your body regardless of your preferred sleeping position.  Of course, a waterbed is not beyond attracting a puncture, but it's relatively easy to fix and won't become a major ongoing factor.  If you're interested in investing in a waterbed, check out BoydWaterbeds.com.
It's a Good Fit for Two Bodies
If you're married or regularly sleep with a significant other, a bed becomes a major issue.  Sharing a bed is unlike sharing an apartment or even a pizza.  With living space and a pizza pie, there's room for compromise, yet this is not so with a regular mattress.  People have unique preferences.  Some prefer a firmer mattress and others a softer one.  Similarly, one partner may want a bed that allows you to sit up with the aid of a remote while the other wants to keep the bed stationary.  With a waterbed, you don't have to worry about having differences of opinion; the mattress naturally fits to each individual's body.
The world is mostly filled with water, and the same is true about your body.  It's no wonder people have a natural inclination toward spending a third of their life on water.  Waterbeds were popular for a reason, and again, the preference of many sleepers gravitates toward water.
Douglas Weldon is a furniture salesman. He enjoys passing on his insights online. His articles mainly focus on functionality, design and style of furniture.