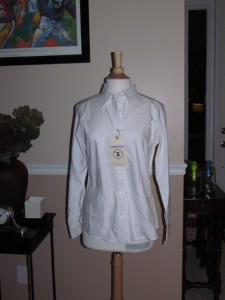 One shirt. One WHITE shirt. One simple button front white shirt. The shirt we all have in our closet. The shirt that never, ever goes out of style. The shirt that gets overlooked so often because it can be a bit boring.
My challenge today came from Gray Chandler Murray from the Donovan Decker agency once again. Take that white shirt from daytime to cocktail time using a few accessories from my closet. Daytime was easy, since I'm a uniform gal. Taking one of  my many (okay – maybe too many) scarves, I simply tied it losely around the neck and added a wrap belt (3 times around the waist) and I'm ready to toss the shirt over a pair of jeans, khaki's, a simple skirt or slacks and I can go shopping, to the work, or even just walking around the block with the dog.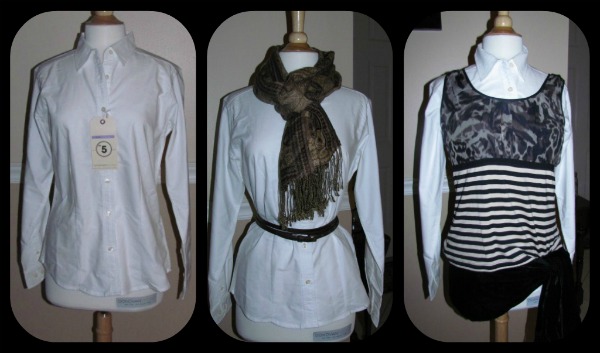 Evening was a bit more challenging, as the shirt is cotton, and tailored. To dress it up a bit, I took a fun sleeveless top that I picked up in the garment district in NYC on the private tour that I took last year that included designer showrooms. Adding a black velvet shawl draped around the hip, I can now slip on a mini skirt and heels or a pair of skinny pants and I'm ready to schmooze over a few cocktails.
Do you have a simple shirt in your closet that seems to never get worn because it's almost TOO simple? Join in the Jane by Design Style Challenge and add your simple makeover from a daytime look to evening fabulous on their facebook page and you could win a spot on the ABC Family website as a Trendsetter of the week. Don't forget to add that you're a Champagne Living reader, as they're choosing the trendsetter from the winning blog!
Don't forget to mark your calendars and catch Jane by Design on ABC Family – coming THIS WEEK –  January 3rd at 9pm EST!
I wrote this as part of my "interview" process with the fictional Donovan Decker agency and the new TV show Jane by Design. All opinions are my own.