That will be the theme of Champagne Living for January…what better way to start 2012? We can work together to continue losing this weight, exercise and look like a million bucks on a Champagne Living budget reserve.  You'll see a recurring use of themes each month here, so that you can earmark JUST the type of information that will fit your needs.
To end the year, and ring in the new…Jockey sent me a sports bra along with a bottle of Purex Crystals Tropical Splash. After scratching my head for a bit as to why they sent these two unlikely products together, I figured that I'd just use them and not worry about WHY.
So, I donned the bra (sparing you the gory details) and worked out on the Total Gym for about 20 minutes.  I love Jockey. When faced with the designer brand workout gear vs. Jockey, I'll always choose their product. Why?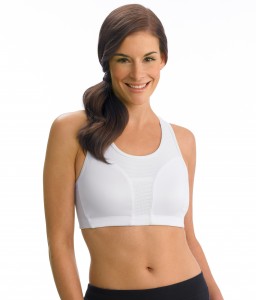 The Fit – I'm short. Jockey actually makes workout gear that doesn't drag on the floor, fits my curves without looking cheesy and is comfortable. It looks good enough to wear out of the house, gym, neighborhood. The designer brands tend to look HAWT, but perform poorly, as they're made for fashion and not function.
The Price – This year I'll be talking more about what to spend your money on and what to save on. Save on your gym clothes. You want function and fit and not labels here. Save your hard earned money for when you're going out, not when you're sweating. Jockey makes high quality products, that won't let you down, and frankly they make me look better than those sweats I picked up on sale at Nordstrom in the petite department that I was wearing.
The Bra – I hate sports bras. They're a PITA to put on and an even bigger PITA to take off. They stick to you when you sweat, offer little support and are ugly. There…I've said it. Jockey's new Tech Terry Performance Sports Bra addresses some of those problems. While it's still a PITA to put on and off, it offers
Moisture wicking – the tech terry fabric keeps the moisture away from your body, eliminating that nasty cling that sports bras do
Key pocket – means no schlepping your handbag to the gym, the car key along with a dollar for a mid-workout drink slideconveniently in
Reflective logo on the back – this doesn't affect me as I don't run, don't run at night, and don't go out on the streets with just a sports bra – it would be great if you're tall, thin, and a fitness buff – me, not so much.
Mesh panels – offering a spot for air to get through, so you don't get that feeling like you need a big bottle of goo gone to unstick the bra from your body
Soft band – the bottom of the bra has a band that doesn't dig in – FINALLY someone has figured this out…thanks Jockey
So, what do those Purex Crystals have to do with all of this? Once I peeled  myself out of the bra (not an easy feat) and got one whiff as I pulled it over my head, I realized that lady should never smell like that. So, I hopped into the shower, and forgot about the bra, which sat in the laundry basket for a couple of days.
What I learned – cheese is not the only thing that ripens with age…so do sports bras. When I finally got around to running the washing machine, I tossed it in along with all of my other clothes (note – I usually wash underwear by hand to preserve them, but not my gym wear). When I added the Purex Crystals into the washer, I realized the connection. In the past I've stayed away from using any fabric softeners on gym clothes as they leave an oily residue that doesn't mix well with spandex.
The difference is that Purex Complete Crystals softens without oil, and when I removed the bra – that Roquefort smell had been replaced with the ahhh…of an island vacation (which after all of that working out I feel like I deserve), it's softener reinvented.
OK, so now I get this whole connection. Two products working together to make your life better.
So the bottom line is…save your money. You don't need overpriced gym wear – Jockey performs better (instead save for that pair of heels you've been dying for), and to keep it in great condition without ruining the fabric – Purex Crystals will keep it smelling and looking fresh.
I have a special treat for you as well. Check out the great contest that Jockey is running along with Tim Tebow and you might win just like Tim ~
 Tim Tebow (Jockey's newest spokesperson), has made this football season so exciting & they came up with a way to make it awesome – the Jockey $1 Million "Super" Challenge (code name for a whole bunch of underwear!). While Jockey's favorite #15 continues delivering  "edge of the couch cushion" performances, they're challenging themselves to give Jockey fans a little something extra to cheer about. How? If Tebow's team wins the championship game, they're celebrating with a fresh pair of Jockeys for A LOT of people!

HERE'S THE SCOOP: If Tebow's team continues their hot streak and captures that hallowed trophy in Indianapolis, Jockey will celebrate with their fans, 40,000 to be exact, with $1 Million worth of product. The fun doesn't stop there, one fan will score a $15,000 (it's our favorite number!) grand prize!

I'm so excited about this! You can enter the Jockey $1 Million "Super" Challenge online in two simple ways starting December 15, 2011:

All customers who make a purchase on Jockey.com will automatically be entered for a chance to win.

The contest will run until February 5, 2012, or for as long as Tebow and his teammates are still in the mix to win the big one.

To make sure you stay up-to-date on the action, they've created the hashtag #IfTebowWins. Now, you'll never miss a thing. Don't be shy, tag your tweet with #IfTebowWins and tell them how you'd celebrate with$15,000!

Excited? I am! Head over to the sweepstakes page and get signed up to get your undies in the Jockey $1 Million "Super" Challenge!
I'm heading there now!