Thank you to our West Coast writer Kathy Leong for this great piece on the Westin Maui Resort & Spa, Ka'anapali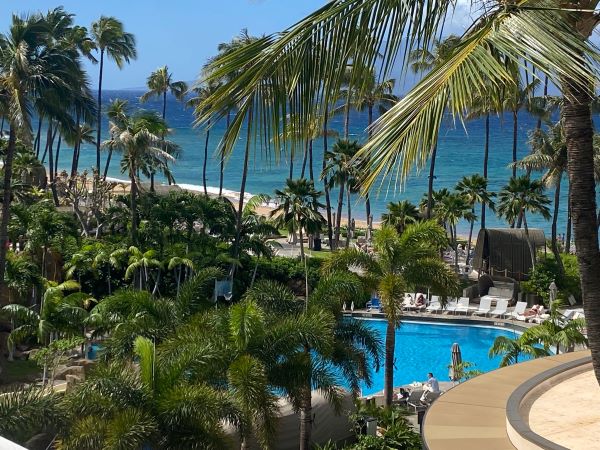 For addicts of four-star hotels and ocean sunsets, the Westin Maui Resort & Spa is endowed with all the elements of a tropical paradise…and then some. Where shall we start? The six-pack of swimming pools with not just one, but two waterslides? The infinity hot tub overlooking the Pacific with layers of sand to massage your toes? Or how about the flamingo-laden koi ponds embraced by waterfalls and gardens?  In addition to these trimmings, the hotel honors Maui's cultural roots, and to that extent, the Westin celebrates all that makes Hawaii, Hawaii.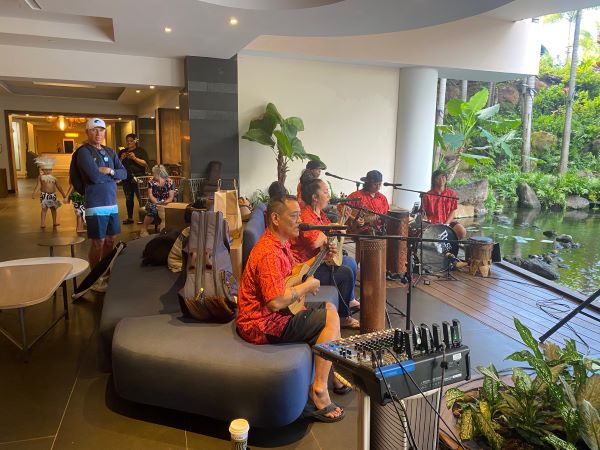 At this 769-room oceanfront oasis, expect a lei greeting upon check-in at the open air lobby.  Look around. Orchids, anthurium, ginger plants clinging to rock walls, and lush plantings will leave the most jaded horticulturalist dizzy with delight. Everything appeals to the senses – mist from the waterfalls, scents of the ocean, strums of Hawaiian guitar music and more.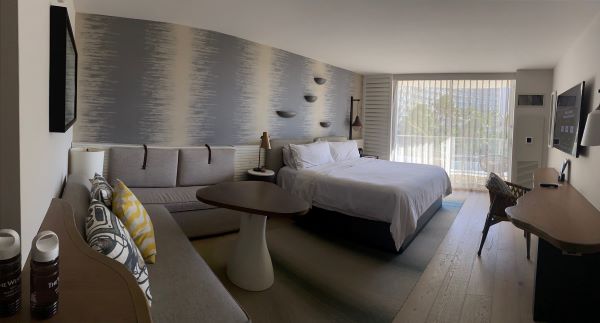 If you are still weighing your lodging options, know that the Westin Maui has completed a significant $120 million renovation of public spaces, primarily focusing on its new 217-room Hokupa'a Tower.  It has been revamped with new layouts, furnishings, art, and washes of paint and wallpaper inspired by "sand, ocean, and sky," say Westin brochures.  Our room, an ocean view king (#374) boasted a spacious 400 square feet, including an L-shaped sofa bed and table, and a spa-like bathroom. Plush towels, the trademarked Heavenly bed, and Nespresso coffee maker added to the slate of luxury amenities in this palette of gray, white, beige, and blue.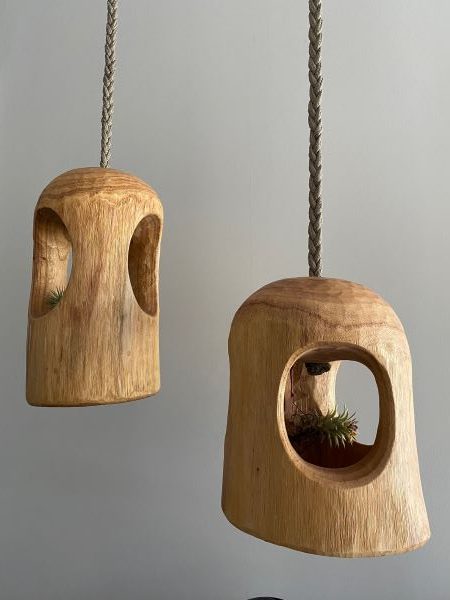 In the Hokupa'a Tower, guests have exclusive access to The Lanai, a club room with free breakfast bites, snacks, cocktails, and beverages, an infinity wading pool, and sea views to make your stay even more decadent.  Throughout the tower (one of two high rises on the property) design fans can appreciate the sleek hardwood plank floors, Hawaiian artwork, and air plants in dangling wood planters.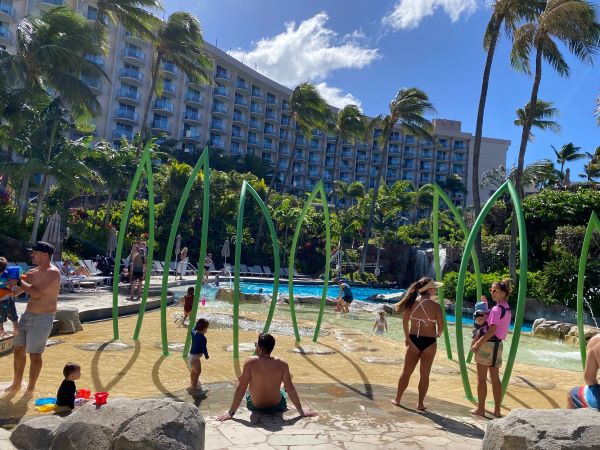 Travelling with kiddos? A boatload of conveniences come to the rescue. A dorm-sized fridge holds leftovers. Housekeeping can set up a microwave in your room free of charge.  Guests get their own water bottle, refillable at purified water stations throughout the resort. And when you need to grab snacks or buy sunscreen, the affordable ABC store at Whaler's Village shopping center is next door.  The hotel's Kawaiola Aquatic Playground is comprised of six pools, including swim-through waterfalls and two colorful wading pools for babies and toddlers. You can keep the little ones busy all day moving between the pool and sand.
Your credit card will be getting a workout while on vacation, but you can flex and tone up your body as well.  Tackle the beachside walking/jogging path next. Go kayaking or rent a standup paddle board. Jump on an exercise bike.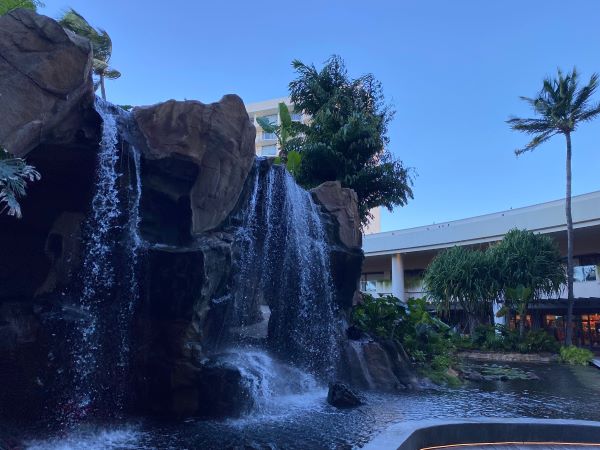 Given this resort hosts hundreds of guests daily, is it possible to find solitude amid the splish splash?  The answer is a resounding yes.  Benches and nooks aplenty yield spots to steal away to read that long awaited novel or to break out the sketch pad. Pursue calming activities such as yoga on the lawn. Be mesmerized watching the koi eat breakfast.  Talk to the colorful macaws brought out to see visitors several times a day. At night listen to the strains of authentic Hawaiian music.   Book a spa treatment.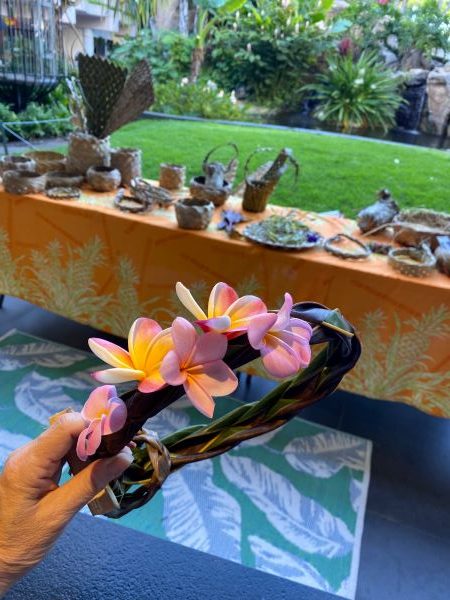 Beyond these perks, Hawaiian culture permeates in subtle and obvious ways.  The buildings possess Hawaiian names. The hotel employs a cultural ambassador to ensure elements are authentic. Hands-on demonstrations from Monday through Thursday include lei making and basket weaving known as ulana niu.  On weekends, you'll probably see costumed dancers and musicians performing in the lobby.  At sunset, under the When Shadows Fall program, diners at the outdoor Hale Mo'olelo restaurant get to sample a cup of 'awa drink known for relaxation and medicinal purposes. Torches are lit. A traditional oli is chanted.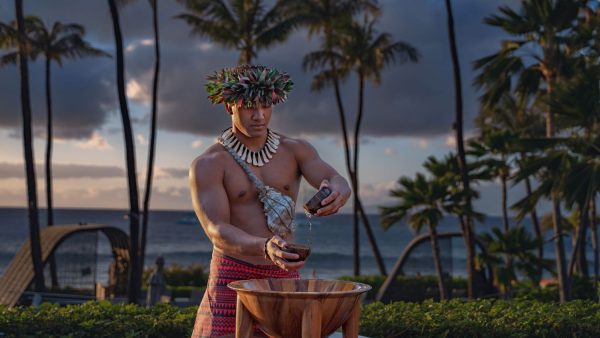 Want an all-out culture blast? The Wailele Polynesian luau tantalizes with hulas and history. Of note is the Samoan fire knife dance where very fit young men spin flaming torches in a blur.  More than seven minutes of non-stop, heart-pounding "will they burn the place down?" excitement is truly the highlight of the show.
The luau, for 2023, has been reimagined with limited capacity. Instead of offering tickets to 500 or more guests, the resort limits sales to 250 to be seated at round tables. A traditional all-you-can-feast Hawaiian buffet with desserts, an all-you-can-drink bar, and top-shelf entertainment culminates the three-hour extravaganza.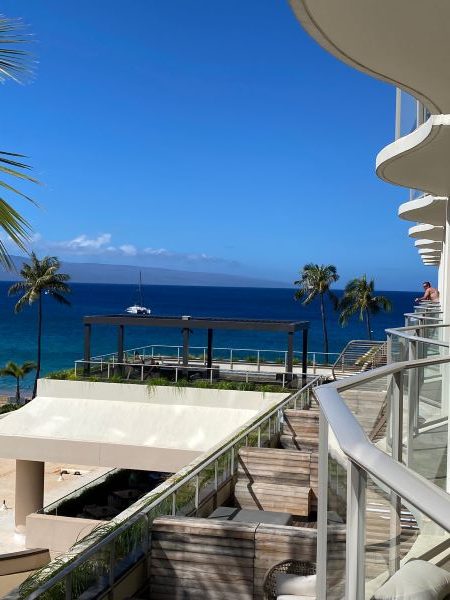 These days, compared to staying at Air Bnb spaces where you would probably cook in and blend your own cocktails, more travelers are returning to the ease and safety of hotels. Westin Maui offers 24 hour front desk service, so in case someone gets a fever in the middle of the night, there's an advocate for you. The conveniences of shops, restaurants, shuttle services, and oceanfront beach access cannot be underestimated. Combined, these benefits create a stress-less Hawaiian vacation without the hassle of hunting down a recipe to make your own mai tai.