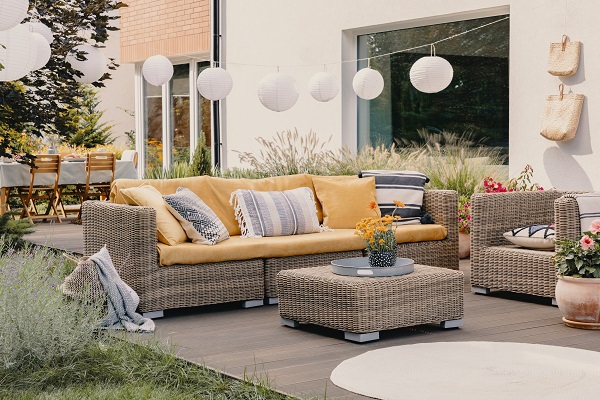 What better way to liven up a home than by starting a garden? A beautiful, thriving, and blooming garden can elevate any residence. But a bonus is its calming properties, which are beneficial to almost anyone, especially in today's hectic lifestyle. 
Your home is your sanctuary. It's not just a place where you sleep or do your laundry. Many people are keen to leave their homes and find entertainment and relaxation elsewhere.  But if you think about it, if you just put in a bit of effort to make your home as charming or luxurious as you want it to be, you can do a lot of activities without stepping out of your front door. 
If you think interior design is tedious, then think again. It's something everyone can get into, and it gets even more enjoyable when you realize that it can be tailored to your tastes and interests.  
Improving your garden is one of the most rewarding projects you can do for your home and yourself. It can make it look like a special place that you can be proud of, and it's also an area where you can be surrounded by nature to ease your mind. 
But to make it a cozy place to spend time in, you'll need furniture. Pulling up an old chair to sit on and have your coffee might do the job, but it doesn't exactly add anything to the aesthetic quality of the garden. If anything, it takes away from it. Moreover, it isn't comfortable for lounging for more extended periods. And if you have any guests over who want to spend time in the garden, it's going to be embarrassing to leave them standing.  
This is why getting garden furniture is an essential part of your garden upgrade. But it can be tricky when you have no prior experience with outdoor furniture and if you're not sure about what to look for. 
One way you can decide on what kind of garden furniture to get is to look for inspiration from websites like Pinterest or Instagram. While it's fun to go through these websites, it isn't a practical choice because if you see something that you like, it will be challenging to find where the exact pieces are sold.  
However, the easier way to do it is to go straight to online stores like www.gardencentreshopping.co.uk. This is because you'll not only find pieces that you like, but it's also immediately available for you to purchase. But the task of choosing which furniture to get can get overwhelming because of all the varying designs that fit different tastes and styles.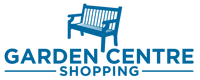 To make the job a little easier, here's a list of tips to make choosing the right furniture pieces that will fit your garden and your tastes perfectly: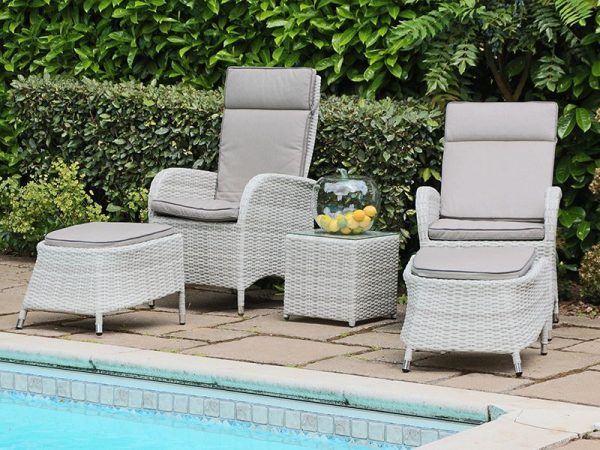 Get Pieces That Will Help You Relax 
A garden is a place where you can put up your feet and lay back, literally! So, one of the best choices you can make for your garden furniture is chairs that can help you do just that. Imagine yourself lazing about your garden on your day off, free of any responsibilities or stressors. It's just a calming moment in your garden while you have some tea and then doze off in one of your reclining garden chairs. 
If that sounds like how you want to spend your breaks and time off, you should 100% consider furniture meant for lounging about. Reclining chairs aren't just for living rooms. They can also be made for outdoors, like your patio or the garden. 
Consider the Activities You Want to Do in The Garden 
Aside from relaxing, what other activities do you see yourself doing in your garden? Perhaps you're thinking about having coffee with your friends, reading a book, or having breakfast. Whatever it is you have in mind, it should be a point of consideration when you're buying any furniture. But the garden is unique because it's an area where you can do special things, like hanging by the pool or having an outdoor barbecue.  
If you enjoy having people over, you should go for sofa sets to allow guests to feel comfortable without it getting too crowded. For anyone who loves to serve guests meals, an outdoor dining set that can seat more people should do the trick. But if you want to keep the space to yourself and a special someone, a three-piece set with two chairs and a table would be incredibly charming. It's excellent for having afternoon tea, and it won't take a lot of space if you have a smaller garden.  
Don't Forget to Take Measurements 
One of the cardinal sins of furniture shopping is not taking measurements. Take out your measuring tape and be precise with the dimensions of the area you want to furnish. Then, you should always check how big, wide, tall, or thick any furniture pieces you're eyeing. This will save you time with any returns or refunds, which can be a hassle. And don't be lazy about it by eyeballing it or estimating it; it's not going to take you hours to do it.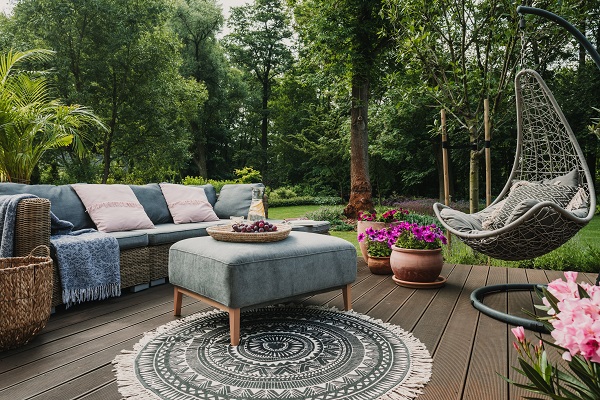 Think About the Style or Mood You Want to Emulate 
There are different garden furnishing inspirations on magazines and the Internet. And many of them will depend on what style you like the most. Some enjoy a more rustic style, so natural wood finishes will probably be what you enjoy. 
On the other hand, some have a more romantic taste which pairs well with intricate cast-iron pieces. For a bohemian look, anything made out of rattan can underscore that style. But a rattan swing on a rooftop garden would probably take the cake. Whatever style you enjoy, there's furniture that will pair perfectly with your vision, even for more eccentric tastes.  
Conclusion 
Furniture can be used to beautify an area, but it's also meant to be used by people for different purposes. But just because a piece is practical doesn't mean that it will be a good fit for your garden. A balance of practicality and aesthetic is the perfect equation to make your garden comfortable and beautiful to look at. But the most important aspect of furniture shopping is to always go for the ones you completely love. If you have any reservations or doubts about whether you like it or not, then it's a no-go.