Here's a riddle for you…
What is both sweet & savory, casual & elegant, friendly and inspirational, and gets you more than you give?
I found out when I attended a FABULOUS dinner set outside on the New River in Fort Lauderdale at the historic Stranahan House recently. The food was inspiring, the service elegant, and the tunes were perfect for an autumn night with candles aglow.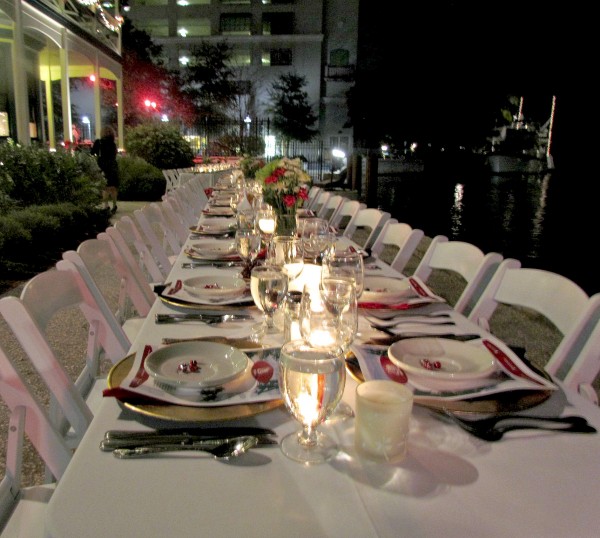 With Guest Chef  Lenore Nolan-Ryan (owner of a catering business & cooking school in nearby Lauderdale-By-The-Sea) and executive Chef Andrés Marin helping to run the show, dinner included such deliciousness as:
A signature pomegranate champagne punch served along with h'ors d'oeuvres
Red pepper coconut bisque (hope no one looked as I licked the bowl)
Five spice chicken with thai orange sauce & roasted tomatoes, Israeli couscous pilaf & vegetable ribbons – seconds please
Chocolate ganache brownie Gran Marnier sabayon – yes, it WAS heaven – chocolate is the way to my heart

With DJ Stephen spinning the tunes the setting was perfect, the food sumptuous, and the mood festive.
What's different about THIS pop-up dinner than others?
The Tale of the Traveling Plate

The Traveling Plate concept was created by the ARC Broward Culinary Institute and came to fruition in February 2012 through a project of the Leadership Broward Foundation Class XXX. While the founding members represent various professional industries, they shared one common infatuation – food! Through their love for gourmet food, they came together to bring a new audience of foodies to the ARC Broward Culinary Institute.
"Great Food, Great Cause"
The ARC Broward Culinary Institute uses food as a tool to transform lives for adults with disabilities and other life challenges.  The Institute's non-profit catering business creates outstanding culinary experiences in an ambiance of style and taste while providing on the job training opportunities for graduates of the Entry Level Culinary Arts Certificate Program.  Students gain experience working in the culinary arts industry by:
Working Traveling Plate dinners
Supporting on-site catering services provided at the Sunrise Grand Ballroom
Providing off-site catering services for numerous clients across South Florida
Proceeds from each dinner are used to fund scholarships for students with financial barriers so that they may enroll and complete ARC Broward's 16-week culinary arts post secondary certificate program.  For additional information on the ARC Broward Culinary Institute, visit  www.arcbrowardculinary.com.
For complete details, including getting on their mailing list for dinners in 2013 go to:www.travelingplateftl.com
Don't forget to follow them on FACEBOOK for regular updates
Want to volunteer or get more info on what The Traveling Plate does:
Call: 954-746-9400 ext: 4136
I was a guest of The Traveling Plate for this fabulous dinner experience, you can be too. All opinions are strictly my own.