Disclosure: This post is sponsored by BabbleBoxx on behalf of Amazon Prime Video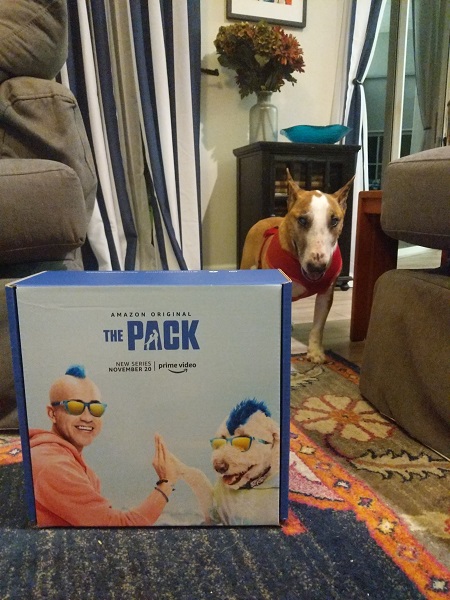 I remember swearing up and down that we'd never get a dog again. We had bred, shown, and fostered Old English Sheepdogs for ALL of our married life. Once we made the decision to retire and move to Florida, we knew that there would be no sheepies in our future. They are too big for a condo (which is where I assumed we'd be living) and with all of that hair, it wouldn't be fair of us to have a cold-weather dog in a tropical climate. But, if you're a dog lover, you just know that living without a 4-legged companion is not a life.
and then there was Clem
Within 4 months of making our way south, Mr. S was asking if we could have a bull terrier. I said NO and we compromised. We called breeders that were involved with the Target dog to see if there were any available and after multiple "NO's" and "Would you like to be on our 2-3-4 year waiting list?" we found him…our little man, our cuddle dog, the "old man" (he's almost 16 now), Clem.
When you love a dog, they become the center of your life
And so it is with Clem. He is our morning, noon, and night. He is what gets us out of the house for walks and what keeps us calm as we sit and pat him in the evening. He is why we eat healthier so that we can share our food with him and why we only travel to pet-friendly destinations (when we did travel).
The Pack is a brand new unscripted series that celebrates the bond that all of us humans have with our 4-legged friends. We can't wait to check Olympic gold medalist Lindsey Vonn and her canine co-host Lucy! If you think the Iditarod is exciting, this series features twelve teams of dogs and their humans on an epic adventure across multiple continents.
The Amazon Original series The Pack – premiering November 20th, on Amazon Prime Video in more than 240 countries and territories.
The prize!
OMG, OMG, OMG – to make things REALLY exciting, there is a life-changing $750,000 (yes, MONEY) for the winning duo and their charity, $500,000 going to the winners plus an additional $250,000 prize amount for the animal charity of their choice.
Charity!
We love that The Pack also donated $250,000 during filming to multiple charities and animal rescue organizations in each country, helping to pay it forward to dogs and those who love them around the world. To win the monetary prize for themselves and their charity, the teams will have to depend on their understanding of one another's strengths and weaknesses and prove to have the strongest bond in the pack. In each locale, the human and dog duos will face fun and exciting challenges, designed in concert with a team of accredited veterinarians and certified dog experts that also accompany the group on their exciting journey, making sure it is a positive experience for everyone.
Clem unboxes
The Pack
MINE!
So, who's going to be watching along with Clem and me? Mr. S and I will be glued to our TV as we stream The Pack, starting 11/20/2022 and we hope that YOU cuddle up with YOUR dog and enjoy an extraordinary The Pack Prime Weekend November 20-22.
DETAILS