While I ignored Black Friday, and my intentions for Cyber Monday were good, but incomplete. I still have most of my gift shopping done for the holidays….at least those that are ready to be sent out. Most of them having been chosen specifically on a relationship basis.
As trite as it may sound, it is the thought that counts and the more thought behind a gift…the better. From the personal to the personalized – I like to find gifts that SPEAK from the heart, or make them jump for joy.
For my friend who's trying to keep warm in New England 

I'm sending my girlfriend who's always complaining about needing to be someplace warm this great robe from Personal Creations. I've had it monogrammed with her first name. It's a great gift for the holidays for that friend who loves to curl up in front of the fireplace with a cup of cocoa and relax. This soft as can be chenille shawl collar robe will keep her cozy and warm. I'll just try to refrain from telling her the temperature down here in South Florida 😉
Price: Under $50
Purchase her gift at: Personal Creations
For those who have a difficult time dealing with the holidays
Besties can be both easy to buy for, since we know each other so well…but at the same time you really want to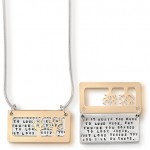 make that gift as special as can be, which is why I've chosen a necklace with a very PERSONAL message by Kathy Bransfield jewelry for another one of my friends.  This gold and silver "I'll Be There" necklace is both quirky in its design, and so heartfelt in it's message….
If it hurts too much to look back, but you 're too scared to look ahead, just look beside you and I 'll Be There
Price: $98
Purchase at: Kathy Bransfield Jewelry
For the technology lover 
You can't go wrong with the newest and most FUN tablet from Microsoft – SURFACE! I love their TV ads, and it's made me want to buy one for myself (but I'm waiting til after the holidays). Practical – sure, PRETTY (magenta please) – absolutely….and you thought kickstands were only for bicycles. Perfect for the traveler (like me…hint, hint) – easy to use in flight (movies, music & work), and I love the add-on keyboard and TWO cameras (front & rear facing) in 720 HD! I'm hoping that ONE of my 8-days of Chanukah will include the Surface this year.
Price: from $499
Purchase: Microsoft.com, or wherever Microsoft products are sold.
For my husband who lives, breathes, & eats music
Mr. S just loves his music. For his birthday I bought him a new Mp3 player with all of the bells and whistles, but it doesn't mean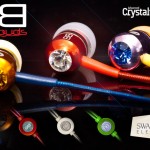 ANYTHING without a GREAT set of earbuds. Tinny just doesn't cut it when it comes to Curtis Mayfield! Don't give it away, but he's getting the creme de la creme of earbuds – BassBuds! He'll be able to use them with his mobile phone as well (there's a microphone and it integrates with ALL smartphones) and has clear HD sound for that music from the 60's he keeps loaded on his device. I adore the Swarovski Elements that are embedded in the design, and thee anti-tangle double-wrapped cable means that I won't have to sit & mess with them (he hands cords and says "fix this").
Price: $85
Purchase: BassBuds.net
Special Offer: Champagne Living readers can use this discount code for $30.00 off: BB59831
I'll be back with more great gift ideas, in the meantime HAPPY SHOPPING.
I received some of these products to facilitate this post, others I just thought were a GREAT gift idea. All opinions are strictly my own.