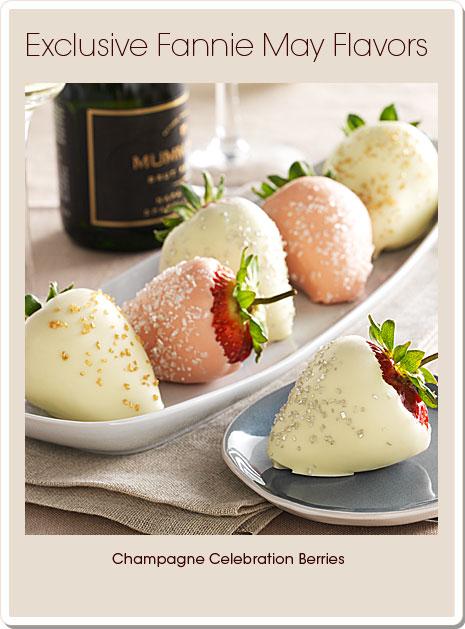 Life is all about bubbles, and there is no better combination to get ME all bubbly than champagne and strawberries. UNLESS it's a giant, hand-picked strawberry that comes generously dipped in creamy white and pink champagne-infused real chocolate and decoratively sprinkled with gold, platinum and clear sugar. That may TRULY be the PERFECT combination.
With all of the parties and dinners this holiday season, choosing the hostess gift that is elegant and says how much you really appreciate all of the work she/he's done cleaning, cooking, and preparing is important. I used to think that a well chosen bottle of champagne was THE gift, but I had the opportunity to experience the ULTIMATE in champagne and strawberries from Fanny May's Champagne Celebration Berries recently.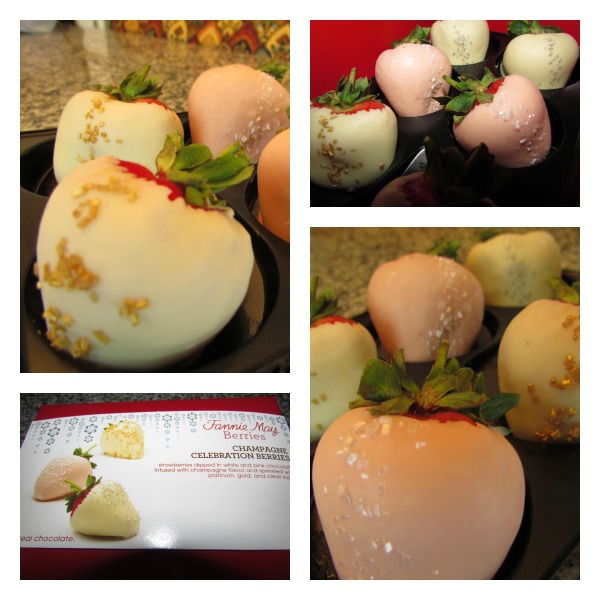 I've decided to keep it looking luxurious by NOT showing you the strawberry juice running down my chin as I bit into these succulent treats.  I've also decided that the video would NOT put me in a good light…LOL. Instead I'll resort to..MMmmmmmm.  Yes, they taste as good as they look. Fanny May Berries have created a champagne, chocolate, strawberry heaven!
If you're NOT a champagne girl like me, they have the "regular" chocolate dipped strawberries (including holiday berries piped with red & white icing – for SANTA), as well as some EXCLUSIVES like the Mint Meltaway Berries (yes, please), and the DECADENT Trinidads (a mix of decadent chocolate, toasted coconut, and sweet berry).
Why buy dipped berries from an online gift warehouse, when you can get the BEST from the name that epitomizes GOOD CHOCOLATE?
About Fannie May Chocolates

For nearly a century, Fannie May Chocolates has been bringing you the finest gourmet chocolates, fudge, and candies that have kept us as your favorite traditional chocolate store. Since the first Fannie May chocolate store opened in 1920 Chicago, we have been developing decadent chocolates, using only the premium of ingredients. Our rich chocolate recipes remain unchanged since the day we premiered them. Even when ingredients were scarce, Fannie May Chocolates kept its original recipes and refused to compromise the gourmet milk chocolate and dark chocolate tastes that put us at the top of the chocolate charts. We guarantee a high standard of excellence with all of our gourmet chocolates. We also stand behind our 100% satisfaction guarantee to ensure that the most delicious and high quality of gourmet milk chocolate, gourmet dark chocolate, and gourmet fudge gifts are being sold. In May of 2006 Fannie May joined the 1-800-Flowers.com family of brands. For more than 30 years, 1-800-FLOWERS.COM Inc. – "Your Florist of Choice®" – has been providing customers around the world with the freshest flowers and finest selection of plants, gift baskets, gourmet foods, confections and plush stuffed animals perfect for every occasion.
Prices range from under $25 (on sale) and up. Making these much more affordable than even a CHEAP champagne.
SURPRISE GIVEAWAY
WINNER – Tamara B. – Cantonment, FL
One (1) Champagne Living will win:
6 piece box of Champagne Celebration Chocolate Dipped Strawberries
Extra Entries & Rules
Follow me on twitter @zipporahs and tweet about this giveaway using the hashtag #ChampagneLiving
Comment below with your tweet
Subscribe to Champagne Living,  follow me on facebook or twitter – all found on the sidebar (each counts for 1 extra entry)
Tell your peeps on your blog, facebook page or twitter about this or any post (each counts for 1 extra entry) and link to us.
Share this giveaway on any contest/sweepstakes/giveaway site for 5 extra entries..
This giveaway is open to US residents, 18 and over and ends on December 15, 2012
No purchase is necessary.
Odds of winning are dependent upon the number of entries received.
Void where prohibited by law.
I received product to facilitate this post. All opinions stated are my own.