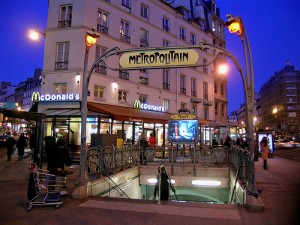 In four weeks I'm heading back to Paris for my as-often-as-I-can-get-there-mecca. I have to admit that my FIRST stop in Paris way back in 1972 (which was when I first stepped foot on French soil) was to a Wimpy hamburger chain by the Luxembourg Gardens.  I'm sure that it's no longer there, but since I arrived in France with nothing more than $100 in my pocket, determined to STAY for 3 months I was on a budget…a BIG budget and unfortunately French cuisine would have to wait for date night and I'd be shopping at Carrefour and Prisunic (now part of the Monoprix chain), and heading into McDo on the run ("McDo" is what the French affectionately call McDonald's – much like our "Mickey D").
McDonald's is as much a part of French culture as it is here in the States. As a matter of fact, while the French probably wouldn't acknowledge it…they are the #2 consumer of McDonald's in the WORLD.
Does that mean that as a tourist in the city of lights, that I should stop in for some "authentic" French fast food?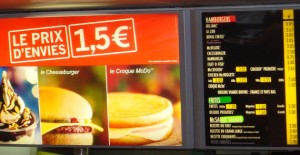 Beginning next month, McDo will begin serving hot, fresh baquettes with butter and jam (tartine) for breakfast at 130 McCafés around the city. My guess is that Parisiens on the run will be waiting in line from day ONE (just like they do at Starbucks and other chains).
Will I give up Poilâne for McDo? Probably not.
Am I curious to see what all of the houp-là is? Absolutement.