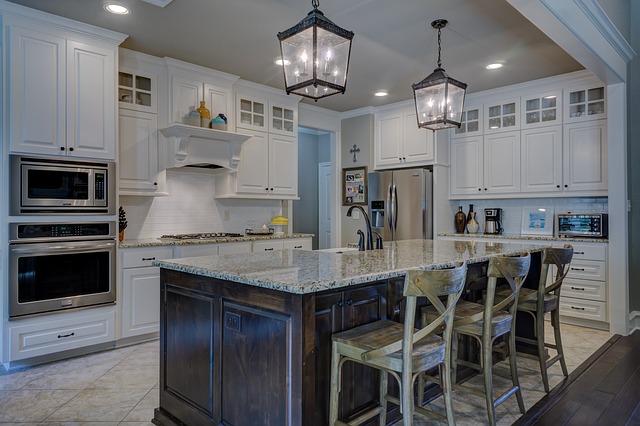 The kitchen is the beating heart of your home. While the living room is the place where the family congregates, it's the kitchen that is the most used a room in the entire house. And if you are looking to make an expensive looking home and you need one room to completely alter, the kitchen is the place to begin. There are so many different elements that can be altered. What are the most desirable ways to turn your kitchen into the focal point of your property? 
Clarity On The Counters
A good-looking kitchen is never cluttered. While you need to make sure that you are organized when it comes to storing food, cutlery, and tools, you need to elevate the look of a kitchen by using the right materials. There are granite countertops that you can install to add that timeless feel to the kitchen. But when it comes to countertops, you've got to decide where you want to set these up. If you are completely gutting the kitchen and starting from scratch, do you want an island in the middle? Families congregate more in the kitchen for breakfast these days, and if you don't have the space to set up a dining table, an island is a good compromise. 
Mixing Materials
If you want to add that modern angle, and still want that high-end aesthetic, you've got to mix up your materials. You might consider this to be too muddled, or confusing. But in fact, the vast majority of kitchens mix all sorts of materials. You can mix wood with stone copper or engineered materials with stainless steel. The goal is to create a warm look. The kitchen is where people congregate, and as such, if you're looking for a modern twist, this can result in a very sterile aesthetic. Think about what you want your kitchen to communicate, and if you're looking for something homelier, you can mix wood with more engineered materials. But you can still pull off a homely look with metals. You can have metallic finishes on the lighting fixtures, and balance this out with a chrome faucet. You can implement the luxury aspects while still maintaining a lot of warmth.
Get On The Backsplash Bandwagon
If you are looking for depth and drama to convey in your kitchen, you need to go for something different. Ultimately, it's about communicating your personality, but also ensuring that it really stands out. And let's not forget, they need to be practical materials in case food gets splashed on them. Instead of the subway tile or mosaics approach, try something different. You could use large format tile designs, go for something engraved, or even patterns, and this works wonders as a backdrop to your countertop. While a backsplash is a pretty functional design, as it's meant to keep the area around the stove easy to clean, these days a backsplash is an integral design element. While it works to define the work area of the kitchen, it's a perfect opportunity to add that sense of personality as well as defining a focal point for the kitchen.
The Modern Kitchen Accessories
We judge the modernity of the kitchen by the accessories it houses. Even the most basic of kitchens demand a way to make the all-important breakfast beverage known as coffee! If you like to entertain friends, there are numerous elegant coffee machines that rival your local barista. The great thing with coffee these days is that there is an approach in how everyone wants their cup of Joe. Some like their cafetieres and others prefer the pods. But for the real coffee buffs among you, a bean-to-cup machine provides a high-end perspective that will not just give you that delicious cup of freshly ground coffee, but it will fill the kitchen with that wonderful coffee smell. There are plenty of machines that can be built into the wall of the kitchen, such as the Miele brand.
And if you're on the hunt for intelligent appliances to comprise as part of your smart home, while there aren't incredibly smart fridges and freezers just yet that can tell you how to eat there are appliances that are energy efficient. The smart fridges on sale at the moment use technology to keep your food fresher for longer. As these smart fridges isolate the airstreams between the fridge compartment and the freezer, this will mean your food goes a lot further. And if you want your refrigerator to be a bit more customized, you can add a culinary preservation center. This allows you to customize your refrigerator to suit your lifestyle. You can purchase a refrigerator that serves your functions, for example, if you need more refrigerator room than freezer space, and some units have specific drawers for unique storage capabilities, such as if you need to store large serving platters, the right preservation center gives you the opportunity to use your refrigerator for your own needs.
And one of the best ways for you to communicate a high-end kitchen is in the faucet. The modern faucet doesn't comprise of a little sprayer and a tap; it's a sleek, effortless addition to the aesthetic of the space. There are faucets that have a motion-activated sensor. If you are someone that is forever touching raw meat, this will be a lifesaver! The motion-activated sensor allows you to turn the water on or off by just waving. It's a perfect addition to a busy and modern kitchen.
The Right Lighting
A kitchen is a multifunctional space; people congregate for family meals, social functions, and others use the kitchen table to do their errands. As such, the lighting has to be functional, as well as stylish. If you choose to have a kitchen island or dining table, it's vital that you have a fixture directly over this, as this will have an impact on the entire kitchen. The right fixture needs to complement the design, but also has to add that cozy feeling. A luxury kitchen still needs to be homely. There are plenty of options out there. You could choose one large fixture to suspend over the kitchen table or island, or you can go for pendants. On top of this, you need to choose the strength of your light. The quick solution to bypass a lot of these debates would be to install a dimmer switch. It's something that's easily done. Now, for the very simple reason that you are able to control the strength of your lighting depending on the occasion. You can use soft lighting to communicate a more intimate setting, or you can turn it up to full beam for parties or that dreaded life admin. 
And while we are up there, do not underestimate the impact of the ceiling! The ceiling can be the perfect opportunity to add an additional sense of luxury, but also create a feeling of space. If you are lacking in detail and dimension, you could add a coffered ceiling as a technique that creates a sense of sophistication as well as those all-important details. You could go for as much detail as you want, but if you are very much looking to keep it modern, minimalist is better. You can put molding up there so a ceiling has more highlights, or add a bit more vibrancy to a plain ceiling. 
Make Your Kitchen A "Hidden" One
It's a popular trend at the moment; by hiding a lot of the accessories and decorations, it contributes to a more minimalist design. If you are someone that wants to display all of your accessories, this isn't for you. However, if you don't like clutter, using this design approach where items are hidden in deep shelving, or the major appliances are disguised by cabinets, this gives you that uniformed look. If you like the idea of a hidden kitchen, but don't like the thought of having cabinets spread around the kitchen, you could use accent shelving, as this will break it up, and gives you the opportunity to display smaller or more niche items. If you want more organization to your home, but the idea of cabinets is too much, get more drawer space. You still need a cabinet or two, and now, they open out and reveal pull-out shelves that are very similar to drawers. Functionality still needs to be the name of the game in the modern kitchen. And these pull-out shelves now boast more sophisticated designs, and some even incorporate LED lighting, giving you easy access to the essentials, especially in the middle of the night!
The kitchen is the hub of your home. It's the one space that will increase the market value of your home and is the most social, yet intimate space your house will have. There's a lot of space for design and interpretation, and if you are looking to turn your home into a luxury space, you'll have to start with the kitchen. It's the one place that comprises so many different characteristics of your home but in one simple space. You can accomplish so much with the kitchen, and if it's not the hub or the highlight of your home, this needs addressing.