Notice that this is NOT one of my "how to" posts. While the dinner that follows came out absolutely wonderful, I'm sure that it was an accident of major proportions – or the fact that crab is probably one of the easiest things I've ever made. I love that AquaBest sent me LIVE SNOW CRABS, especially since finding great shellfish in South Florida isn't easy (warm water shellfish is NOT as tasty as those that live in cold water).
This snow crab comes from Breton Island near Nova Scotia, and is naturally sweet, plump, and very much alive straight to your door.
I am not a great cook.
I am not even a good cook.
Do you remember the joke: What does a XXX (derogatory term) makes for dinner?
Answer: Reservations – Yes, that's ME!
I know that if I take my time and put my heart into it, I could be good, but 80% of the time I'm not. Just ask Mr. S. I have a repertoire of a few things that I can make, shellfish being one of those.  Being New England born and raised, I can boil a lobster till that sweet meat is absolutely tender, but crab I had never quite cracked…until now.
I was about to attempt to make snow crabs. Not only had I never MADE these leggy crustacean's before, but I don't think I'd ever even EATEN snow crabs. It's a good thing that I love a good challenge because I had TWO crabs and a bottle of white wine and from that point, I was ON MY OWN. My former chef of a husband was no help. When asked what I should do with these sea creatures he simple shrugged (not a Champagne Living moment by any means).
Most snow crab is brined (salt solution), and if you eat it in a restaurant, it's many times boiled in sugar. These wonderfully fresh snow crabs from AquaBest in NYC may be steamed, grilled, baked, or otherwise cooked with care as you see fit.
I AM RESOURCEFUL
I knew that I could steam/boil a lobster so I went to work clarifying butter and put a big pot filled with water and Old Bay Seasoning on the stove top. I assumed that like good Maine lobster that they simply change color (to red) when they're fully cooked.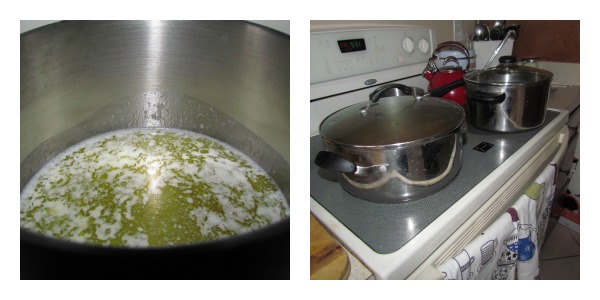 Just in case…I posted on FACEBOOK that I'd be cooking (warning the neighbors). My friends know this could either be extremely elegant, or a disaster, there's no in-between with me.  One minute later I had a status update from my fellow blogger and neighbor down the street Nicole Fisher of Nicole's Nickels (who coincidentally is also married to a chef, one who actually COOKS for her)…
Nicole Fisher Zipporah Lubin-Sandler Jamie Fisher says they turn bright red almost as soon as you put them in the water, so let them simmer about 14 minutes.
I enjoy my crab prepared simply.
Bring enough water to completely cover the crabs to a boil
Add seasoning (I like Old Bay with crab, although I considered just tossing in some red pepper flakes & salt)
Put the crabs into the pot and simmer for about 14 minutes (as per Jamie Fisher)
Remove and shock them with ice water to stop the cooking process
Have your drawn/clarified butter or cocktail sauce ready along with some crackers and ENJOY

Aqua Best originally started out as a mom and pop store located in downtown New York City just blocks away from the original Fulton Fish Market. In the olden days , good seafood was readily available in the market but the secret to obtaining great seafood was to directly deal with the fishermen. Therefore in the 1980's my parents travelled as far north as Maine and as down south as Virginia in order to find the best source of seafood. Our underlying strategy was to secure the highest quality seafood in order to give our company a competitive edge.
Some meals need lots of pomp and circumstance
Snow crab is not one of them. The simplicity of steamed snow crab dipped in butter with a clean, crisp glass of white wine was perfection all on it's own. The crab was as sweet as can be (and frankly it didn't even NEED the butter).  I know, I enjoyed it so much that I'm considering ordering some to create an appetizer for Thanksgiving this year.
Of course I wouldn't have learned about these fabulous purveyors had it not been for Crave Local. Crave Local is one of those sites that I rely on for great tips on what to eat and drink, where to go to get great meals, what's doing around town and more. I check them often for local EVENTS.
I received product from AquaBest Seafood  via Crave Local Network to facilitate this post. Opinions are strictly my own.