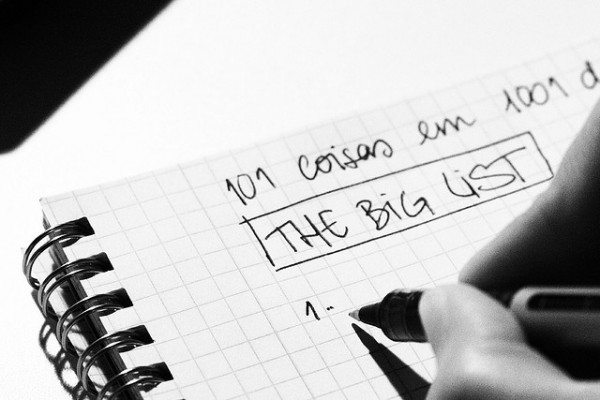 I don't know about you, but I'm a list maker. I've been that way as long as I can remember. I've got my grocery list, my blog posting list, my bucket list, and my packing list. I've got lists for the holidays, a "honey-do" list for Mr. S, and of course my "to-do" list.
You may think that's a bit obsessive, but I'm a generally disorganized, fly by the seat of my pants type, and without my lists, I get side-tracked very easily. I know who I am, and what I have to do to get things done, and my lists are an essential part of it all. I'm guessing that like me, you have at LEAST a TO-DO list, but do you have a…
Don't Do List?
For me, it's those things on my "don't do" list that sabotage my work, my life, even my relationships. They may be bad habits, mindless actions, and sheer laziness that make me take a left when I should have turned right.
I knew it wasn't just me who had a Don't Do list, so I turned to my fellow bloggers and social media gurus to see just what was on their list. Just like me, some were business oriented and many were personal. Here's what I learned….
>> My old friend Mary Jo Manzanares of The Travelers Way is WAY ahead of me on this one:  Don't get behind with email! My business opportunities are in my inbox, and if I don't tend to it regularly, I'll miss out. I'm pretty ruthless about deleting and getting stuff out so I can find the opportunities that move my business (and life) forward.
>> Donna of My Itchy Travel Feet says:  Don't jump on social media first thing in the morning. Do something important first, like writing.
>> Resourceful Blogger's Kim  learned this lesson the hard way: Don't say anything on Social Media or on my website without really thinking it through. It's so easy to say things in the heat of the moment when emotions are running high or low. I always ask myself if it is beneficial to readers, does it build up or tear down and is it constructive?
>> While The Socialite's Closet's Ellen's "don't" is a great reminder to NOT sell yourself short (gotta put that one on my list)
On a more personal note:
>> Poor pregnant Carissa of Motherhood Your Way pleads: Don't touch a pregnant woman's belly…PLEASE ask first!!
>> Karen the one & only Fab Grandma says: Don't eat all the leftovers just because they're there.
>> Me? I don't use credit cards to buy what I can't afford…I hate debt.
>> Jerrilyn of Jerri's Empty Nest says she needs to remember to be less critical of herself, while Leigh Nichols is a perfectionist so she adjusts her expectations of others.
>> My bestie Rachel Ferrucci is a lot like me and knows that when you're taking the day, DON'T WORK, and my facebook friend Amie Olson has to take a step back this holiday season to remind herself to not stress out.
MY DON'T DO LIST includes:
Don't sleep in on a work day
Don't get into mindless conversations before my work is done
Don't use credit cards to shop (only buy what I can afford)
What's on YOUR Don't Do list?