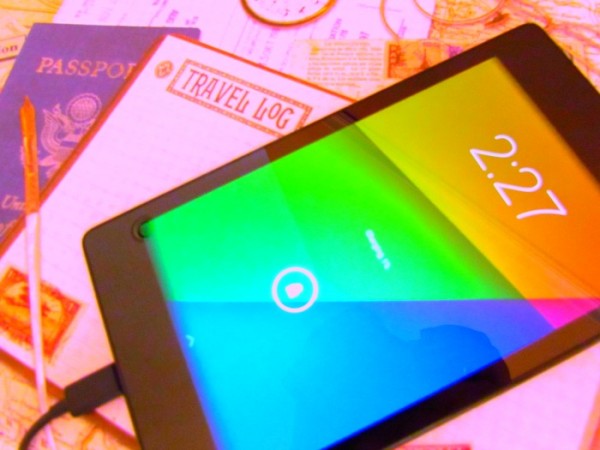 I'm going to say it now; I'm not much of a tablet user.  I still use my first generation iPad basically as a bedside TV and never have really used it as anything more.  So upon receiving the new Google Nexus 7 from Staples to review, I was weary because I've played with other 7 inch tablets.  I had heard that this was a great piece of tech but was I going to have a use for it? Or would it collect dust? Or just be a Netflix machine for the gym.
So did I love this amazing new tech?
Yes!
This is a portable productivity station.
There's nothing like a calendar and an email window on a big screen.  It has great compatibility with my Google Drive so I can check documents on the run with a bigger screen than my phone.  I had never used a tablet as an e-reader before the Nexus 7, and now it has a place in my bathroom too (gross I know but whatever).  It does have some setbacks to productivity, I can't stop playing games while in meetings because it looks like I'm doing actual work.  This tablet is also amazing for one on one business moments, I can go over slideshows or pictures with a client or co-worker without having to break out the laptop. I've realized that this is going to come with me everywhere…like my own personal he Hitchhikers Guide to The Galaxy. 
Nothing short of amazing. 
Google made a near perfect one here!  The screen is flawless. You can contend that the resolution of 323 pixels per inch is gratuitous, but you can really see the distinction when you use it. The text is strong and definitely easy on the eyes. Using the tablet to watch videos and see pictures yields a superb result.  The processor has insane speed – with a quad-core Qualcomm Snapdragon S4 Pro processor and 2GB of RAM, everything runs fast.  It is portable but not too small and light.  At just 0.64lbs, the all-new Google Nexus 7 is light enough to take anywhere and fits easily in bags, backpacks, and even back-pockets.
All in all, I am VERY impressed. As long as this model doesn't suffer the performance slowdown issues, I don't anticipate moving this away from a 5-star product anytime soon.  It's fast, reliable and just about the perfect size for taking anywhere.  If you don't currently own an android tablet or want a small form factor tablet then this tablet is the best money can buy.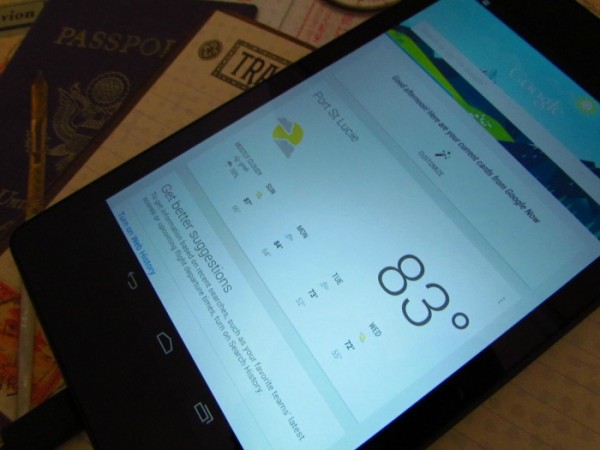 ***Note from Zippy***
This was reviewed by Ben from The Gin Joint. The plan was for me to write about Google's Nexus 7 as a piece of travel tech (so you'll see it pop up again in a future post), but Ben saw it, grabbed it, and loved it…which is UNUSUAL. He gave it 5 out of 5 stars – funny, because we don't even USE a rating system like that here on Champagne Living.
I'm putting this on my TABLET TO BUY for the holidays, as it's priced at under $200, has all of the features you'd want in a tablet, is fast, reliable, and most of all, it's so portable that it can go anywhere with you.
The Google Nexus 7 is made from durable and scratch-resistant glass, the IPS panel has viewable angles up to 178 degrees at a 1920×1200 resolution. The front facing 1.2MP camera shoots great looking photos and videos that can be easily shared with an 802.11 a/b/g/n Wi-Fi connection.
7" display brings your entertainment to life in stunning clarity 's on a vibrant 1920×1200 IPS LCD high-resolution display with 10-finger capacitive touch screen with Anti-fingerprint technology
Up to 10 hours of battery life for web browsing, video playback or reading with the 4.2V1 Li-Pllyner battery
Packed with 16GB and designed with gaming in mind
Powered by the latest Qualcomm Snapdragon S4 Pro 8064 1.5GHz processor
Android 4.4
1.2MP front facing camera and 5MP rear camera shoots great looking photos and videos
Built in 802.11 a/b/g/n and Bluetooth v4.0
Pre-loaded with Google Search by Voice 2.1, Gmail, Contact Sync, Calendar Sync, Talk, Maps, Street View, News & Weather, YouTube, Movie Studio, Android Market
Built-in microphone
Includes 1 SlimPort and 1 headphone jack (No Mic-in)
Build-in-stereo speakers (high quality speaker x2)
Accessories included: adapter & power plug, user manual and warranty card
1 year MFR limited parts and labor warranty
The 16GB Nexus 7 is ON SALE at Staples this week for $199, or UPGRADE to the 32GB for only $40 more ($239).
Details HERE >> Staples