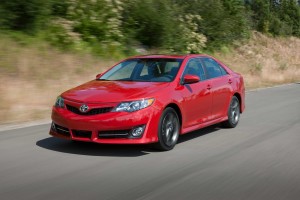 Admission. I don't know as much about cars as I should. I grew up in the automobile business and worked in my dad's wholesale dealership from the time I was legal to work. Later my husband went into the business (after selling his restaurants) and I ran the show from the back end. Still, I'm one of those who can tell you that I like a car because of how it LOOKS and how smooth it drives. That's the extent of my knowledge (although I've been known to do a GREAT impression of a knocking sound when the mechanic asks what my car is "doing").
I do know that hubby knows a LOT about cars and he's always kept a list of the cars that he'd buy if he were spending his own money. The Toyota Camry is ALWAYS on that list. I suppose that he knows what he's talking about, as the Camry has been around for 30 years and over 9 million have been sold, and yes we've owned one.
The new 2012 Camry is coming and Toyota is celebrating this 30 year milestone of America's best-selling car for nine years running and ushering in the all new, seventh-generation Camry with a way for YOU to share your Camry stories.  Past and present owners, drivers, and passengers are invited to share their stories at  http://www.toyota.com/camryeffect. See what awesome stories have already been shared here.
Me? I like the luxury look and interior of the all new Toyota Camry XLE and even BETTER…it's available as a hybrid!