While Real Steel may open in theaters today (and if you want MORE about Real Steel – you should be checking B's site – I Pity the Blog), I'm much more excited about what Disney and Pixar has coming up for us in the next two years.  Maybe I'm still a little girl at heart, but the thought of being able to see Ariel in 3D makes me giddy.
One of the things that I've noticed, is that when Disney princesses come to the big screen, everyone from the discount stores to high fashion notices. I can see it now…Mr. Valentino chooses a golden yellow as his color of the Winter 2012 season based upon Beauty and the Beast in 3D hitting theaters on January 12, 2012. I'm excited to see off the shoulder looks next year, as it's oh, so flattering not only on Belle with her perfect figure on the big screen, but I know for a fact that I  look thinner and very feminine in a bateau neck.
Mermaid style wedding gowns (Vera Wang are you listening?) will grace the pulpits of churches and synagogues as brides float down the aisles when Ariel returns on September 13, 2013 in full 3-D style. That quasi-1950's innocence mixed with her shimmering scales translates perfectly on that special day.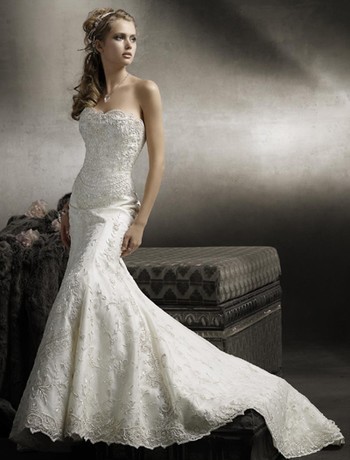 I have to say that I love the care that Disney/Pixar gives to costume in their films. It gives me a "reason" as an adult, to sneak into a theater and be taken away by these animated classics.  If like me, you're that little girl who never grew up, who still wants to dress like the belle of the ball and loves the glitz and shimmer of feminine fashion in animation, you're not alone. Maybe I'll see you sitting in the theater as well…and run into you at the Mall shopping for those fashions that keep the magic alive in your closet after the matinee.
Disney/Pixar movies scheduled to be released in 3D are:
Beauty and the Beast– January 13, 2012
Finding Nemo – September 14, 2012
Monsters, Inc. – January 18, 2013
Monsters University, a prequel to the original film arrives – June 21, 2013
The Little Mermaid – September 13, 2013