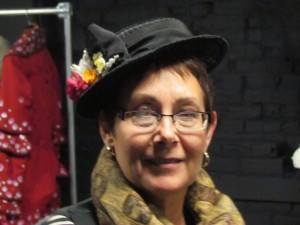 Starring on Broadway in the Tony nominated musical Mary Poppins at the historic New Amsterdam Theatre it's ZIPPY? WAIT, that's not right…yes, that's me in Mary Poppins hat, but the only thing I'm starring in right now is my own life. I did get the opportunity to enjoy a rather traditional night of musical theater last week as Steffanie Leigh opened her umbrella and stepped onstage to the set of a musical that was MEANT for Broadway.
While my most recent encounters on Broadway have been straight plays, as I was tiring of the musical revivals (isn't there ANYTHING original anymore), Mary Poppins is different. I'll admit that I was a bit jaded as the usher brought me to my seat in the mezzanine and my stomach rumbled a little when the orchestra began the overture by playing songs that I remembered from my youth, but once I let go of my holier than thou attitude and let myself be transported back to my younger days…I found myself slowly humming along…until I was FULL BLOWN SINGING and wishing that I could hop on stage and do a little soft shoe along with Mary and Bert.
I suppose that Mary Poppins' Spoonful of Sugar helped the medicine go down, because I found the show absolutely enchanting. It's the quintessential Broadway musical experience. You go to a show like this expecting to know all of the songs that you've listened to before getting to the theater, want amazing sets and costumes that delight, expecting to be stepping in time to the choreography, and most of all to have actors who bring the parts ALIVE for the audience – and that's EXACTLY what Disney's Mary Poppins does.
Once in your seat, you'll be transported to Cherry Tree Lane with the Banks family as they deal with the realities of the world, only to have a bit of magic tossed in by Mary and Bert. Of course it wouldn't be Disney without that awful Miss Andrew – all brimstone and treacle. You've GOT to have a villain!
You know the story and you love it…and Disney brings it to you in the MOST DELIGHTFUL WAY!
For those with families who are looking for a great first Broadway experience, this is one that will delight everyone from your six year old to grannie. For Broadway troopers, I say give in to your inner child, kick back and enjoy!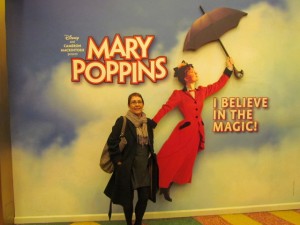 If you'll be heading to NYC in the near future or live nearby, you can purchase tickets at the Mary Poppins box office which is open Mon. through Sat. 9AM to 8PM, and Sun. 10AM to 7PM.  or online. As with all Broadway shows, there are 8 performances a week (5 evening and 2 matinees).
New Amsterdam Theatre
214 W. 42nd St.
NY, NY