There are times that I wrack my brain trying to come up with a special holiday gift…especially for Ben. He's 28 years old now, getting married this year and has a good job in social media. I'm not saying that he has everything…far from it, but as a rule if he wants something he buys it – video games, that soundbar for the TV he bought last week, etc.
What do you buy for someone like THAT? He was actually easy this year as they're moving into a new apartment right after Christmas. While the TV, sofa and bed are already taken care of, there's nothing that makes it a real home like artwork on the walls. Since I work so closely with Gallery Direct, I knew that they would have the perfect gift to adorn his bare, white walls and that he'd get pleasure out of it every day for years to come.
Which got me thinking about other people that I might want to buy some art work for this holiday season like…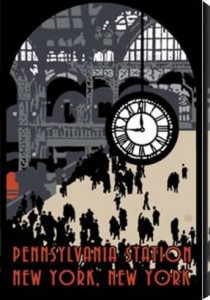 In my search for giving gifts that have a bit more meaning, I realized that I didn't have to search the malls, go to the warehouse stores or scour the strip malls for the perfect present. By going to Gallery Direct, I was able to order everything.
The only problem I encountered was trying to keep myself from purchasing a piece or two for myself!
The holidays are approaching QUICKLY, and if you order through Thursday, December 15th you'll get FREE SHIPPING, 25% OFF and you'll be assured of getting your gifts in time for Christmas. It's time to take advantage of this great sale and give a gift that has meaning!
By the way, Ben's artwork is of Penn Station in New York. I knew that he loved this piece of art and now that he's in Florida it should remind him of home.
You'll want to head over to Gallery Direct's FACEBOOK page as well, to enter for a $500 holiday art home makeover….but be quick about it, because it ends on December 15th!
Follow Gallery Direct on  Twitter and Facebook and keep updated on any specials they may be running.
I am a blogger ambassador for Gallery Direct, as such I receive artwork to facilitate my reviews. All opinions are strictly  my own.