This post has been sponsored by Verizon #CareSmart. All opinions are strictly my own.

It's time to let go of the flip phone Mr. S
While I'm half kidding (yes, he'd still have a flip phone if it were up to him), it has been difficult getting my 68-year-old husband to embrace any new technology. Me on the other hand, I love experimenting with new gadgets, but to be completely honest, I'm no techie. The learning curve as I get older gets much more difficult. So, neither Mr. S nor I had embraced the whole smartwatch thing.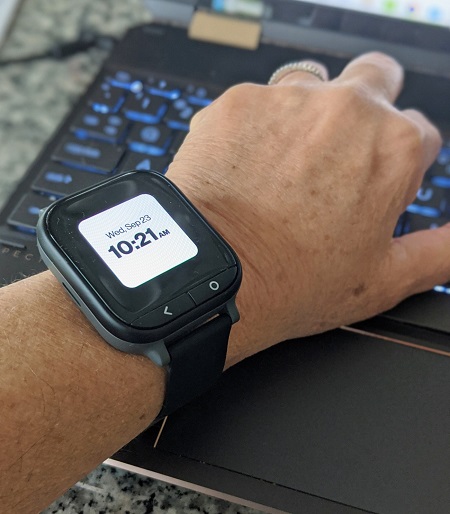 Safety has suddenly become a very real issue
I think of myself as young and vibrant, but inside I worry. What if something happens to me? What if I fall? What if I get lost? What if I'm worried that something happened to Mr. S? What if I leave my phone at home (I do that often)? What if? What if? What if?
With my husband not able to handle using a computer, I was afraid to get him a smartwatch. I figured he'd never wear it. Me? I'm a little savvier, but when I'm out and about, I still want something that's easy to use, without all of the bells and whistles of the other smartwatches. I don't need to access Facebook or Twitter while I'm driving and neither does your mom and dad.
"Care Smart" is a smartwatch and service designed for the health and safety of seniors and to give their caregivers peace of mind. The watch is waterproof and includes its own number, location tracking, voice & text communications through a companion app, step trackers/reminders.
I decided to try the Care Smart Watch myself
I was intrigued that it had just the features that I'd probably use on a daily basis
I can set up GPS location boundary alerts in case my husband is worried about where I am
Like any smartwatch, I'm able to Call and Text and stay connected with 10 trusted contacts with 2 way calling and messaging on Verizon 4G LTE
It's got a unisex design and you can choose from either a black or purple band
The easy to wear waterproof device has a buckle clasp and comes with a 2nd band as well
Setting up the Care Smart is easy; just download the Care Smart app, set up a profile, and pair with the watch
I love the one-touch location sharing (seriously, just one touch & he knows where I am if I'm late)
I can set Health and Fitness Goals, keep track of how many steps I've taken as well as scheduled daily reminders
The charger is magnetic and easily "finds" the metal connections on the back of the watch
It has IT'S OWN TELEPHONE NUMBER!!! You don't have to link it to a phone.
It's only $149.99 (and right now you can get $50 off with a cell phone purchase)
It's only $10 per month for Verizon customers and $15 if you're NOT a Verizon customer
Some of my FAVORITE features
I can set reminders. Whether it be what time to take my pills, when to call back that friend, or yes, even when to start writing my post, I love that I can get an easy reminder. I simply add the reminder into the CareSmart App and it appears on my phone.
I can track my steps. As you can see I either have to get moving or maybe change that goal I set to something a little more attainable.
Mr. S has a habit of calling and asking "where are you?" I know that he worries when I'm a little late, so all I have to do is hit "send my location" and voila, he knows where I am. I just wish he wouldn't keep calling to tell me what to pick up while I'm there (because if I'm not home, I'm probably grocery shopping).
You can turn up the volume like I do because I've usually got background noise in the car which is when I always seem to get the most calls. Or I can turn the ringer on/off as well.
I have a difficult time with white on black (it makes my eyes jump), so I'm glad that I could change the theme to black lettering on a white background.
Clem the mini-bull-terrier has to have his eye drops exactly 5 minutes apart (there are 5 of them), I simply set the timer on my Care Smart watch and wait for it to ring. I'm not tied to the kitchen timer that way.
Because there's nothing like a throwback and I don't know if it was done tongue-in-cheek, but Verizon installed some old-school ringtones that are a lot of fun.
But, most of all, if anything EVER happened, I have a ONE BUTTON emergency that goes straight to Mr. S (or whomever I designate) so that they can assess the situation and make the appropriate calls for me. I love having that peace of mind, both when I'm traveling and at home.
Mr. S will get one next, and yes he used to have one of these….
For more information
To do a little research of your own or to order a Care Smart Watch for someone you love or care for go visit: https://omm.media/CareSmart
If you have ANY questions about the watch or how it might help your mom/dad, grandma/grandpa, or someone you look after, feel free to reach out to me. I'm happy to answer any of your questions