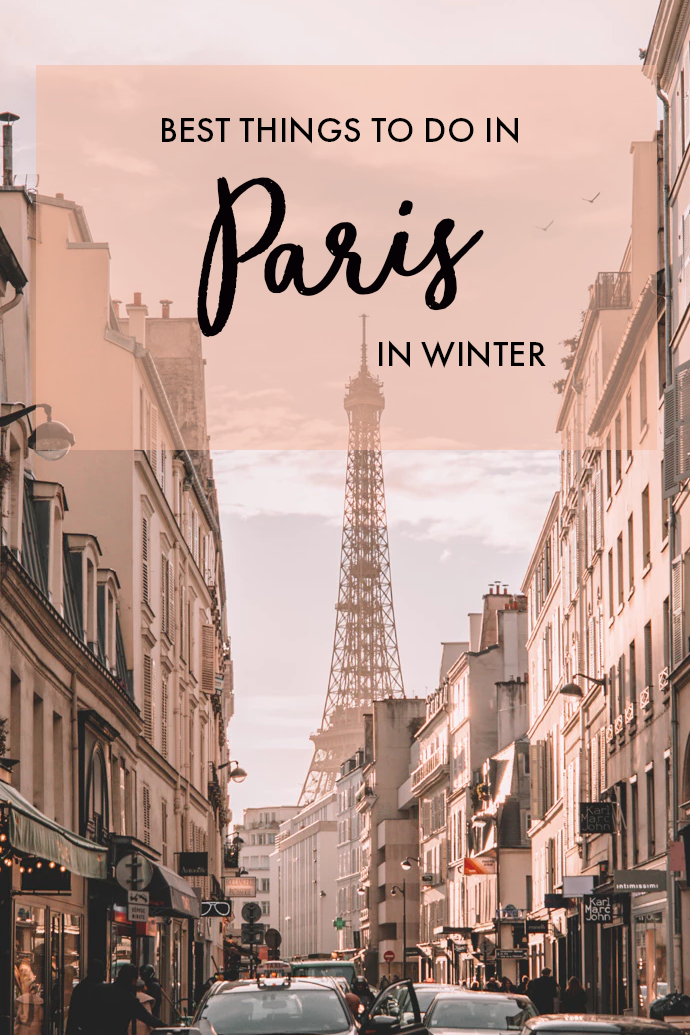 Summer is the most popular time for a Parisian sojourn, but if you find yourself in the city of lights during the winter months, you're in for a real treat! Not only are the crowds of visitors long gone, but during the festive months, Paris lights up with twinkling lights and holiday decorations that charm even the fussiest of travelers and you may be able to score cheap airline tickets because it's off-season. Getting a bit chilly? Not a problem – Paris is the perfect city to cozy up inside a cute café or bakery with a book in hand!
They say Paris is always a good idea, and a visit to Paris during the winter is definitely sure to please.
Go ice skating in the world's most stunning place
Throughout the winter months, ice skating rinks are set up all over Paris, a favorite winter activity for visitors and locals alike! We could be biased, but we really can't think of a more awe-inspiring location to go ice-skating than around the Eiffel Tower!
Warm up at a café with a glass of vin chaud
It's no secret that France is a wine haven, and they take their mastery to the next level during the colder months with vin chaud (hot wine). Warm up in a cozy café with a glass of wine paired with mulling spices that will entice your taste buds.
Admire the Christmas decorations at Notre Dame
Being one of the most famous and gorgeous cathedrals in Europe, it's a no-brainer that a visit to Notre Dame should be on everyone's schedule while in Paris. During Christmas, though, the scene becomes a true eye-candy with a colossal Christmas tree towering high over the cathedral, backdropped by glistening lights and swoon-worthy Christmas decor.
Warm Up By Visiting One of the Many Famous Parisian Museums
As the weather gets colder, visitors to Paris in winter will inevitably feel the need to warm up under a roof.
The good news, though? There's no reason to feel guilty about missing out on major attractions in a city where a good chunk of them lie indoors. The Louvre and the Musee d'Orsay are unmissable attractions in Paris, but you'll also fall in love with the Centre Pompidou, Le Petit Palais, and the myriad of other art and history installations waiting to be explored.
Take a Macaron Baking Class
Seriously, what could be a more charming souvenir than the ability to bake your own French treats? When the cold becomes harder to bear, head indoors for a two-hour macaron baking class at La Cusine Paris (80 Quai de l'Hôtel de Ville, Paris).
Window Shop Along The Champs-Elysées
Window shopping along The Champs-Elysées is a must when in Paris year-round, but doing so during the winter months makes the affair even more absorbing.
As you take your first steps into the acclaimed fashion center of Paris, you'll notice thousands of twinkling lights paired with red ribbons and endless Christmas decorations lighting up the world's most emblematic avenue.
Pro tip: If you're lucky enough to find yourself in Paris in January, look out for the annual January sales!
Visit a Christmas Market in Paris
Attending a Christmas market is a must when in Europe, but, as with everything they do, Parisians take it to the next level of charm.
Every year in December, cute wooden stands are set up throughout Paris, in which you'll be able to buy spiced mulled wine, scrumptious seasonal cuisine and baked treats, and an endless array of traditional handmade crafts – a perfect place to find unique trinkets to bring back home to your friends and family!
Isn't it time you booked those flights New York Paris? What a great gift to yourself it would be.