Having a great outdoor entertainment area is something that may have always been on your mind. However, making the final decision to start the building process isn't easy.
Before you invest in such a significant change, you want to ensure that you will actually utilize the space. Otherwise, all of your hard work and dedication will be wasted.
Below we are going to talk about the different benefits of creating an outdoor entertainment area.
Sound interesting? Then let's get started.

Multiple available options
Outdoor entertainment areas come in all different shapes and forms. You can create a space that is totally unique to you and choose features that you enjoy.
From a pool to a kitchen and dining area, or even an outdoor cinema, there are many different aspects you can include in your space. This versatility and adaptability certainly are advantageous, especially if you don't want to commit to a traditional design.
Perfect for entertainment 
As the name suggests, one of the most significant benefits of an outdoor entertainment area is that it allows you to entertain guests. Your indoor area can remain clean and tidy, and the extra space comes in handy for holidays such as Christmas and New Year.
Just picture everyone lounging around on one of these luxury sofas, playing in the pool, and enjoying some delicious food cooked on the grill. Whether it be summer or winter, you'll have a space that everyone can enjoy.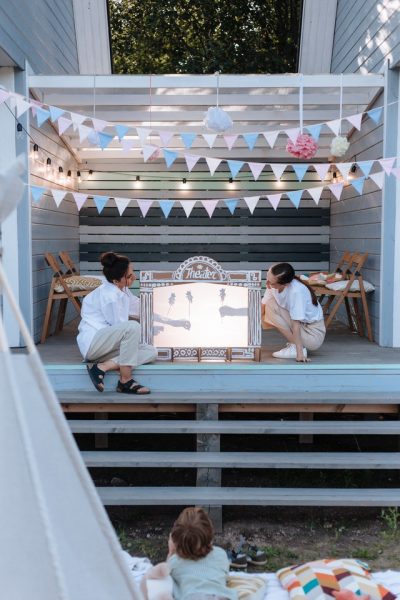 Creates additional space
If you operate a full household, you probably already know that it can be challenging to keep everyone inside. Everyone needs their own personal space, and this isn't always possible, especially if you have siblings that share rooms.
An outdoor area creates an entirely different zone that everyone can enjoy. Stress levels will be reduced, and you'll be able to have some peace and quiet.
Encourages outdoor time
Outdoor time is essential for many reasons, including improving our mental and physical wellbeing. However, it's hard to be encouraged to spend time outdoors when all your favorite activities are inside.
An outdoor space encourages you to get fresh air with your family and friends. You may even start to exercise in the comfort of your own home by swimming in your pool or doing yoga on the deck. There are options for everyone.
Increases home value
Since outdoor entertainment areas are in high demand, adding one to your home can improve its value. So, if you're concerned about cost, try and remember that it's going to be worth it when you do sell.
In fact, you may even be able to sell more quickly, especially if you add some of the features we mentioned above. According to SmartMoney.com, you may see an increase of around 12.4% just with a landscaped patio.
Saves money
Do you spend a lot of money on vacations so that you can lay around by the pool all day? Well, then an outdoor entertainment area might save you money.
With your own pool and luxury backyard, you can enjoy a staycation instead of at expensive resorts. Obviously, going away is always going to be fun, but your wallet will be thankful for keeping trips to a minimum.
Comes with health benefits
We already mentioned how getting outside can improve your mental and physical wellbeing, but it's a good idea to look into that further. Creating an oasis in your backyard can:
– Boost your immune system
– Reduce inflammation
– Prevent near-sightedness
– Reduce strength
– Improve overall life expectancy
That's certainly a lot of advantages, and the list continues. Sometimes we forget how good fresh air and sunlight really are.
Easiest extension
Increasing the size of your home or adding on an extra room is expensive and a big hassle. Outdoor areas still allow you to have a separate space but don't require as much planning and preparation.
In most cases, you'll be creating a completely covered area, so all of your favorite indoor décor and items will work just like inside. You'll be able to enjoy the sunshine, watch your favorite movie and even play games.
Final words
And that's it. These were the different benefits of creating an outdoor space. So, if you think that you like the sound of the above, getting started may just be the right move for you.
Just remember to plan everything carefully, seek the necessary approval and hire the right professionals for the job. While there are some things you can DIY, there are others you can't.