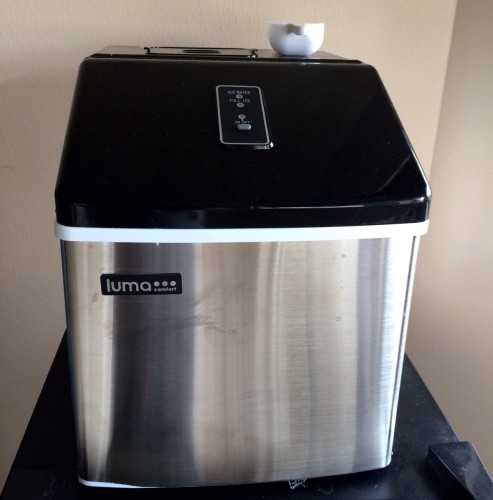 It wouldn't be Champagne Living without a stocked bar at the holidays. Unfortunately, in year's past I've run out of ice. YES, I have/had an ice maker in the freezer, however…it takes WAY too long to produce the ice and frankly the cubes are too large to fit into cocktail glasses.
This year is different as I'm all ready to go with a PORTABLE ice maker from Luma Comfort. It's easy to use. You simple pour water into the the fill line, turn it on and in minutes you've got the perfect sized cube for cocktails, soda, etc. If you think this little ice-maker is "cute"…you may be kidding yourself. Yes, it's compact, but in terms of being a workhorse it's a MONSTER, as it can turn out 28 pounds of crystal-clear, restaurant-quality ice every 24 hours. I love the stainless steel, as it goes with ANY kitchen, dining area, or even living room (if that's where your bar is set up).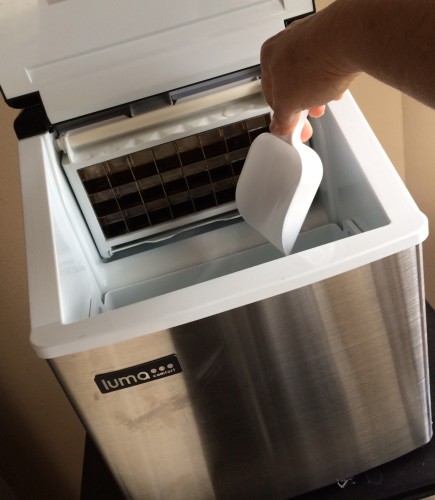 Whether it's creating a Mojito or shaking it up like a REAL bartender, the Luma Comfort M200SS Portable Ice Maker will have you looking like a pro behind the bar. Plus, there will no running around when the stores are closed SEARCHING for a place that sells ice when you've run out.  I even keep plenty on hand to fill the ice bucket for my bottles of champagne. The bottles fit perfectly snug amid the small cubes of ice.
BONUS
This ice maker is strictly PLUG and PLAY. You KNOW I'm not one who likes to fuss (I'd much rather be mingling with my guests).
From the manufacturer:
The Luma Comfort IM200SS Portable Clear Ice Maker is the ultimate luxury entertaining necessity for your home bar or kitchen. Producing up to 28 pounds of crystal-clear, restaurant-quality ice every 24 hours, the IM200SS features modern technology with a timeless style. Includes low water and full ice indicators, as well as an LED control panel.
The nice thing is that living here in Florida we entertain on our lanai a LOT and although I don't like keeping this ice maker outside (it's too hot and humid most of the time), I keep it just inside the sliding glass door to my patio and we open up the living room for great indoor – outdoor parties. I feel like the consummate hostess.
Here's how easy it is to use:
BENEFITS
Plug & play operation
No plumbing required
Produces up to 28 lbs. daily
Sleek stainless steel finish
Space-conserving countertop design
Push button controls & LED display
Utilizes modern commercial technology
Clear ice melts 5x slower than cloudy ice
For more information
The Luma Comfort IM200SS Portable Clear Ice Maker is just another way to make your holidays a little easier. So enjoy and Happy Holidays!