Note: The Gin Joint was given a ticket and VIP access to the Rockstar Energy Uproar Festival as well as a boatload of the best tequila on earth – Pura Vida. They truly know the way to a man's heart. All opinions are strictly my own.
I enjoy a drink every now and then. I mean, what would I be doing writing a column called The Gin Joint if I didn't? It's like Zippy and her bubbly.  I do have to admit something though…Tequila is far from my favorite libation.  That's right.  I just don't take it down well.  Most of us have a college drinking experience that makes us turn up our nose at a particular beverage.  I think mine may have been an awful college trauma from drinking cheap tequila.
That doesn't mean that I don't enjoy the occasional shot of some top shelf agave, because a GOOD quality variety is a very different beast. Still there is a voice in the back of my head that starts reminding me of what happened each time I'm with friends and they think that it's Margarita Time.
UNTIL RECENTLY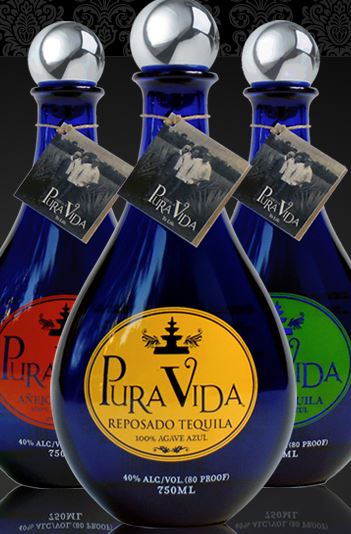 While at the Rockstar Energy Uproar Festival  this summer, I had the opportunity to meet with the owners of Pura Vida Tequila along with the members of Godsmack. After enjoying a drink or two, I realized that there was another world beyond the tequila that I had been trying. What a difference. Pura Vida bears no resemblance to the drinks that I had in college.
This is the top of the top shelf.  I'm a simple guy and absolutely flipped for the Silver.  Pura Vida Silver delivers pure agave flavor and unparalleled drinking pleasure.  This is so good that I have no problems drinking it warm and straight. Pura Vida Silver has a smooth taste of agave with a touch of thyme and jasmine with a slightly smooth finish.  It's not tequila'ie at all (ok, that means shots won't give you tequila face).
There is also anejo and an extra anejo that are great too.  They are a bit more bold but not overpowering. Tequila aficionados who value exceptional quality, old-world craftsmanship and superior taste and finish will enjoy the extra care and attention that goes into each bottle of Pura Vida Añejo Tequila.  There is also a Gold Tequila by Pura Vida that has an amazingly complex flavor structure (agave, a touch of mint, jasmine and light laurel flavor that intertwines with the woody, chocolate, and vanilla hints from the barrel for a slightly peppered yet slightly sweet taste).  To round out their line we are treated with a Naranja Liqueur.  NARANJA is the secret ingredient necessary to make the finest, most authentic, smooth and delicious Mexican Margarita.  Thankfully their Naranja is good enough to drink straight.
I can not say enough how much I love the Pura Vida Tequilas and their Naranja Liqueur.  To help you enjoy it as much as I do here is a classic recipe updated Pura Vida.
THE JUAN COLLINS:
INGREDIENTS
1 1/2 ounces Pura Vida Silver
1 ounce lemon juice
1 ounce agave nectar
Club soda
PREP
Pour the Pura Vida Silver, lemon juice, and nectar into a collins glass with ice cubes.
Stir thoroughly.
Top with club soda.