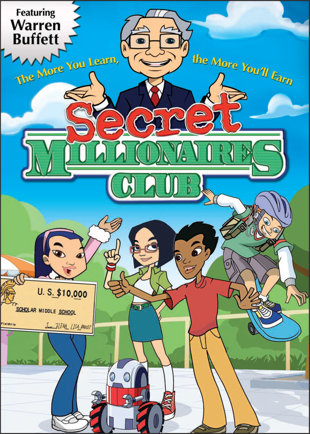 I've always wondered why our children are not taught about money, budgeting and investing at an early age. I was lucky to have a mom who taught us all of these when we were very young, but I know that there are a lot of parents who don't really understand the principles of finance themselves. While I'd love for the school system to be able to teach these (and not just in a high school economic class), I was thrilled to see that Warren Buffet has partnered on a new film series for kids called  "Secret Millionaires Club"
Today on Yahoo Finance they featured an interview with Mr. Buffet. Here are a few of the questions he answered….
The right age to teach kids about money:
"It's never too early. Whether it's teaching kids the value of a dollar, the difference between needs and wants, or the value of saving. These are all concepts that kids encounter at a very early age, so best to help them to understand it."
The importance of early influence:
"So many adults get into financial trouble, in business and in their personal lives, because of bad decisions. We hope to influence kids at an early age so they learn to think about their actions, and the consequences of making bad decisions. It doesn't just influence success in business, it influences your family life as well."
The importance of parent viewers:
"We created Secret Millionaire Club for kids, knowing it would also help parents. And it has. It provides stories that kids can relate to which help them understand different situations in business and in life, and hopefully help them develop the skills to make good decisions their whole life."
For the complete interview, visit Yahoo! Finance.