It's almost THAT time of year. You know, the time when you hear the screams of horror from the dressing room next to yours at the Mall when we start trying on bathing suits after a season of dry skin, over eating, and not thinking about how we'll look in that bikini, one piece with skirt. It may only be April, but in my book that's time to start getting ready to get your skin ready to show off on the beach.
1. Exfoliate – there's nothing more unappealing than the look of dead skin. Using a loofah or a great sugar scrub will help get rid of that dull look.
2. USE Sunscreen – that's right, SPF is not only for sitting out at the beach, but if you want to avoid age & sun spots it needs to be used each time you leave the house, not only on your face!
3. Clean up the stubble – it's time to start SHAVING my friends. That's right,
nor more hiding behind long pants, keep those legs & underarms free of bumps.
4. Switch up your skin cream – Products like Carmex Healing Cream and Carmex Hydrating Lotion will get that dry skin hydrated and looking healthy again.
5. Don't forget  your toenails – It's sandal and flip-flop time and chipped nail polish just doesn't cut it. There are so many fun colors on the market now, so have fun and be a bit DARING.
Carmex skin care products are loaded with healing ingredients to deliver deep hydration and serious moisturizing power. Their unique formula is sure to repair your driest, roughest skin, even in the most extreme conditions.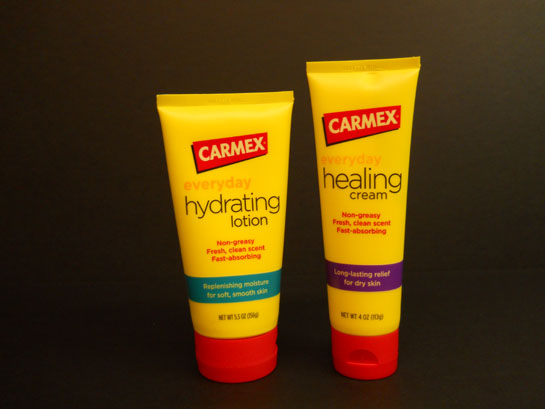 We're giving YOU the opportunity to win a tube of Carmex Healing Cream and a tube of Carmex Hydrating Lotion to get YOUR skin summer ready.
WINNER CONTACTED (waiting for reply)
I received products from Carmex to facilitate this post. All opinions are strictly my own