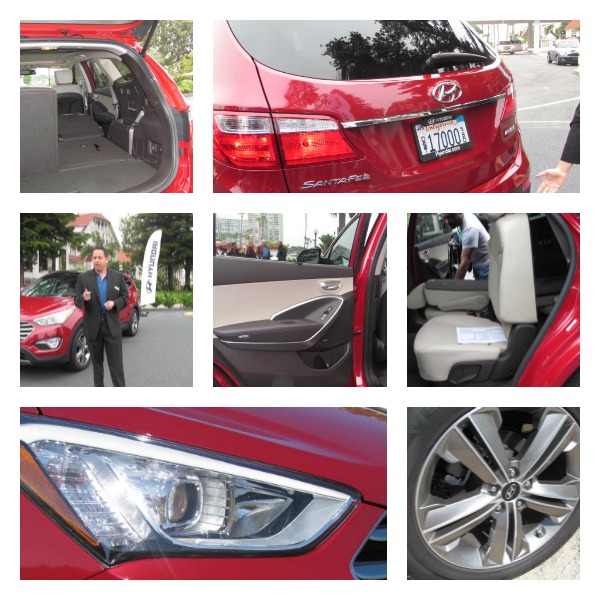 Regal Red…
that's the car I wanted to drive. What can I say? When Hyundai flew me out to San Diego along with a group of other fun journalists to take that drive through Coronado and San Diego, stopping for a fabulous lunch and some time spent with the monkeys at the San Diego Zoo, all I wanted to know was
What color is that car?
Yes, I want a great drive, I love the steering to be just a little tight, and it's got to have NO road noise so that I can talk with my girlfriends as we're going out to dinner, must mostly it's got to LOOK great and have a great coordinating interior. Maybe I'm shallow, but if I just believed that a car gets you from point A to point B and that's it, it would be NO FUN.
Toys
Number 2 on my list is….
What toys does the car have? It turns out that the Santa Fe Limited  that we drove had PLENTY.  The center console with it's 8″ screen provided us with navigation, tunes, and the controls for the 12-speaker, 550-watt, Infinity Logic 7 audio surround sound system that they've included. I found the enhanced voice controls so much easier than the one in my 4-year old car (I swear it needs a hearing aid).  Not only was I able to listen to some standard AM/FM radio, but they've also installed XM, CD, even an HD radio, and as they say on late night TV…THAT'S NOT ALL…I could plug in my phone and sync my tunes to the Santa Fe for listening to my FAVORITE music…and the CD art shows up on the screen.
Need to recharge your laptop, mobile phone, iPod, or…ahem? The Santa Fe had enough power outlets for both you and your backseat driver. The backup camera will make you feel a lot more secure (especially when you realize you left your handbag in the driveway AGAIN), and the power liftgate means that you can hold the phone in one hand while you open the gate to pile in all of those bargains you picked up at the Mall.
LUXURY
From the moment I got in to this car and simply had to push a button to start, to the expansive panoramic sunroof I found the Santa Fe Limited to be one SEXY CUV.  The 7 passenger model will fit the WHOLE gang for a night out, and the 6 passenger with captain's chair seating had me saying "I'll sit in the back" (something I NEVER do). While I'm a leather gal, the YES Essentials Stain Resistant Cloth Seats for easy clean ups is a lifesaver. Plus I can take the dog AND Mr. S without worrying about having to have the upholstery cleaned yet again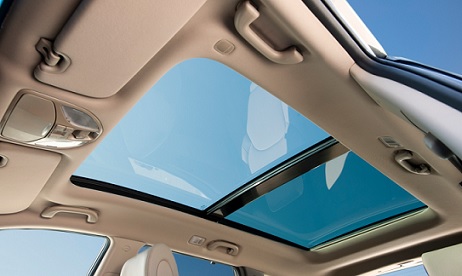 Of course you can buy the base model, or get all of the goodies like the upgraded model that I drove. While I live in Florida and crave a great air conditioner (yes, it has that), the heated seats, steering wheel, and mirrors makes this THE car for ski bunnies.
Safety
Growing up my dad had a nickname for me – CRASH.
Needless to say #3 on my list of important things in a car are the safety features (I make good use of them). Let's just say I appreciate the Santa Fe's 7 airbags, including the driver's knee airbag, Hillstart Assist Control (HAC), Downhill Brake Control (DBC), and that rear camera and leave it at that.
But how does it drive?
I expect  an SUV or CUV to drive like a truck. The Santa Fe felt  more like a good size car, holding the road well with all of the hills and turns. For a car this size, the mileage was great, averaging 18 city/25 highway, and it has Hyundai's active eco system that helps to increase real-world fuel economy.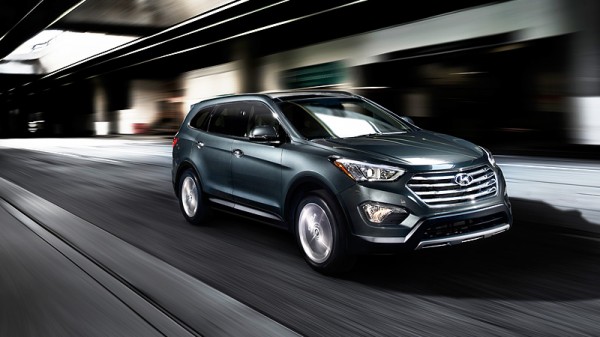 Would I buy it?
If I were in the market for a car this size, the Hyundai Santa Fe would definitely be on my short list. I drove the Mercedes this summer and liked it, but for the money coupled with features, this car beats out those European luxury cars in my book.
Details
For more about the new Santa Fe go to: http://bit.ly/16ncpyu
Test drive a Hyundai Santa Fe for yourself & see if you come to the same conclusions that I did. Find a dealer near you HERE
I was a guest of Hyundai on a recent trip to drive these new CUV's. All opinions are my own.