I am participating in a VN campaign. This is a sponsored post by AARP® Credit Card from Chase. The content and opinions expressed below are my own. I am in no way affiliated with AARP Credit Card from Chase and do not earn a commission or percent of sales.
I live in the Sunshine State, and while I love being able to go to the beach in February or plant a garden in December there are a lot of things that I miss about living in the Northeast. If you ask me what I miss MOST of all, my number one answer would be
THE FOOD
So, I decided to challenge myself with the help of the AARP Credit Card from Chase. Card in hand I thought that it would be fun for Mr. S and I to enjoy all my favorite New York foods in Fort Pierce and nearby Vero Beach.
A progressive restaurant dinner
We thought it would be a lot of fun to find restaurants that fit the bill and do a progressive dinner. I love to go out to eat, and the AARP Credit Card from Chase makes it easy to go out for a wonderful meal while supporting the AARP Foundation's Drive to End Hunger.
Appetizers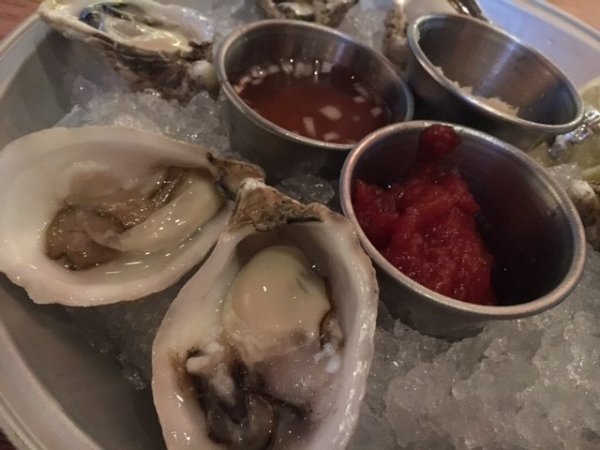 12A Buoy
22 Fishermans Wharf, Fort Pierce, FL
Sitting at the foot of a bridge enjoying fresh oysters and clams on the half shell with a dash of hot cocktail sauce brings back memories. We sit outside and enjoy a casual start to our meal with a live performance by a singer sitting on a stool with his guitar in hand. I debate whether to have a cup of chowder, but know that I've got more to come…besides, a spicy Bloody Mary sounds like the perfect balance to items from a raw bar. A Sunday afternoon memory in Manhattan, only in the perfect Florida setting. I hand over my AARP Credit Card from Chase and feel good that I'm helping Chase and the AARP Foundation to fight hunger and put food on the tables of Americans 50+ by using my card.
Main Course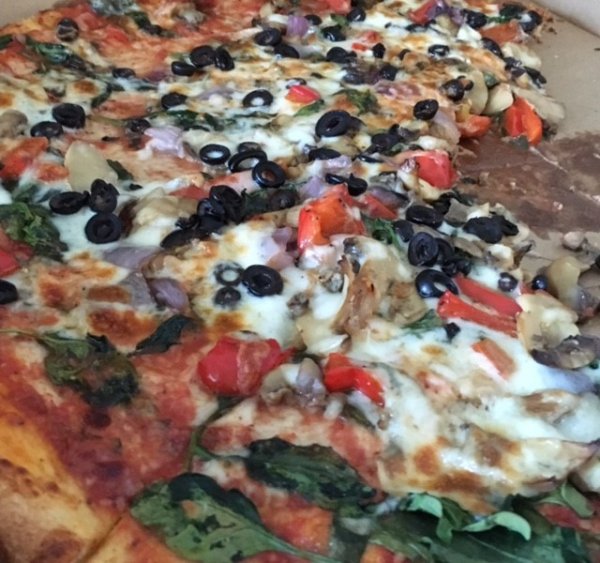 Giorgio's
Enjoying food is about the simple things, and there's nothing simpler to savor than an authentic New York Pizza. George does it right, and we sit down to an authentic 1950's style Brooklyn New York Pizza. The crust is thin and I FOLD IT like I did while walking down the street eating a slice. George (Giorgio) came to Vero Beach with 50 years of experience making these pies in Bensonhurst (Brooklyn) and I'm so glad that I found his hidden gem. My vegetarian pizza even has roasted peppers on it, and the 5 cheeses and Mozzarella he imports on a Semolina crust burns the roof of my mouth. The prices are higher than other pizza parlors, but I don't mind paying extra for the BEST, besides Chase donates $0.10 to the AARP foundation for every restaurant purchase made with an AARP Credit Card from Chase in support of AARP Foundation's Drive To End Hunger – up to a total of $1 million in 2017, so it's a win-win.
Dessert
Toojay's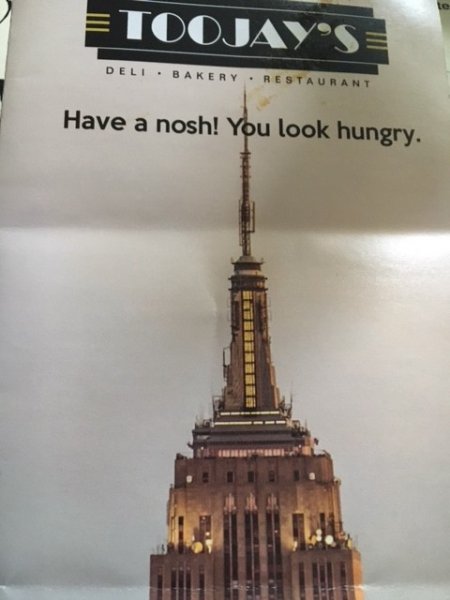 555 21st (on the Miracle Mile), Vero Beach, FL
New York cheesecake, black & white cookies, rugalach….oh, my. I stare through the glass over the pastry case at this New York style deli. I can never make up my mind, so Mr. S orders a slice of cheesecake and I get a slice of chocolate layer cake that looks mile high with moist cake and a decadently rich frosting, along with my cup of coffee. I pick up some rugalach to go for the next day and leave with a full belly and the feeling that I've found those transplanted New Yorkers while using my AARP Credit Card from Chase towards spending my first $500 in the first three months from account opening so I can get that $100 Bonus Cash.
With full bellies we headed home to relax after that amazing meal and turn on the TV to watch Manhattan with Woody Allen. It just seemed like the perfect end to our progressive New York dinner…in Florida. No matter where you are it's easier than you think to enjoy a bit of "home" when you dine out.