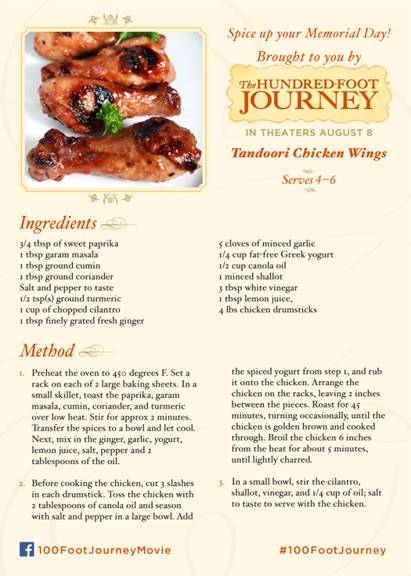 I adored this book, and I can't WAIT for the film to come out this August 8th. If you haven't read the book, it's a GREAT summer read. If you have and are waiting for the film like me, here's a sneak peek at the trailer…
With a cast like Helen Mirren, Om Puri, Manish Dayal, and Charlotte Le Bon, this newest Lasse Hallström has INCREDIBLE written all over it.
In "The Hundred-Foot Journey," Hassan Kadam (Manish Dayal) is a culinary ingénue with the
gastronomic equivalent of perfect pitch. Displaced from their native India, the Kadam family, led by Papa (Om Puri), settles in the quaint village of Saint-Antonin-Noble-Val in the south of France. Filled with charm, it is both picturesque and elegant – the ideal place to settle down and open an Indian restaurant, the Maison Mumbai. That is, until the chilly chef proprietress of Le Saule Pleureur, a Michelin-starred, classical French restaurant run by Madame Mallory (Academy Award®-winner Helen Mirren) gets wind of it.
For more information about The Hundred Foot Journey