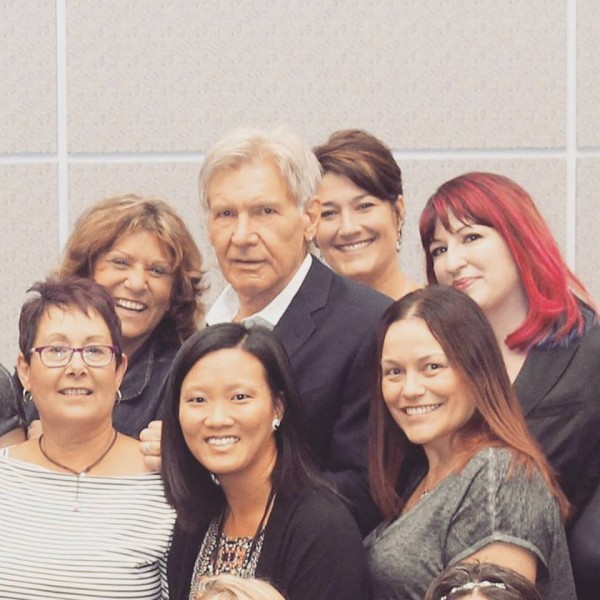 All things considered (look where Harrison Ford's hand is), I look relatively CALM in this photo. Then again, I had a minute or two to compost myself after THIS….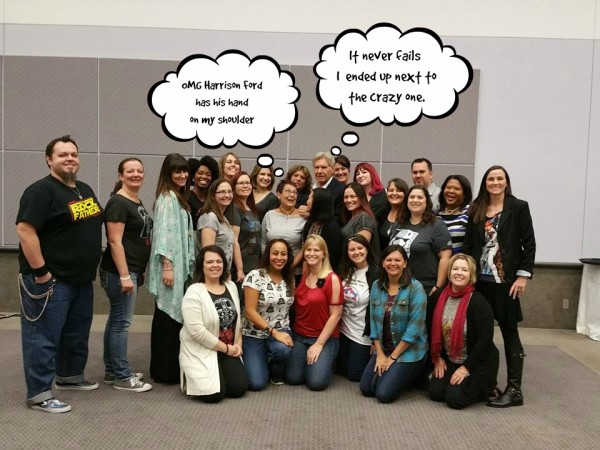 Thankfully, he's a perfect gentleman, soft spoken with a serious yet quick, dry sense of humor. From the moment he entered with Marshall, you felt his presence…understated yet compelling. Han Solo returns to the theater
We had some time to sit down and ask him a few questions…..
What it was like to come back to Star Wars thirty years later?
Harrison Ford: It was familiar, the same thing only different.  I was there in service of a script that I thought was very good, a road map for the character that I thought was worth coming back to with a director whose work I admired. If we were trying to do exactly the same thing or pretend, if I died my hair and pretended that 30 years had not gone by, I would be much less comfortable, but this acknowledges the reality of the passage of time.  It deals with the question of what happened while I was off stage for 30 years, and it deals with it in a really smart way.  If it were not for the fact that these films have been passed on from parents to their children an appropriate juncture in their lives and that generations have thus been introduced to me, I probably would have a much different career.
So, I'm very grateful for the fact that these were family films that been passed on as though there were some nugget of useful information, or at least entertainment.
When you read the first Star Wars script did you have any concept of the legacy that it would become?
Harrison Ford:  No, No.  You'd be locked up if you came to that conclusion.  But, in the context of making that first film, I did recognize both the utility of my character to the telling of the story and that there might be some really strong elements that people would relate to.
Was it hard to get back into the mindset after so many years?
Harrison Ford: No, you put on those clothes, you turn around and see that guy in the Chewbacca suit, and you know what the drill is.  I have walked more than a mile in those shoes and it was a familiar path.  I was happy to be back.
What was the most challenging part of the process?
Harrison Ford: There wasn't any.   I've been doing this for a long time and I love doing it, and I had a wonderful director.  The hardest process is when you and the people you're working with don't see eye to eye.  We see eye to eye.  It was a – it was a luxury.