This post brought to you by At Home. The content and opinions expressed below are that of Champagne Living.
OY VEY!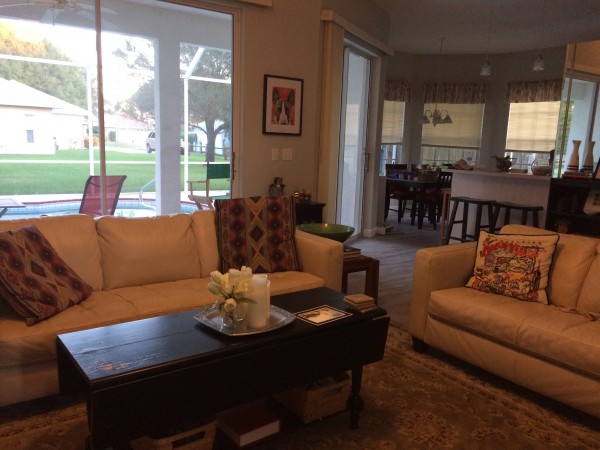 This does NOT look like it's holiday time[/caption] I have NEVER been this behind for the holidays than I am this year. I spent the first night of Chanukah in Disneyland, and the following few days interviewing and running around Los Angeles. I returned home on the third day of the festival of lights having not sent out cards or having decorated. Then it hit me, I haven't even unpacked THOSE BOXES from the move a little over a month ago and have NO IDEA of WHERE any of my Chanukah decoration are.
Today I snuck out to At Home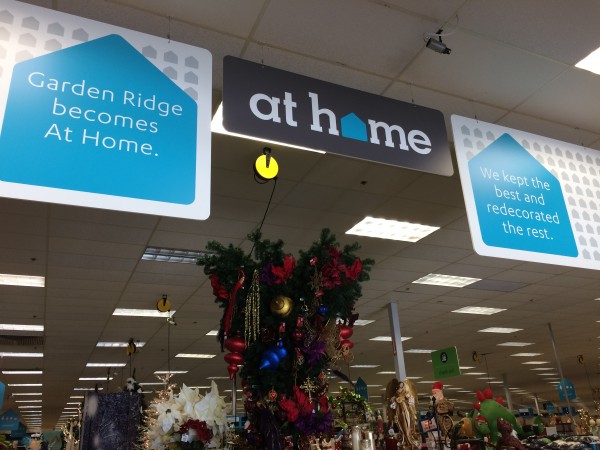 It was my first visit to this amazing one-stop-shop for designing every room in the house, and I wasn't prepared for the beautiful assortment of both indoor and outdoor decor for Christmas. From the 101 Varieties of Christmas Trees, to those decorations that the family will cherish forEVER, I felt like I had walked into a HOLIDAY WONDERLAND. But, would I be able to create a Lavish and Luxe Chanukah feel with Christmas decorations?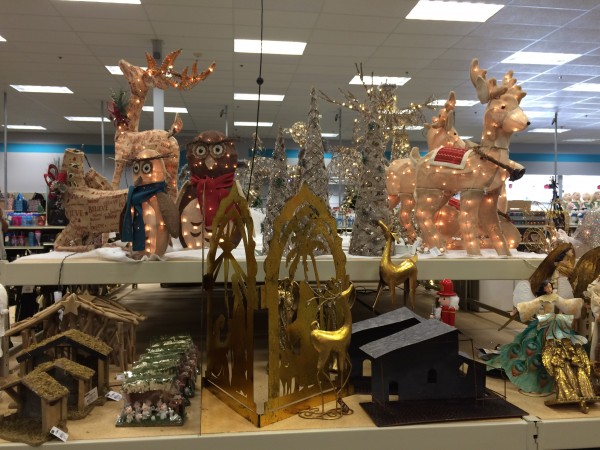 The goal
Spread some Chanukah joy in our living room.
The plan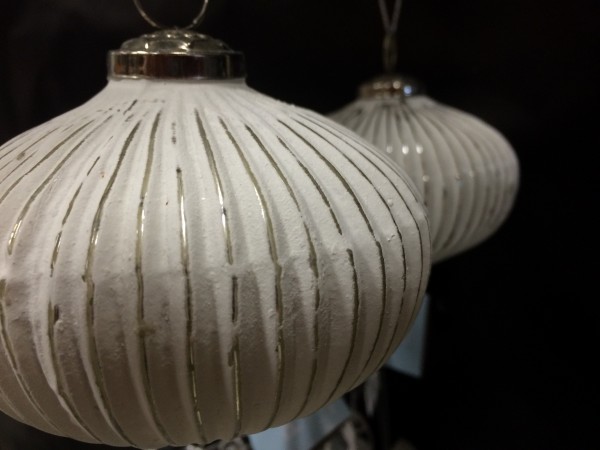 With fifteen decorative themes of decor items, I knew that if I stuck to the traditional blue, white and silver theme that no one would be the wiser.
The awe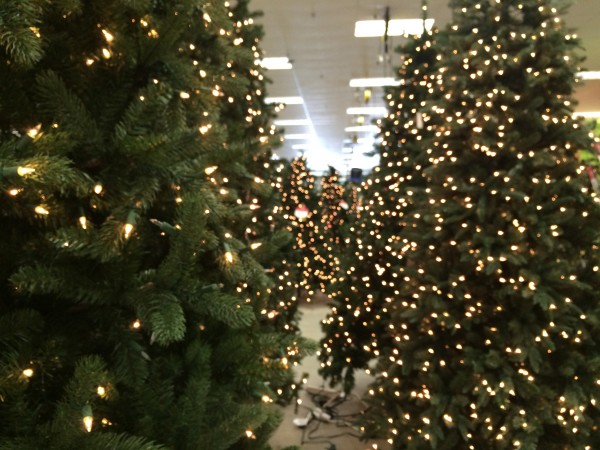 As I entered I was greeted by an array of Christmas trees. From pre-lit and full, to pink and girlie, there are 101 Varieties to choose from. I could have spent days looking at the great decorating items from dining room to living room, and bedroom to bath. But, Chanukah bushes don't exist, so I was off to find just what I needed.
The help
Accessing the items instore, the website offers an array of helpful decorating themes to make your holiday dreams come true. Including:
Seas & Greetings
Holiday Hoedown
Lavish and Luxe
Peppermint Jazz
BerryPlatinum
Forest Fairy Tales
Crystal Chateau
Cherished Memories
Heaven and Earth

Midnight

Plume
Regal Renaissance
Snowcapped Scene
Handcrafted from Around the World
Dem Darlings
Handcrafted
The look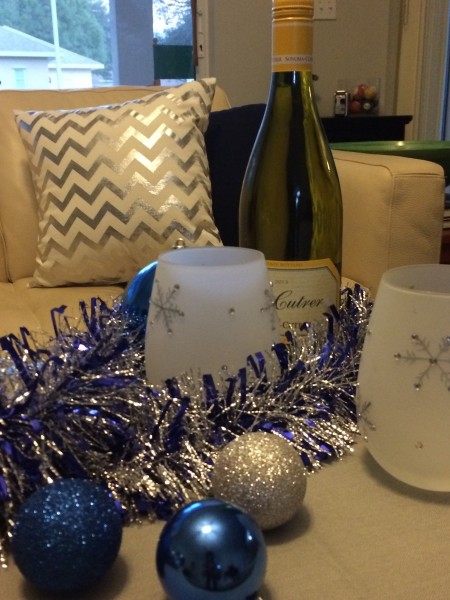 Pillows, glasses, garland & ornaments from At Home[/caption] I need to keep the look simple but elegant, and I definitely wanted a Lavish and Lush appeal to the room. I am always so jealous of the Christmas decorating, because I saw just the Tree for Me .
The pieces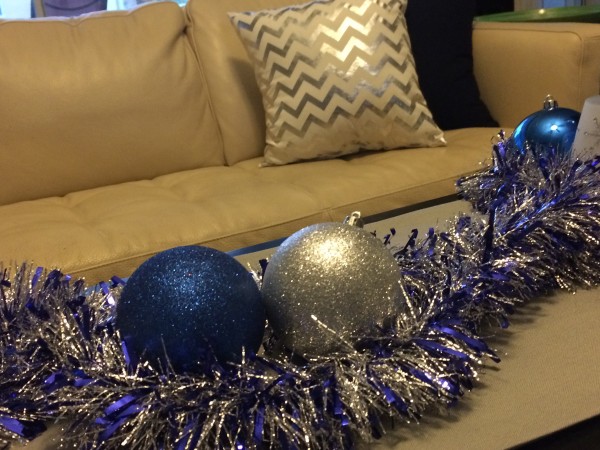 Garland, ornaments and pillows from At Home.[/caption]
I began by replacing the Kilim rug pillows with simple blue and a single silver & white chevron throw pillow.
Adding a grey runner finished in clear gemstones (something I can use year round for entertaining as well), I covered the top of the coffee table.
I purchases a medium sized package of Christmas balls in blue, white, silver, in various sizes and different stages of GLITZ.
With 2 cylinder vases that I purchased, I filled the larger one with balls and the smaller one with a candle that had been sitting on the table.
I found 2 GORGEOUS stemless wine glasses of frosted glass, with snowflakes adorning them. Placing my favorite bottle of wine to finish that scene.
Blue and silver garlands were laid out to secure some extra Christmas balls on the table, with the remaining ornaments placed in large bowls by the sofa.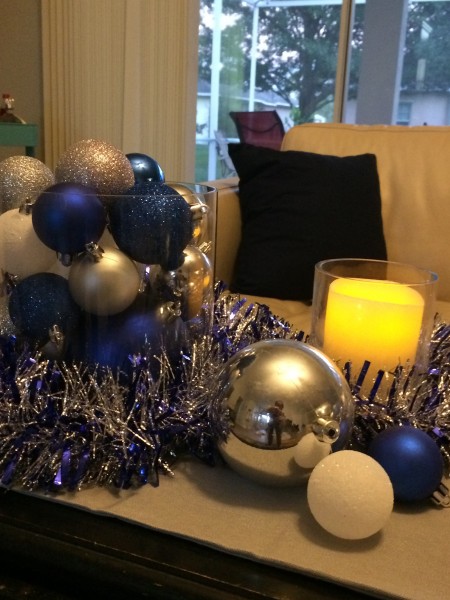 Glass cylinders, pillow, garland and Christmas ornaments from At Home[/caption] I was impressed with the selection and even more than that THE PRICES. My plan is to go back to At Home to finish decorating the house (since I haven't gotten around to buying art for the walls, etc.). I also found some beautiful gifts to give this season, and am planning on returning to buy some special ornaments to bring to holiday parties to grace my hosts trees.
What's YOUR look?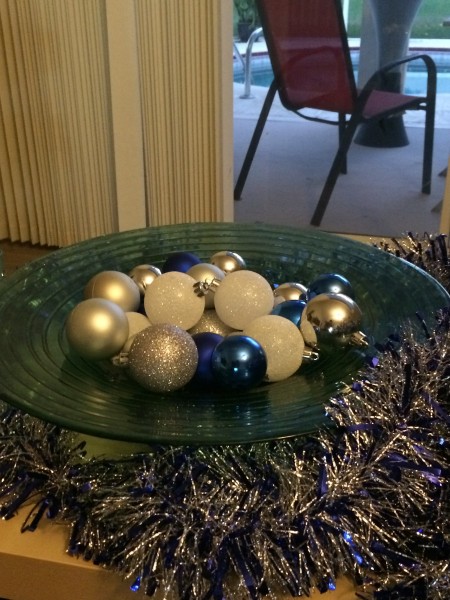 Christmas ornaments and garland from At Home[/caption]
Take a look at the At Home Christmas Decor and let me know which one YOU love the best? Maybe next year, I'll go for that theme.