This post has been sponsored in cooperation with Nakturnal.org.
I have collections.
I think that being able to collect and display is a great way to show your creativity, offer a hobby and remind yourself of important dates and places in your life. Some of the collections you know about, others I haven't shared before like…
My collection of striped shirts (and dresses and even underwear)
The stack of silver  & gold rings that I wear on BOTH hands
Vintage Kimono that I display in my bathrooms and eventually on the wall
Japanese tin toys from the '50s and '60s that are tucked away in a storage unit for now
The vintage, boho, and other colorful scarves that I began collecting when I lived in Paris in 1972
I love having a signature style that is not only easily recognized but a FUN way to show off my creativity and my need to have collections. I'm often asked, how do I even BEGIN collecting? How do I choose what to buy? Where do I find those pieces that I love?
Striped Shirts
I think that I got my first striped shirt while in high school. Being a Francophile, 0wning a Breton Stripe made me feel….well, FRENCH. The truth is that I bought my very first one at a very Un-FRENCH store – LL Bean. But it didn't matter. I felt French, I felt comfortable, and one shirt grew to two, three and well…the rest shows in my closet. My favorites? I love Petite Bateau, Saint James, and Armor-lux best  (as they are easily found), and of course, the ones that I've picked up in my travels through France.
My ring stacks
This one happened quite by accident a few years ago, but if you're looking for a way to collect jewelry that is beautiful, meaningful, and FUN this is a great way to start YOUR first collection. Mine began when Mr. S bought me a diamond anniversary ring. It sits at the bottom of my left-hand stack. I had stopped wearing a wedding band years ago when my fingers got thicker, and the band that I was wed in couldn't be sized without distorting the design.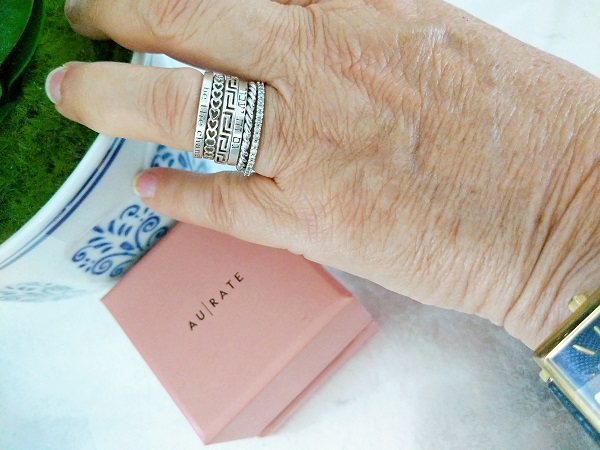 On a trip through Europe one November, I stumbled on a Christmas Market. There I saw a couple who made silver jewelry as you waited, and the SECOND ring in my collection was added – my Austria ring. Today my fingers are a cacophony of memories and beautiful rings that make me smile every time I look at them. The latest rings in my stack are from AURate NewYork. Not only are the beautiful and delicate, but I love that just like that ring that I bought in Austria, my 14k rope ring was made to order just for me.
A collection should have meaning
That is the BEST way to ensure that your collection (and hopefully your signature look if you're collecting accessories or fashion pieces like I do) will be FUN to shop for and find.
What do you collect?
Share them with me below.