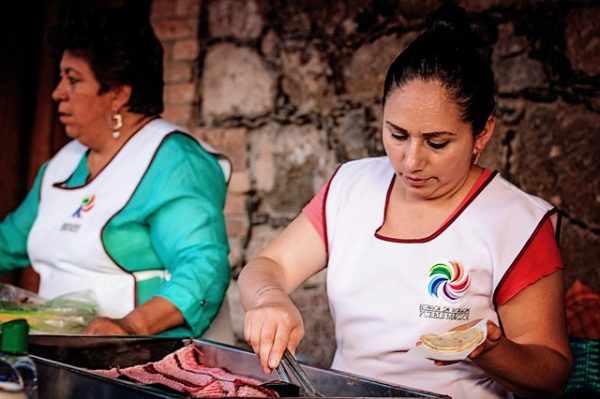 In the US, the street food scene is just getting started.  But in other countries, it is just a way of life.  This is especially true in Mexico where street food is the dominant form of dining for the middle and lower classes and the majority of the population eats some form of street food at least once a week.  But while street food at home tends to come in the form of food trucks, in Mexico, it takes all forms.  Let's take a look at some of the street food you need to eat next time you make your way south of the border.
Fresh Juice 
Many of us like to wake up in the morning and enjoy a glass of juice.  In Mexico, you don't keep a carton in the fridge; instead, you walk to the corner and find the person with a shopping cart full of oranges and a citrus press.  There, they will cut the oranges open, juice them, and send you on you way with as much as a liter of orange juice, or other varieties depending on the vendor.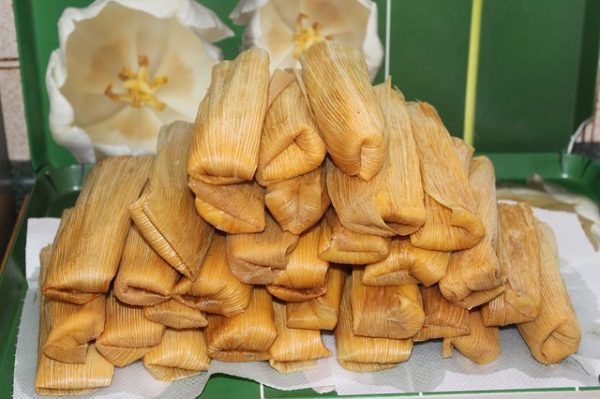 Tamales and Atole
Tamales and atole are street foods you can find in the morning and at night.  Most areas of the country have their own style of tamale for you to enjoy, though the traditional masa in corn husk is found pretty much everywhere.  If you get the chance to try a tamale Oaxaqueño, be sure to do so.  Atole is a sweet drink made from the same masa as the tamales, coming in flavors such as strawberry, chocolate, and even cookie.
Helados and Paletas
Both of these are ice cream, but helados is the traditional scoops in a cone while paletas are homemade popcicles with both cream and juice bases.  The flavors are endless, but if you have the chance to try a frutas secas paleta, which is white with candied fruits inside, be sure to do so.  You are in for a treat.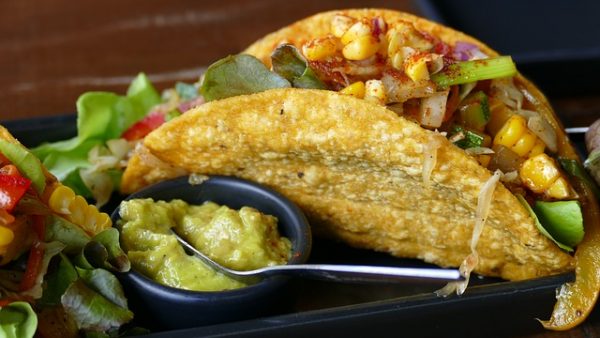 Tacos
Out of all the street foods there are to enjoy, this one is the one you simply cannot miss.  There are so many options to choose from, but start safe with the tacos al pastor and then work your way to longaniza and suadero.  From there, if you are feeling daring, you can try things like cueritos, which are pork skins, and lengua, which is tongue.  Be sure to ask for a side of cebollas and nopales to go with your tacos and specify if you want the onions and cilantro placed on top or if you prefer them natural.
Carnitas and Barbacoa
Both of these foods are served as tacos and quesadillas at roadside stands and are very popular on weekends for breakfast and brunch—which means if you want them, get there around 10-11 before they run out.  Carnitas is pork fried in pork fat, making it very bad for you but oh so very good.  Barbacoa is sheep that has been cooked in an underground oven.  If you are not an adventurous eater, choose carnitas over barbacoa.
Tortas
Tortas are the quintessential Mexican sandwich, although certain regions have their own special sandwich that is beloved by locals.  Tortas come in endless combinations, but you cans ave yourself the stress by selecting from those listed on the class.  These combinations are usually named after female celebrities known for their ample bottoms.  Why?  Because torta is also slang for a nice butt.
Camotes
Camotes are Mexican sweet potatoes.  This may not sound that exciting, but bear with me.  Camote as a street food is served in a cart that is wheeled around town by a person using a high-pitched whistle.  If you hear a whistle that hurts your ears, run outside—the camote man is there.  For about 25 pesos, you get a full camote split open, scored, and covered with sweetened condensed milk and cinnamon.  And if you are not a fan of sweet potatoes, they usually have plantains as well.
Elotes
This is one of those foods you have to try to understand.  On paper, it sounds horrific; it is an ear of corn on a stick covered in mayo, rolled in cheese, and topped with chili powder.  But when you eat it, it is heaven.  Elotes can be found at night in most neighborhoods, often set up on street corners but sometimes being driven around in a bicycle cart.
Now, is this all there is to Mexican street food?  Nope; there is a lot more, and many of it varies by region.  But this should be enough to get you started on an excellent Mexican street food adventure