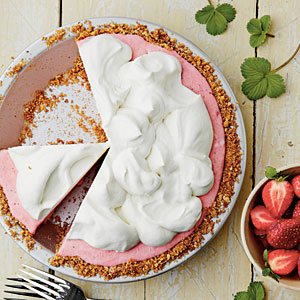 With Memorial Day past us and the heat of summer quickly on it's tail, I'm ready for something that's rings of summer and is delightfully refreshing. This chilled, creamy pie is the dessert equivalent of a swimming hole– so yummy that you can't help but dive in. This exclusive recipe from Southern Living Magazine is bound to become a "regular" in our repetoire of summer desserts.
Strawberry Pretzel Ice-Box Pie
Ingredients

2 cups finely crushed pretzel sticks
3/4 cup butter, melted
1/4 cup firmly packed light brown sugar
2 cups sliced fresh strawberries
1 (14-oz.) can sweetened condensed milk
1/2 (8-oz.) package cream cheese, softened
4 tablespoons plus 1 tsp. strawberry gelatin (1/2 [3-oz.] package)
2 cups whipping cream, divided
1/3 cup granulated sugar
Preparation
Preheat oven to 350°. Stir together first 3 ingredients; firmly press on bottom, up sides, and onto lip of a lightly greased 10-inch pie plate. Bake 10 to 12 minutes or until lightly browned. Remove from oven to a wire rack, and cool completely (about 30 minutes).
Process strawberries in a food processor until finely chopped, stopping to scrape down sides as needed. 
Beat condensed milk and next 2 ingredients at medium speed with an electric mixer until smooth. (Use the whisk attachment if using a stand mixer.) Add strawberries; beat at low speed just until blended. Transfer to a large bowl.
Beat 3/4 cup whipping cream at high speed until soft peaks form; gently fold whipped cream into strawberry mixture. Spoon into prepared crust. Cover and freeze 8 to 12 hours or until firm.
Beat remaining 1 1/4 cups whipping cream at high speed until foamy; gradually add granulated sugar, beating until soft peaks form. Spread over pie. Freeze 1 hour or until whipped cream is firm.
Yield: Makes 8 servings
Total time: 10 Hours, 20 Minutes
"This outstanding dessert mimics the flavors of the classic strawberry congealed salad with the pretzel crust that Southerners have loved for decades, satisfying our craving for salty-sweet in our favorite form—pie." – Shannon Satterwhite – Food Director at Southern Living