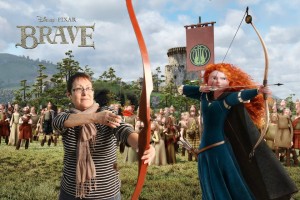 It's pretty difficult to get me to oooh and aaaah. Perhaps I'm jaded, or just think I'm too cool to be jumping up and down and babbling (I take that back – I DO BABBLE), and there are very few celebrities who make my jaw drop. That being said, last week I spent a  jaw dropping few days in San Francisco with Pixar Animation, visiting the campus where the magic happens, screening movies like Brave, La Luna and Chimpanzee, learning how to be an archer and well…here – I'll take you inside Pixar along with me…
I'll have more from Pixar, and let you know about the fabulous new movies that are coming out soon. 
While I was a guest of Disney/Pixar on a junket, all opinions are strictly  my own.