Living in South Florida, we have such a wide variety of wonderful restaurants to choose from. From good solid steakhouses, to fast food…we've got it. For both residents and those who come down to visit, there's that question…Yes, but what's the BEST place to go?  Some opinions are subjective…others are just simple fact.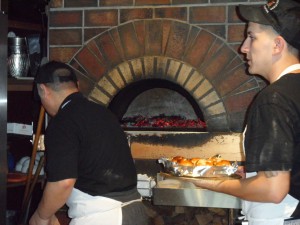 But, when it comes to PIZZA there's one place to go that is (in my humble opinion) worth traveling for. As a matter of fact, I traveled almost an hour and a half…FOR PIZZA.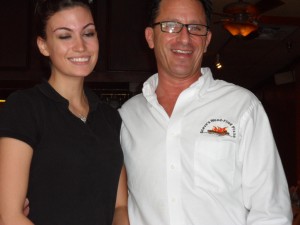 Steve's Wood Fired Pizza on 9180 glades Rd., Boca Raton FL!!! It's not just me who thinks that Steve Greenberg makes the best tomato pies around,  American Airlines' American Way magazine featured them as one of the "top ten pizza joints in the country" last year. The local newspapers like the Palm Beach Post, Sun Sentinal, Boca Raton Magazine and MORE agree with this Champagne Living diva. Nobody makes a fresher, better, hand-crafted pizza JUST THE WAY YOU LOVE IT than Steve.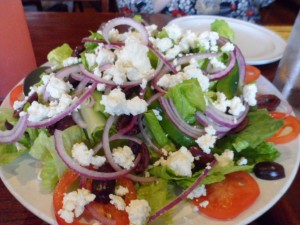 When you come, bring your appetite because you'll want to sample a little of everything on the menu. From the wood fired chicken wings (with meat that just melts off of the bone it's so tender) to the Asian calamari that's balanced with just the right amount of chili sauce to give it that after-kick in your mouth, and the NOT TO BE MISSED Home-Made cheese sticks rolled in panko that's perfectly crispy on the outside and oozing with cheese (don't miss the pomodoro sauce that Steve makes to dip it in, you'll be running your finger in the bowl to get every last taste) you'll be thinking…I can't eat another bite.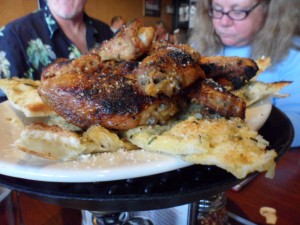 FORCE YOURSELF (I did)!
The salads are hearty with fresh crisp greens in 8 varieties (my favorite is the Mediterranean Salad – with sharp Kalamata olives and Feta cheese), although ANYTHING topped with Steve's raspberry vinaigrette will work. The dressing is SO good, that my friend Jewel from Jewel's Fab Life tried to talk Steve into bottling it. His answer…NO! Then they won't come in for the salad. I have to agree with Steve on this one Jewel. I'd much rather dig in to one of his amazing salads topped with the dressing, then be pouring it over my BAG-O-GREENS at home.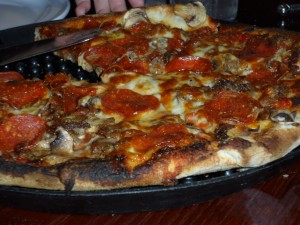 There there is the piece de resistance….Steve's Wood Fired Pizzas. That's what we came for, and that's what you WON'T want to miss. Steve prides himself on serving an artisan pizza with a thin crust that is cooked nice and dark, and well done, so that they have that perfect crunch when you bite into them (soggy pizza is NOT an option). From the menu of over 20 specialty pizzas (of which I can HONESTLY say that I've tasted about 10 of) to the options of creating your own from a VAST choice of toppings, you won't go home disappointed and you'll leave STUFFED. If a food is really good, I tend to overeat and LAST NIGHT I overate, and then ate some MORE at Steve's. My favorites? I love the simple pepperoni pizza, and his shrimp scampi pizza (with crisp firm shrimp in a shallot scampi sauce) is so A-MAZ-ING that you'll have Parmesan cheese and that wonderful sauce trickling down your chin and you won't care a bit.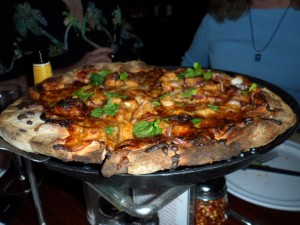 When I didn't think I could get out of my chair, Steve brought over some of his SUBLIME pasta ala vodka  and we finished up with his take on the classic zeppole. By the way, I  came home to 1/2 of my Total Gym in a big box at the door – is this the universe trying to tell me something?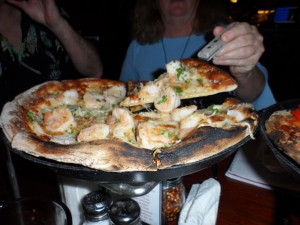 Steve's is truly an EXPERIENCE (from the welcome at the door, to the service by smiling servers) that will bring you back again and again…and like me, you'll KNOW that it was worth the drive down.
If you live here and have never been to Steve's Wood Fired Pizza, you're missing a gem in your own backyard. Visitors – this one goes on your MUST DO LIST when you're visiting Boca Raton (or even Fort Lauderdale – it's worth the drive).
Steve's Wood Fired Pizza is located in a strip mall at 9180 Glades Rd. in Boca Raton, FL (on the SW Corner of Glades  Lyons Rd) and is an easy find off of both Rte. 95 as well as the Turnpike.
Open Tues – Sat 11:30 am – 9:30 pm, Sunday from 4:00 pm – 9:00 pm and Monday evenings from 5:00 pm – 9:00 pm.
They offer a nice beer and wine selection along with the usual array of beverages.
Thank you to Steve Greenberg for inviting me to his media dinner this week. All opinions are strictly my own.