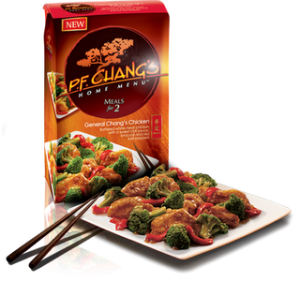 That's right YOU'RE going to get the opportunity to IGNITE ONE NIGHT of MY life. Intrigued? I don't know whether I should be a little scared, excited or confident that YOU will come up with some FABULOUS ideas for me to have a night that sizzles.
OK –  I have to admit that I'm a little scared. WHY? Because I KNOW that my readers are fun, creative and maybe a little…edgy. That's what I love about you.
It's been one year since I discovered PF Chang's Home Menu frozen dinners. I was already a big fan of their restaurant (where else can you get your choice of sauces to fit your mood) and once I tried General Chang's Chicken I was HOOKED. I've come to rely on PF Chang's so that I don't have to run and get take-out. Frankly, PF Chang's Home Menu is 10 times better than my local take-out joint, so loading up at the grocery store has become a regular thing for me.
The same fresh flavor that you get in PF Chang's restaurant (only the proteins are pre-cooked so your veggies will NOT be overcooked when you heat the meals up)
Cooking time is approx. 12 minutes (the rice that I make to go with it takes twice as long)
No dicing, no mess, just ONE 10″ skillet (easy clean up)
NO MSG!!!!
2 Servings per bag
With varieties like
Orange Chicken – Battered white meat chicken with a spicy orange sauce, carrots, water chestnuts and edamame
General Chang's Chicken – Battered white meat chicken with a sweet chili sauce, broccoli and red bell pepper
Beef with Broccoli – Beef with a savory garlic soy sauce and broccoli
Sweet & Sour Chicken – Battered white meat chicken with a balanced sweet and tangy sauce, pineapple and bell peppers
Shrimp Lo Mein – Shrimp with a sesame soy sauce, bok choy, mushrooms, celery, carrots and lo mein noodles
Shanghai Style Beef – Beef with a sweet and savory sauce, onions, string beans and red bell peppers
Shrimp in a Garlic Sauce – Shrimp with a garlic sauce, carrots, red bell peppers, water chestnuts and snap peas
Ginger Chicken & Broccoli – White meat chicken with a fragrant ginger sauce, broccoli and red bell peppers
OK – back to you guys helping ignite my night.
Take a look at the varieties of PF Chang's Home Menu, because they're challenging you to create a night for ME (oh, there's something in it for YOU too…of course). You can suggest ways to amplify the mood of my special night (special music playlist, beverage pairings, spicy dinner conversation) and help create the setting (place setting, candles, décor)  – all inspired by the exotic mix of flavors found in those delicious Home Menu products.
I will chose my top 3 favorite suggestions and PF Chang's Home Menu will create the night that YOU SUGGEST for me….and I get to give away 25 PF Chang's dinners for 2 to YOU. You might even get your suggestion chosen to be on the "Ignite the Night" Facebook tab !!!
I will receive product as a result of this competition, all opinions are my own.
GIVEAWAY
Loading…
Extra entries

Click HERE to Tweet this giveaway – it auto fills your tweet and you get credit each time you twitter and report back  (unlimited entries)

NOTE! The retweet has not been working, you can scroll to the bottom and retweet from the social media icons on the bottom (and add your text) – please at @zipporahs to the update so that I'll see it. GOOD LUCK.

Add this giveaway to other sweeps & giveaway sites – 5 extra entries
Follow Champagne Living- on the sidebar
Subscribe to Champagne Living for FREE
Link to this giveaway on your Facebook page
Follow Broad "Z" on twitter.
Grab our badge from the sidebar and add it to your site.
* Be sure to leave a comment letting me know if you've done any of these (if you already subscribe or have our badge – please note that in the comments as well).
* This giveaway is open to US residents, 18 and over and ends on June 3, 2011 11:59 EST.
* Good Luck