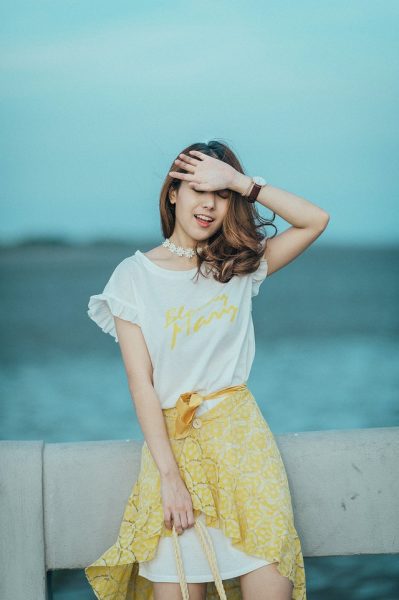 It's been a long year and a half, hasn't it? But, not only is life returning back to normal, we're all thrilled to be able to look forward to a future with more nights out, holidays with our loved ones, and returning to the office. While that sounds good in theory, we've also been working from home, and let's face it, 2020 was the year of loungewear and messy buns. Maybe you've dutifully woken up every day and still put on your usual outfits, did a blowout on your hair, and maintained your makeup routine. Well, kudos to you! But, many people may need a little bit of inspo when it comes to stepping back out in style. So, let's take a little refresher on how to get ready to turn heads wherever we go, now that we're going wherever we want!
Return To Treatments 
Depending on where you lived, regular hair cuts and nail appointments became a distant dream for many people as we looked at our scraggly cuticles and split ends. Lots of us got creative when it came to DIY'ing these things at home and maintained our pre-lock-down level of grooming, while others let it fall by the wayside. If you're in the latter group, take that money you saved by not going for treatments and get back into the groove of it. Head in for your fillers and other injectables and start life again looking refreshed and renewed. 
See your hairstylist to either get back to where you once were, or maybe after such a chaotic eighteen months, and you're ready for a significant change – don't be afraid to make it! And, treat yourself to a nice manicure and pedicure. Not only will you feel refreshed and have beautiful cuticles again, but it's also always a relaxing experience to sit back in the salon's massage chair and have someone beautify you. At the same time, you zone out or catch up on social media. 
Opt For Cleaner Beauty 
While health has been at the forefront of all of our minds throughout the height of the pandemic, we've added things to our daily wellness routines we may not have even heard of prior. Most of us are on our pretty solid vitamin regimens daily to stay in peak immune function. But, did you know that even the products we use to stay looking beautiful have an impact on our health? Our skin is our body's largest organ, and it absorbs what we put on it. 
So, when shopping for new makeup as we head out into this brave new world, opt for cleaner brands that still deliver the results you're used to. Swap out your facial cleansers for ones with fewer ingredients, buy a new lash tint that you feel confident about and choose foundations made from more natural ingredients. Not only are they healthier for you, but they also tend to do much less damage to your skin as the ingredients are naturally derived. Your skin and complexion will thank you for it!
Give Yourself A Style Refresher 
You're probably the type of person that already stays up on the latest sartorial trends, but maybe you didn't purchase too many new wardrobe pieces during lockdown because what's the point? Well, now the point is stepping out in chic style. So, peruse those magazines, visit your favorite fashion blogs and take note of what the influencers you look up to are wearing this season. Then go out and splurge a little! We all deserve a little retail therapy right now and the confidence boost that comes with looking and feeling our best. 
While trends haven't changed too much in the last year and a half, comfort still reigns even though we're not at home in sweatpants. So, athleisure is an excellent area to purchase a few sets in; straight leg, bootcut, and flare jeans reign, skinny jeans are out; and there are more styles of comfortable sneakers (that you can even dress up if you want to) out there than ever before. So, put a dent in that credit card or bank account. You're worth it!
So, let's get back out there and remind the world just how fabulous you are, how you weathered the storm and came out looking more beautiful and confident than before! Happy shopping!